Hydrobatidae - Storm Petrels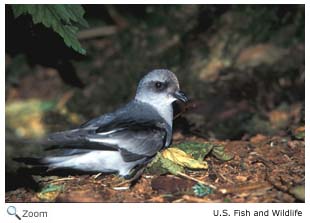 There are 23 species of small seabirds in this family. They are found on temperate and tropical oceans around the world. They are dark brown or black with white markings. They have long, pointed wings and tubular nostrils.

Storm petrels only come onto land to nest. They arrive on their nesting islands at night and nest in colonies. Females lay a single egg in a burrow in the ground. Both the male and female incubate the egg. Storm petrels fly low and close to the surface of the water where they catch fish, crustaceans, and plankton. Some species migrate.

Hydrobatidae Photo Gallery
World Status Key


Least Concern

Near Threatened

Vulnerable

Endangered

Critically Endangered

Extinct Wild

Extinct
Status and range is taken from ICUN Redlist. If no status is listed, there is not enough data to establish status.
US Status Key


Threatened in US

Threatened in NH

Endangered in US

Endangered in NH

Breeds in NH

Introduced
Status taken from US Fish and Wildlife and NH Fish and Game
New Hampshire Species

North/Central American Species

Leach's Storm-petrel - Oceanodroma leucorhoa
Wilson's Storm-petrel - Oceanites oceanicus

Fork-tailed Storm-petrel - Oceanodroma furcata
Ashy Storm-petrel - Oceanodroma homochroa
Guadalupe Storm-petrel - Oceanodroma macrodactyla
Black Storm-petrel - Oceanodroma melania
Other Species Around the World

Africa Antarctica Asia Australia Europe North/Central America South America NH

White-bellied Storm-petrel - Fregetta grallaria
Black-bellied Storm-petrel - Fregetta tropica
Gray-backed Storm-petrel - Garrodia nereis
Least Storm-petrel - Halocyptena microsoma
European Storm-petrel - Hydrobates pelagicus
White-throated Storm-petrel - Nesofregetta fuliginosa
White-vented Storm-petrel - Oceanites gracilis [dd]
New Zealand Storm-petrel - Oceanites maorianus
Wilson's Storm-petrel - Oceanites oceanicus
Madeiran Storm-petrel - Oceanodroma castro
Fork-tailed Storm-petrel - Oceanodroma furcata
Ashy Storm-petrel - Oceanodroma homochroa
Ringed Storm-petrel - Oceanodroma hornbyi [dd]
Leach's Storm-petrel - Oceanodroma leucorhoa
Guadalupe Storm-petrel - Oceanodroma macrodactyla
Markham's Storm-petrel - Oceanodroma markhami [dd]
Matsudaira's Storm-petrel - Oceanodroma matsudairae [dd]
Black Storm-petrel - Oceanodroma melania
Swinhoe's Storm-petrel - Oceanodroma monorhis
Monteiro's Storm-petrel - Oceanodroma monteiroi
Wedge-rumped Storm-petrel - Oceanodroma tethys
Tristram's Storm-petrel - Oceanodroma tristrami
White-faced Storm-petrel - Pelagodroma marina