Hirundinidae - Swallows, Martins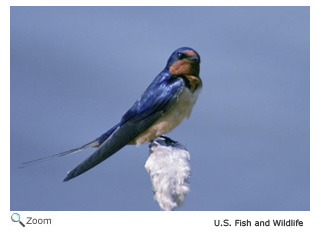 There are around 82 bird species in this family. They have short, wide bills; short legs; and small, weak feet. Their bodies are long and slender and they have long, pointed wings. Many species have long, forked tails and feathers with a metallic shine on their uppersides and lighter feathers on their undersides. Most species are four to nine inches in length. In most species, males and females look alike.

Bird species in this family are found all over the world. Birds in this family eat insects and they catch their prey in the air. Many species, like the barn swallow, have adapted to living near humans. Barn swallows often use barns and other buildings as nesting sites. Most species in this family live and travel in flocks and all of the species in North America migrate.

Hirundinidae Photo Gallery
World Status Key


Least Concern

Near Threatened

Vulnerable

Endangered

Critically Endangered

Extinct Wild

Extinct
Status and range is taken from ICUN Redlist. If no status is listed, there is not enough data to establish status.
US Status Key


Threatened in US

Threatened in NH

Endangered in US

Endangered in NH

Breeds in NH

Introduced
Status taken from US Fish and Wildlife and NH Fish and Game
New Hampshire Species

North/Central American Species

Bank Swallow - Riparia riparia
Barn Swallow - Hirundo rustica
Cliff Swallow - Petrochelidon pyrrhonota
Northern Rough-winged Swallow-Stelgidopteryx serripennis
Purple Martin - Progne subis
Tree Swallow - Tachycineta bicolor

White-thighed Swallow - Neochelidon tibialis
Black-capped Swallow - Notiochelidon pileata
Cave Swallow - Petrochelidon fulva
Grey-breasted Martin - Progne chalybea
Cuban Martin - Progne cryptoleuca
Caribbean Martin - Progne dominicensis
Southern Martin - Progne elegans
Sinaloa Martin - Progne sinaloae
Brown-chested Martin - Progne tapera
Blue-and-white Swallow - Pygochelidon cyanoleuca
Southern Rough-winged Swallow - Stelgidopteryx ruficollis
Mangrove Swallow - Tachycineta albilinea
White-winged Swallow - Tachycineta albiventer
Bahama Swallow - Tachycineta cyaneoviridis
Golden Swallow - Tachycineta euchrysea
Violet-green Swallow - Tachycineta thalassina
Other Species Around the World

Africa Asia Australia/Oceania Europe North/Central America South America NH Species

Tawny-headed Swallow - Alopochelidon fucata
White-banded Swallow - Atticora fasciata
Black-collared Swallow - Atticora melanoleuca
White-backed Swallow - Cheramoeca leucosterna
Asian House-martin - Delichon dasypus
Nepal House-martin - Delichon nipalense
Northern House-martin - Delichon urbicum
White-eyed River-martin - Eurochelidon sirintarae
Andean Swallow - Haplochelidon andecola
Lesser Striped-swallow - Hirundo abyssinica
Ethiopian Swallow - Hirundo aethiopica
White-throated Swallow - Hirundo albigularis
Angola Swallow - Hirundo angolensis
Fairy Martin - Hirundo ariel
Blue Swallow - Hirundo atrocaerulea
Dusky Crag-martin - Hirundo concolor
Greater Striped-swallow - Hirundo cucullata
Hirundo daurica
Pearl-breasted Swallow - Hirundo dimidiata
Hill Swallow - Hirundo domicola
Streak-throated Swallow - Hirundo fluvicola
Forest Swallow - Hirundo fuliginosa
Rock Martin - Hirundo fuligula
Pied-winged Swallow - Hirundo leucosoma
Red-chested Swallow - Hirundo lucida
White-tailed Swallow - Hirundo megaensis
Welcome Swallow - Hirundo neoxena
Tree Martin - Hirundo nigricans
White-throated Blue Swallow - Hirundo nigrita
Black-and-rufous Swallow - Hirundo nigrorufa
Pale Crag-martin - Hirundo obsoleta
Red Sea Swallow - Hirundo perdita [dd]
Preuss's Swallow - Hirundo preussi
Red-throated Swallow - Hirundo rufigula
Eurasian Crag-martin - Hirundo rupestris
Barn Swallow - Hirundo rustica
Rufous-chested Swallow - Hirundo semirufa
Mosque Swallow - Hirundo senegalensis
Wire-tailed Swallow - Hirundo smithii
South African Swallow - Hirundo spilodera
Pacific Swallow - Hirundo tahitica



White-thighed Swallow - Neochelidon tibialis
Pale-footed Swallow - Notiochelidon flavipes
Brown-bellied Swallow - Notiochelidon murina
Black-capped Swallow - Notiochelidon pileata
Cave Swallow - Petrochelidon fulva
Cliff Swallow - Petrochelidon pyrrhonota
Chestnut-collared Swallow - Petrochelidon rufocollaris
Mascarene Martin - Phedina borbonica
Brazza's Martin - Phedina brazzae
Grey-breasted Martin - Progne chalybea
Cuban Martin - Progne cryptoleuca
Caribbean Martin - Progne dominicensis
Southern Martin - Progne elegans
Galapagos Martin - Progne modesta
Peruvian Martin - Progne murphyi
Sinaloa Martin - Progne sinaloae [dd]
Purple Martin - Progne subis
Brown-chested Martin - Progne tapera
White-headed Saw-wing - Psalidoprocne albiceps
Cameroon Mountain Saw-wing - Psalidoprocne fuliginosa
Square-tailed Saw-wing - Psalidoprocne nitens
Fanti Saw-wing - Psalidoprocne obscura
Blue Saw-wing - Psalidoprocne pristoptera
Grey-rumped Swallow - Pseudhirundo griseopyga
African River-martin - Pseudochelidon eurystomina [dd]
Blue-and-white Swallow - Pygochelidon cyanoleuca
Banded Martin - Riparia cincta
Congo Martin - Riparia congica
Plain Martin - Riparia paludicola
Bank Swallow - Riparia riparia
Southern Rough-winged Swallow - Stelgidopteryx ruficollis
Northern Rough-winged Swallow-Stelgidopteryx serripennis
Mangrove Swallow - Tachycineta albilinea
White-winged Swallow - Tachycineta albiventer
Tree Swallow - Tachycineta bicolor
Bahama Swallow - Tachycineta cyaneoviridis
Golden Swallow - Tachycineta euchrysea
White-rumped Swallow - Tachycineta leucorrhoa
Chilean Swallow - Tachycineta meyeni
Tumbes Swallow - Tachycineta stolzmanni
Violet-green Swallow - Tachycineta thalassina