Hemiscylliidae - bamboo sharks, longtail carpet sharks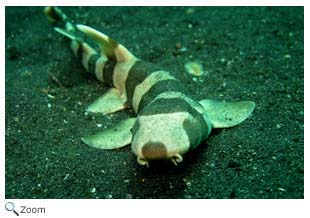 There are around 12 species in this family of small sharks. Longtail carpet sharks and bamboo sharks are usually less than four feet in length. They are found in shallow tropical waters in the Indian and Pacific Oceans.
They have long, cylindrical bodies with tails that are longer than their bodies. They have barbels on their snouts.
Many of the sharks in this family have spotted and banded markings on their bodies. They feed on the ocean floor and eat small fish and crustaceans.
World Status Key


Least Concern

Near Threatened

Vulnerable

Endangered

Critically Endangered

Extinct in Wild

Extinct
Status taken from ICUN Redlist. If no status is listed, there is not enough data to establish status, or there is no status data for the species.
US Status Key


Threatened in US

Threatened in NH

Endangered in US

Endangered in NH

Introduced
Status taken from US Fish and Wildlife and NH Fish and Game
| | | |
| --- | --- | --- |
| New Hampshire Species | | North/Central American Species |
| None | | None |
Species Around the World

Location Key
Africa Asia Australia/Oceania Europe North/Central America South America NH Species
Atlantic Ocean Arctic Ocean Indian Ocean Mediterranean/Black Sea Pacific Ocean



Arabian Carpetshark - Chiloscyllium arabicum
Burmese Bambooshark - Chiloscyllium burmensis
Gray Bamboo Shark - Chiloscyllium griseum
Indonesian Bambooshark - Chiloscyllium hasselti
Ridgebacked Bamboo Shark - Chiloscyllium indicum
Whitespotted Bamboo Shark - Chiloscyllium plagiosum
Brownbanded Bamboo Shark - Chiloscyllium punctatum
Indonesian Speckled Carpet Shark - Hemiscyllium freycineti
Papuan Epaulette Shark - Hemiscyllium hallstromi
Epaulette Shark - Hemiscyllium ocellatum
Hooded Carpet Shark - Hemiscyllium strahani
Speckled Carpet Shark - Hemiscyllium trispeculare
Additional Information
Resource Key


Profile

Photos

Video

Audio
Brownbanded Bamboo Shark - Chiloscyllium punctatum









The brownbanded bamboo shark is found in the waters off of Australia, Cambodia, China, India, Indonesia, Japan, Malaysia, Papua New Guinea, Philippines, Singapore, Taiwan, Thailand, and Vietnam.
Source: Arkive Intended Audience: General Reading Level: Middle School Teacher Section: Yes
Epaulette Shark - Hemiscyllium ocellatum







The brownbanded bamboo shark is found in the waters off of Australia, Indonesia, and Papua New Guinea.
Source: Arkive Intended Audience: General Reading Level: Middle School Teacher Section: Yes
Hooded Carpet Shark - Hemiscyllium strahani






The hooded carpet shark is found in the waters off of Papua New Guinea.
Source: Arkive Intended Audience: General Reading Level: Middle School Teacher Section: Yes
Papuan Epaulette Shark - Hemiscyllium hallstromi





The Papuan epaulette shark is found in the waters off of Papua New Guinea.
Source: Arkive Intended Audience: General Reading Level: Middle School Teacher Section: Yes
Whitespotted Bamboo Shark - Chiloscyllium plagiosum







The whitespotted bamboo shark is also known as the bluespotted bamboo shark. It is found in the waters off of China, India, Indonesia, Japan, Malaysia, the Philippines, Singapore, Sri Lanka, Taiwan, Thailand, and Vietnam .
Source: Arkive Intended Audience: General Reading Level: Middle School Teacher Section: Yes