Heleophrynidae - Ghost Frogs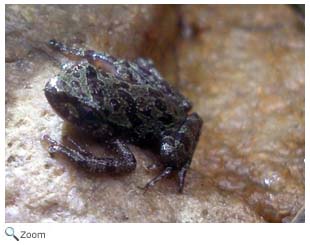 There are six species in this family of small to medium-sized frogs, They are found on or under the rocks in in fast-moving mountain streams in the southern tip of South Africa.
Ghost frogs have thin skin over their stomachs, and you can see their internal organs and muscles! They have webbed feet, and their toes and fingers have broad tips that they use to cling to slippery rocks. Ghost frogs are around 2.5 inches in length and have flat bodies that make it easy for them to crawl into rocky crevices.
Ghost frog tadpoles have sucker-like mouths that they use to cling to rocks in the rushing water. It takes as long as two years for ghost frog tadpoles to become frogs.
World Status Key


Least Concern

Near Threatened

Vulnerable

Endangered

Critically Endangered

Extinct in Wild

Extinct
Status taken from ICUN Redlist. If no status is listed, there is not enough data to establish status, or there is no status data for the species.
US Status Key


Threatened in US

Threatened in NH

Endangered in US

Endangered in NH

Introduced
Status taken from US Fish and Wildlife and NH Fish and Game
| | | |
| --- | --- | --- |
| New Hampshire Species | | North/Central American Species |
| None | | None |
Species Around the World

Location Key
Africa Asia Australia/Oceania Europe North America South America NH Click for More Info

Hewitt's Ghost Frog - Heleophryne hewitti
Natal Ghost Frog - Heleophryne natalensis
Eastern Ghost Frog - Heleophryne orientalis


Purcell's Ghost Frog - Heleophryne purcelli
Royal Ghost Frog - Heleophryne regis
Table Mountain Ghost Frog - Heleophryne rosei

Additional Information

Resource Key
Profile Photos Video Audio

Eastern Ghost Frog - Heleophryne orientalis
The eastern ghost frog is found in the Eastern Langeberg Mountains in South Africa.
Source: AmphibiaWeb Intended Audience: General Reading Level: High School Teacher Section: No

Hewitt's Ghost Frog - Heleophryne hewitti
Hewitt's ghost frog is found in South Africa.
Source: Arkive Intended Audience: General Reading Level: Middle School Teacher Section: Yes

Hewitt's Ghost Frog - Heleophryne hewitti
Hewitt's ghost frog stays hidden in holes or rock crevices during the day.
Source: EDGE Intended Audience: General Reading Level: Middle School Teacher Section: No

Purcell's Ghost Frog - Heleophryne purcelli
Purcell's ghost frog is found in the the Western Cape Province in South Africa.
Source: Arkive Intended Audience: General Reading Level: Middle School Teacher Section: Yes

Purcell's Ghost Frog - Heleophryne purcelli
Purcell's ghost frog is found in heathlands and forests.
Source: AmphibiaWeb Intended Audience: General Reading Level: High School Teacher Section: No

Royal Ghost Frog - Heleophryne regis
The royal ghost frog is found in the coastal mountain ranges of the Western and Eastern Cape Provinces of South Africa.
Source: AmphibiaWeb Intended Audience: General Reading Level: High School Teacher Section: No

Table Mountain Ghost Frog - Heleophryne rosei
The Table Mountain ghost frog is found only found on Table Mountain in the Western Cape province of South Africa.
Source: Arkive Intended Audience: General Reading Level: Middle School Teacher Section: Yes

Table Mountain Ghost Frog - Heleophryne rosei
The Table Mountain ghost frog has a squat body that helps it hide in rock crevices.
Source: AmphibiaWeb Intended Audience: General Reading Level: High School Teacher Section: No

Table Mountain Ghost Frog - Heleophryne rosei
The Table Mountain ghost frog is threatened by disease, the spread of non-native plants, tourism, and fire.
Source: EDGE Intended Audience: General Reading Level: Middle School Teacher Section: No