Ginglymostomatidae - nurse sharks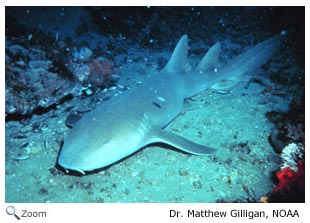 There are three species in this family of sharks. They are found in warm ocean waters in the Pacific, Atlantic, and Indian Oceans at depths of up to 250 feet.
They have flattened bodies; broad, flat heads; small eyes; two spineless dorsal fins; and barbells on their nostrils. Nurse sharks range in size from the 2.5 foot long short-tail nurse shark to the 9 foot long nurse shark and tawny nurse shark.
During the day they are found in shallow water in groups of up to 40 individuals in mudflats, sand flats, coral reefs, or rocky crevices. At night, nurse sharks hunt alone for small bony fish, crustaceans, octopuses, squid, sea-urchins, mollusks, and even coral.
World Status Key


Least Concern

Near Threatened

Vulnerable

Endangered

Critically Endangered

Extinct in Wild

Extinct
Status taken from ICUN Redlist. If no status is listed, there is not enough data to establish status, or there is no status data for the species.
US Status Key


Threatened in US

Threatened in NH

Endangered in US

Endangered in NH

Introduced
Status taken from US Fish and Wildlife and NH Fish and Game
| | | |
| --- | --- | --- |
| New Hampshire Species | | North/Central American Species |
| None | | Nurse Shark - Ginglymostoma cirratum |
Species Around the World

Location Key
Africa Asia Australia/Oceania Europe North/Central America South America NH Species
Atlantic Ocean Arctic Ocean Indian Ocean Mediterranean/Black Sea Pacific Ocean


Nurse Shark - Ginglymostoma cirratum
Tawny Nurse Shark - Nebrius ferrugineus
Shorttail Nurse Shark - Pseudoginglymostoma brevicaudatum
Additional Information
Resource Key


Profile

Photos

Video

Audio
Nurse Shark - Ginglymostoma cirratum









Nurse sharks are slow-moving bottom-dwellers.
Source: National Geographic Intended Audience: General Reading Level: Middle School
Nurse Shark - Ginglymostoma cirratum









Nurse sharks are nocturnal hunters that rest during the day in groups.
Source: Enchanted Learning Intended Audience: Students Reading Level: Elementary School
Nurse Shark - Ginglymostoma cirratum










Nurse sharks feed on stingrays, mollusks, and crustaceans.
Source: Florida Museum of Natural History Intended Audience: Students Reading Level: Middle/High School
Nurse Shark - Ginglymostoma cirratum










Nurse sharks are frequently found in coral reefs.
Source: Arkive Intended Audience: General Reading Level: Middle/High School
Shorttail Nurse Shark - Pseudoginglymostoma brevicaudatum






The short-tailed nurse shark is found in the western Indian Ocean.
Source: Arkive Intended Audience: General Reading Level: Middle School
Tawny Nurse Shark - Nebrius ferrugineus










The tawny nurse shark can change color from gray to brown depending on its surroundings.
Source: Arkive Intended Audience: General Reading Level: Middle/High School