Fringillidae - True Finches, Siskins, Crossbills, Hawaiian Honeycreepers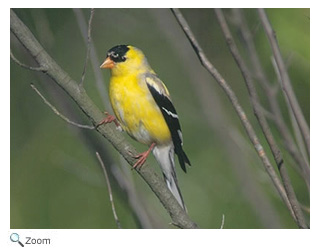 There are around 177 species of birds in this family. They are found all over the world, and many species are found in the Northern Hemisphere. Most species have strong, cone-shaped bills that they use to crack seeds. Some species have small bills, and others have large bills. The birds in this family come in a variety of colors and patterns. They range in size from large to small and all species have 12 tail feathers.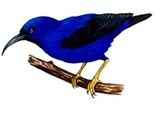 Hawaiian honeycreepers are all found in forested areas on the Hawaiian Islands. They are small, colorful birds about 4-8 inches in length. They have pointed wings and a medium sized tail. Some honeycreepers have small bills and eat insects, other honeycreepers have short, sturdy bills and eat seeds and other honeycreepers have long, curved bills and eat nectar and insects.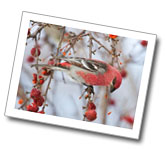 Fringillidae Photo Gallery
World Status Key


Least Concern

Near Threatened

Vulnerable

Endangered

Critically Endangered

Extinct Wild

Extinct
Status and range is taken from ICUN Redlist. If no status is listed, there is not enough data to establish status.
US Status Key


Threatened in US

Threatened in NH

Endangered in US

Endangered in NH

Breeds in NH

Introduced
Status taken from US Fish and Wildlife and NH Fish and Game
New Hampshire Species

North/Central American Species

American Goldfinch - Spinus tristis
Common Redpoll - Carduelis flammea
House Finch - Carpodacus mexicanus
Pine Siskin - Carduelis pinus
*Purple Finch - Haemorhous purpureus
Red Crossbill - Loxia curvirostra
White-winged Crossbill - Loxia leucoptera
Evening Grosbeak - Coccothraustes vespertinus
Pine Grosbeak - Pinicola enucleator

*N.H. State Bird


Black-capped Siskin - Carduelis atriceps
European Goldfinch - Carduelis carduelis
Red Siskin - Carduelis cucullata
Antillean Siskin - Carduelis dominicensis
Hoary Redpoll - Carduelis hornemanni
Lawrence's Goldfinch - Carduelis lawrencei
Black-headed Siskin - Carduelis notata
Lesser Goldfinch - Carduelis psaltria
Gray-capped Greenfinch - Carduelis sinica
Eurasian Siskin - Carduelis spinus
Yellow-bellied Siskin - Carduelis xanthogastra
Cassin's Finch - Carpodacus cassinii
Common Rosefinch - Carpodacus erythrinus
Kona Grosbeak - Chloridops kona
Ula-ai-hawane - Ciridops anna
Hooded Grosbeak - Coccothraustes abeillei
Black Mamo - Drepanis funerea
Hawaii Mamo - Drepanis pacifica
Lanai Hookbill - Dysmorodrepanis munroi
Greater Akialoa - Hemignathus ellisianus
Oahu Amakihi - Hemignathus flavus
Kauai Amakihi - Hemignathus kauaiensis
Nukupuu - Hemignathus lucidus
Akiapolaau - Hemignathus munroi
Lesser Akialoa - Hemignathus obscurus
Anianiau - Hemignathus parvus
Greater Amakihi - Hemignathus sagittirostris
Common Amakihi - Hemignathus virens
Apapane - Himatione sanguinea
Asian Rosy-finch - Leucosticte arctoa
Black Rosy-finch - Leucosticte atrata
Brown-capped Rosy-finch - Leucosticte australis
Gray-crowned Rosy-finch - Leucosticte tephrocotis
Hispaniolan Crossbill - Loxia megaplaga
Palila - Loxioides bailleui
Akekee - Loxops caeruleirostris
Akepa - Loxops coccineus
Poo-uli - Melamprosops phaeosoma
Akikiki - Oreomystis bairdi
Hawaii Creeper - Oreomystis mana
Akohekohe - Palmeria dolei
Kakawahie - Paroreomyza flammea
Oahu Alauahio - Paroreomyza maculata
Maui Alauahio - Paroreomyza montana
Maui Parrotbill - Pseudonestor xanthophrys
Ou - Psittirostra psittacea
Eurasian Bullfinch - Pyrrhula pyrrhula
Lesser Koa-finch - Rhodacanthis flaviceps
Greater Koa-finch - Rhodacanthis palmeri
Laysan Finch - Telespiza cantans
Nihoa Finch - Telespiza ultima
Iiwi - Vestiaria coccinea
Other Species Around the World

Africa Asia Australia/Oceania Europe North/Central America South America NH Species

Trumpeter Finch - Bucanetes githagineus
Spectacled Finch - Callacanthis burtoni
Black-headed Greenfinch - Carduelis ambigua
Black Siskin - Carduelis atrata
Black-capped Siskin - Carduelis atriceps
Black-chinned Siskin - Carduelis barbata
Eurasian Linnet - Carduelis cannabina
European Goldfinch - Carduelis carduelis
European Greenfinch - Carduelis chloris
Alpine Citril Finch - Carduelis citrinella
Mediterranean Citril Finch - Carduelis corsicana
Thick-billed Siskin - Carduelis crassirostris
Red Siskin - Carduelis cucullata
Antillean Siskin - Carduelis dominicensis
Common Redpoll - Carduelis flammea
Twite - Carduelis flavirostris
Hoary Redpoll - Carduelis hornemanni
Warsangli Linnet - Carduelis johannis
Lawrence's Goldfinch - Carduelis lawrencei
Hooded Siskin - Carduelis magellanica
Vietnam Greenfinch - Carduelis monguilloti
Black-headed Siskin - Carduelis notata
Olivaceous Siskin - Carduelis olivacea
Pine Siskin - Carduelis pinus
Lesser Goldfinch - Carduelis psaltria
Saffron Siskin - Carduelis siemiradzkii
Gray-capped Greenfinch - Carduelis sinica
Andean Siskin - Carduelis spinescens
Yellow-breasted Greenfinch - Carduelis spinoides
Eurasian Siskin - Carduelis spinus
American Goldfinch - Spinus tristis
Yellow-rumped Siskin - Carduelis uropygialis
Yellow-bellied Siskin - Carduelis xanthogastra
Yellow-faced Siskin - Carduelis yarrellii
Yemen Linnet - Carduelis yemenensis
Cassin's Finch - Carpodacus cassinii
Dark-rumped Rosefinch - Carpodacus edwardsii
Pink-rumped Rosefinch - Carpodacus eos
Common Rosefinch - Carpodacus erythrinus
House Finch - Carpodacus mexicanus
Dark-breasted Rosefinch - Carpodacus nipalensis
Beautiful Rosefinch - Carpodacus pulcherrimus
Red-fronted Rosefinch - Carpodacus puniceus
Purple Finch - Haemorhous purpureus
Red-mantled Rosefinch - Carpodacus rhodochlamys
Tibetan Rosefinch - Carpodacus roborowskii
Pink-browed Rosefinch - Carpodacus rodochroa
Spot-winged Rosefinch - Carpodacus rodopeplus
Pallas's Rosefinch - Carpodacus roseus
Crimson Rosefinch - Carpodacus rubescens
Great Rosefinch - Carpodacus rubicilla
Streaked Rosefinch - Carpodacus rubicilloides
Pale Rosefinch - Carpodacus synoicus
White-browed Rosefinch - Carpodacus thura
Three-banded Rosefinch - Carpodacus trifasciatus
Vinaceous Rosefinch - Carpodacus vinaceus
Bonin Grosbeak - Chaunoproctus ferreorostris
Kona Grosbeak - Chloridops kona
Ula-ai-hawane - Ciridops anna
Hooded Grosbeak - Coccothraustes abeillei
Hawfinch - Coccothraustes coccothraustes
Evening Grosbeak - Coccothraustes vespertinus
Black Mamo - Drepanis funerea
Hawaii Mamo - Drepanis pacifica
Lanai Hookbill - Dysmorodrepanis munroi
Yellow-billed Grosbeak - Eophona migratoria
Japanese Grosbeak - Eophona personata
Mongolian Finch - Eremopsaltria mongolicus
Eurasian Chaffinch - Fringilla coelebs
Brambling - Fringilla montifringilla
Blue Chaffinch - Fringilla teydea
Scarlet Finch - Haematospiza sipahi
Greater Akialoa - Hemignathus ellisianus
Oahu Amakihi - Hemignathus flavus
Kauai Amakihi - Hemignathus kauaiensis
Nukupuu - Hemignathus lucidus
Akiapolaau - Hemignathus munroi
Lesser Akialoa - Hemignathus obscurus
Anianiau - Hemignathus parvus
Greater Amakihi - Hemignathus sagittirostris
Common Amakihi - Hemignathus virens
Apapane - Himatione sanguinea
Asian Rosy-finch - Leucosticte arctoa
Black Rosy-finch - Leucosticte atrata
Brown-capped Rosy-finch - Leucosticte australis
Black-headed Mountain-finch - Leucosticte brandti
Plain Mountain-finch - Leucosticte nemoricola
Sillem's Mountain-finch - Leucosticte sillemi [dd]
Gray-crowned Rosy-finch - Leucosticte tephrocotis
Oriole Finch - Linurgus olivaceus


Red Crossbill - Loxia curvirostra
White-winged Crossbill - Loxia leucoptera
Hispaniolan Crossbill - Loxia megaplaga
Parrot Crossbill - Loxia pytyopsittacus
Scottish Crossbill - Loxia scotica
Palila - Loxioides bailleui
Akekee - Loxops caeruleirostris
Akepa - Loxops coccineus
Poo-uli - Melamprosops phaeosoma
Collared Grosbeak - Mycerobas affinis
White-winged Grosbeak - Mycerobas carnipes
Black-and-yellow Grosbeak - Mycerobas icterioides
Spot-winged Grosbeak - Mycerobas melanozanthos
Sao Tome Grosbeak - Neospiza concolor
Akikiki - Oreomystis bairdi
Hawaii Creeper - Oreomystis mana
Akohekohe - Palmeria dolei
Kakawahie - Paroreomyza flammea
Oahu Alauahio - Paroreomyza maculata
Maui Alauahio - Paroreomyza montana
Pine Grosbeak - Pinicola enucleator
Crimson-browed Finch - Pinicola subhimachala
Maui Parrotbill - Pseudonestor xanthophrys
Ou - Psittirostra psittacea
Gold-naped Finch - Pyrrhoplectes epauletta
Orange Bullfinch - Pyrrhula aurantiaca
Gray-headed Bullfinch - Pyrrhula erythaca
Red-headed Bullfinch - Pyrrhula erythrocephala
White-cheeked Bullfinch - Pyrrhula leucogenis
Azores Bullfinch - Pyrrhula murina
Brown Bullfinch - Pyrrhula nipalensis
Eurasian Bullfinch - Pyrrhula pyrrhula
Lesser Koa-finch - Rhodacanthis flaviceps
Greater Koa-finch - Rhodacanthis palmeri
Desert Finch - Rhodopechys obsoletus
Crimson-winged Finch - Rhodopechys sanguineus
Somali Grosbeak - Rhynchostruthus louisae
Arabian Grosbeak - Rhynchostruthus percivali
Socotra Grosbeak - Rhynchostruthus socotranus
Black-headed Canary - Serinus alario
White-throated Canary - Serinus albogularis
Ankober Serin - Serinus ankoberensis
Black-throated Seedeater - Serinus atrogularis
Kenya Grosbeak-canary - Serinus buchanani
Thick-billed Seedeater - Serinus burtoni
Island Canary - Serinus canaria
Serinus canicollis
Black-faced Canary - Serinus capistratus
Abyssinian Citril - Serinus citrinelloides
Lemon-breasted Seedeater - Serinus citrinipectus
Ethiopian Grosbeak-canary - Serinus donaldsoni
White-bellied Canary - Serinus dorsostriatus
Mountain Serin - Serinus estherae
Yellow-throated Seedeater - Serinus flavigula
Yellow Canary - Serinus flaviventris
Yellow-crowned Canary - Serinus flavivertex
Yellow-browed Citril - Serinus frontalis
Streaky-headed Seedeater - Serinus gularis
Gray-faced Citril - Serinus hypostictus
Papyrus Canary - Serinus koliensis
Protea Canary - Serinus leucopterus
White-rumped Seedeater - Serinus leucopygius
Kipengere Seedeater - Serinus melanochrous
Yemen Serin - Serinus menachensis
Black-eared Seedeater - Serinus mennelli
Yellow-fronted Canary - Serinus mozambicus
Ethiopian Siskin - Serinus nigriceps
Fire-fronted Serin - Serinus pusillus
Reichard's Seedeater - Serinus reichardi
Olive-rumped Serin - Serinus rothschildi
Principe Seedeater - Serinus rufobrunneus
Forest Canary - Serinus scotops
European Serin - Serinus serinus
Streaky Seedeater - Serinus striolatus
Brimstone Canary - Serinus sulphuratus
Drakensberg Siskin - Serinus symonsi
Syrian Serin - Serinus syriacus
Tibetan Serin - Serinus thibetanus
Cape Siskin - Serinus totta
Brown-rumped Seedeater - Serinus tristriatus
Yellow-browed Seedeater - Serinus whytii
Salvadori's Serin - Serinus xantholaemus
Yellow-rumped Seedeater - Serinus xanthopygius
Laysan Finch - Telespiza cantans
Nihoa Finch - Telespiza ultima
Long-tailed Rosefinch - Uragus sibiricus
Iiwi - Vestiaria coccinea