Erethizontidae - New World porcupines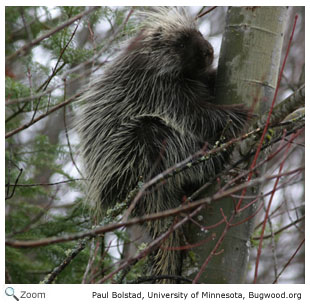 There are 18 species in this family. They are found in North, Central and South America. They range in size from 17-32 inches in length.
Porcupines have long spiny barbed hairs or quills. They do not shoot their quills, if an attacking animals gets too close to a porcupine, the quills can embed themselves into the attacking animal.
Porcupines are nocturnal and live alone or in pairs. They have good hearing, but poor eyesight.
While some spcies in this family eat insects, amphibians, and reptiles, most species are herbivores and eat seeds, fruit, nuts, leaves, and other plant parts. Porcupines are found in a variety of habitats including coniferous and deciduous forests, mountains, grasslands, and deserts. Some species live in trees and others live in burrows or dens in the ground.
World Status Key


Least Concern

Near Threatened

Vulnerable

Endangered

Critically Endangered

Extinct Wild

Extinct
Status taken from ICUN Redlist. If no status is listed, there is not enough data to establish status.
US Status Key


Threatened in US

Threatened in NH

Endangered in US

Endangered in NH

Introduced
Status taken from US Fish and Wildlife and NH Fish and Game
New Hampshire Species

North/Central American Species

North American Porcupine - Erethizon dorsatum
Brazilian Porcupine - Coendou prehensilis
Rothschild's Porcupine - Coendou rothschildi
Mexican Hairy Dwarf Porcupine - Sphiggurus mexicanus

Other Species Around the World

Africa Asia Australia/Oceania Europe North America South America NH Click for More Info

Thin-spined Porcupine - Chaetomys subspinosus
Bicolor-spined Porcupine - Coendou bicolor
Koopman's Porcupine - Coendou nycthemera
Brazilian Porcupine - Coendou prehensilis
Andean Porcupine - Coendou quichua
Rothschild's Porcupine - Coendou rothschildi
Santa Marta Porcupine - Coendou sanctamartae
Stump-tailed Porcupine - Echinoprocta rufescens
North American Porcupine - Erethizon dorsatum


Streaked Dwarf Porcupine - Sphiggurus ichillus
Bahia Hairy Dwarf Porcupine - Sphiggurus insidiosus
Black-tailed Hairy Dwarf Porcupine - Sphiggurus melanurus
Mexican Hairy Dwarf Porcupine - Sphiggurus mexicanus
Frosted Hairy Dwarf Porcupine - Sphiggurus pruinosus
Roosmalen's Porcupine - Sphiggurus roosmalenorum
Paraguay Hairy Dwarf Porcupine - Sphiggurus spinosus
Brown Hairy Dwarf Porcupine - Sphiggurus vestitus
Orange-spined Hairy Dwarf Porcupine - Sphiggurus villosus
Additional Information
Key:

Profile

Photos

Video

Audio
North American Porcupine - Erethizon dorsatum




The North American porcupine is found in Canada, Mexico, and the United States.
Source: Arkive Intended Audience: General Reading Level: Middle School

Roosmalen's Porcupine - Sphiggurus roosmalenorum



Roosmalen's porcupine is found in Brazil.
Source: Arkive Intended Audience: General Reading Level: Middle School