Delphinidae - dolphins, killer whales, pilot whales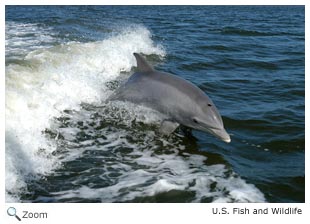 There are 36 species in this family. Delphinids have a torpedo-shaped body; a long beak-like snout; cone-shaped teeth; a blow hole; and a bulging forehead. The bulge in their forehead is cause by the melon. The melon is a fatty bulge between the dolphin's skull and blow hole that is used for echolocation. Most species also have a curved dorsal fin.

Delphinids are found in all of the world's oceans and some species are found in rivers. They are usually found in shallow water. Most species live in large groups called pods. Delphinids are fast and agile swimmers. Delphinids use echolocation to locate prey like fish and squid. Killer whales also eat seals and penguins.
World Status Key


Least Concern

Near Threatened

Vulnerable

Endangered


Critically Endangered

Extinct in the Wild

Extinct
Status taken from ICUN Redlist. If no status is listed, there is not enough data to establish status, or there is no status data for the species.
US Status Key


Threatened in US

Threatened in NH

Endangered in US

Endangered in NH

Breeds in NH

Introduced
Status taken from US Fish and Wildlife and NH Fish and Game
New Hampshire Species

North/Central American Species

Short-beaked Saddleback Dolphin - Delphinus delphis
Killer Whale - Orcinus orca
Melon-headed Whale - Peponocephala electra
False Killer Whale - Pseudorca crassidens
Guiana Dolphin - Sotalia guianensis
Pantropical Spotted Dolphin - Stenella attenuata
Clymene Dolphin - Stenella clymene
Striped Dolphin - Stenella coeruleoalba
Atlantic Spotted Dolphin - Stenella frontalis
Spinner Dolphin - Stenella longirostris
Rough-toothed Dolphin - Steno bredanensis
Common Bottlenose Dolphin - Tursiops truncatus

North/Central American Species

Long-beaked Common Dolphin - Delphinus capensis
Pygmy Killer Whale - Feresa attenuata
Short-finned Pilot Whale - Globicephala macrorhynchus
Long-finned Pilot Whale - Globicephala melas
Risso's Dolphin - Grampus griseus
Fraser's Dolphin - Lagenodelphis hosei
Atlantic White-sided Dolphin - Lagenorhynchus acutus
White-beaked Dolphin - Lagenorhynchus albirostris
Pacific White-sided Dolphin - Lagenorhynchus obliquidens
Northern Right Whale Dolphin - Lissodelphis borealis
Species Around the World

Location Key

Africa Antarctic Region Asia Australia/Oceania Europe North America South America NH
Arctic Ocean Atlantic Ocean Indian Ocean Mediterranean/Black Sea Pacific Ocean

Commerson's Dolphin - Cephalorhynchus commersonii
Chilean Dolphin - Cephalorhynchus eutropia
Heaviside's Dolphin - Cephalorhynchus heavisidii
Hector's Dolphin - Cephalorhynchus hectori
Long-beaked Common Dolphin - Delphinus capensis
Short-beaked Saddleback Dolphin - Delphinus delphis
Pygmy Killer Whale - Feresa attenuata
Short-finned Pilot Whale - Globicephala macrorhynchus
Long-finned Pilot Whale - Globicephala melas
Risso's Dolphin - Grampus griseus
Fraser's Dolphin - Lagenodelphis hosei
Atlantic White-sided Dolphin - Lagenorhynchus acutus
White-beaked Dolphin - Lagenorhynchus albirostris
Peale's Dolphin - Lagenorhynchus australis
Hourglass Dolphin - Lagenorhynchus cruciger
Pacific White-sided Dolphin - Lagenorhynchus obliquidens
Dusky Dolphin - Lagenorhynchus obscurus
Northern Right Whale Dolphin - Lissodelphis borealis
Southern Right Whale Dolphin - Lissodelphis peronii
Irrawaddy Dolphin - Orcaella brevirostris
Australian Snubfin Dolphin - Orcaella heinsohni
Killer Whale - Orcinus orca
Melon-headed Whale - Peponocephala electra
False Killer Whale - Pseudorca crassidens
Tucuxi - Sotalia fluviatilis
Guiana Dolphin - Sotalia guianensis
Indo-pacific Hump-backed Dolphin - Sousa chinensis
Atlantic Humpbacked Dolphin - Sousa teuszii
Pantropical Spotted Dolphin - Stenella attenuata
Clymene Dolphin - Stenella clymene
Striped Dolphin - Stenella coeruleoalba
Atlantic Spotted Dolphin - Stenella frontalis
Spinner Dolphin - Stenella longirostris
Rough-toothed Dolphin - Steno bredanensis
Indo-pacific Bottlenose Dolphin - Tursiops aduncus
Common Bottlenose Dolphin - Tursiops truncatus