| | | |
| --- | --- | --- |
| Dasyuridae - Dasyurids | | |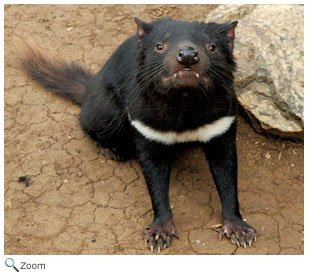 There are 72 species in this family. They are found in Australia, Tasmania, New Guinea, and Indonesia. They vary in size from small and mouse-like to dog-sized. Most species in this family have long, pointed heads; rounded ears; and long, furred tails. The species in this family are marsupials, but some species do not have a full pouch. Instead, they have folds of skin that hold their young. The species in this family are carnivores or insectivores.

The Tasmanian devil is a member of this family. The Tasmanian devil is about 3.5 feet in length and is the world's largest living carnivorous marsupial. It has black fur and a squat, powerful body. It has a large head and a short, thick tail. It is found in Tasmania in a wide variety of habitats. The Tasmanian devil is nocturnal and spends the day in the brush, a den, a hollow log, or a cave.
The female Tasmanian devil gives birth to up to 50 babies or joeys! The joeys climb from the birth canal to the mother's pouch, where only four of them will be able to attach themselves to one of four teats. The other joeys will die. The joeys leave their mother when they are about 6 months old.
The Tasmanian devil uses its keen sense of smell to locate food. It is a scavenger, but it also eats live prey like small mammals, birds, reptiles, and amphibians. It uses its powerful teeth and jaws to completely consume its food, even the bones! The Tasmanian devil gets it name from the early European settlers who heard its eerie call and the bone-chilling screams it makes when feeding in packs.

Dasyuridae Photo Gallery
World Status Key


Least Concern

Near Threatened

Vulnerable

Endangered

Critically Endangered

Extinct in the Wild

Extinct
Status and range is taken from ICUN Redlist. If no status is listed, there is not enough data to establish status.
US Status Key


Threatened in US

Threatened in NH

Endangered in US

Endangered in NH

Introduced
Status taken from US Fish and Wildlife and NH Fish and Game
Location


Africa

Asia

Australia/Oceania

Europe

North America

South America

NH

Click for More Info

Click for Image
| | | |
| --- | --- | --- |
| New Hampshire Species | | North/Central American Species |
| None | | None |
Species Around the World

Kultarr - Antechinomys laniger
Rusty Antechinus - Antechinus adustus
Agile Antechinus - Antechinus agilis
Fawn Antechinus - Antechinus bellus
Yellow-footed Antechinus - Antechinus flavipes
Atherton Antechinus - Antechinus godmani
Cinnamon Antechinus - Antechinus leo
Swamp Antechinus - Antechinus minimus
Brown Antechinus - Antechinus stuartii
Subtropical Antechinus - Antechinus subtropicus
Dusky Antechinus - Antechinus swainsonii
Brush-tailed Mulgara - Dasycercus blythi
Crest-tailed Mulgara - Dasycercus cristicauda
Kaluta - Dasykaluta rosamondae
Kowari - Dasyuroides byrnei
New Guinea Quoll - Dasyurus albopunctatus
Western Quoll - Dasyurus geoffroii
Northern Quoll - Dasyurus hallucatus
Spotted-tailed Quoll - Dasyurus maculatus
Bronze Quoll - Dasyurus spartacus
Eastern Quoll - Dasyurus viverrinus
Habbema Dasyure - Murexia habbema
Short-furred Dasyure - Murexia longicaudata
Black-tailed Dasyure - Murexia melanurus
Long-nosed Dasyure - Murexia naso
Broad-striped Dasyure - Murexia rothschildi
Woolley's Three-striped Dasyure - Myoictis leucura
Müller's Three-striped Dasyure - Myoictis melas
Wallace's Three-striped Dasyure-Myoictis wallacei
Tate's Three-striped Dasyure - Myoictis wavicus
Speckled Dasyure - Neophascogale lorentzii
Wongai Ningaui - Ningaui ridei
Pilbara Ningaui - Ningaui timealeyi
Southern Ningaui - Ningaui yvonneae
Dibbler - Parantechinus apicalis
Red-tailed Phascogale - Phascogale calura

Northern Brush-tailed Phascogale - Phascogale pirata
Brush-tailed Phascogale - Phascogale tapoatafa
Red-bellied Phascogale - Phascolosorex doriae
Narrow-striped Dasyure - Phascolosorex dorsalis
Giles' Planigale - Planigale gilesi
Long-tailed Planigale - Planigale ingrami
Common Planigale - Planigale maculata
Papuan Planigale - Planigale novaeguineae
Narrow-nosed Planigale - Planigale tenuirostris
Sandstone Pseudantechinus - Pseudantechinus bilarni
Fat-tailed Pseudantechinus - Pseudantechinus macdonnellensis
Carpentarian Pseudantechinus - Pseudantechinus mimulus
Ningbing Pseudantechinus - Pseudantechinus ningbing
Rory's Pseudantechinus - Pseudantechinus roryi
Woolley's Pseudantechinus - Pseudantechinus woolleyae
Tasmanian Devil - Sarcophilus harrisii
Kangaroo Island Dunnart - Sminthopsis aitkeni
Chestnut Dunnart - Sminthopsis archeri
Kakadu Dunnart - Sminthopsis bindi
Butler's Dunnart - Sminthopsis butleri
Fat-tailed Dunnart - Sminthopsis crassicaudata
Little Long-tailed Dunnart - Sminthopsis dolichura
Julia Creek Dunnart - Sminthopsis douglasi
Sooty Dunnart - Sminthopsis fuliginosus
Gilbert's Dunnart - Sminthopsis gilberti
White-tailed Dunnart - Sminthopsis granulipes
Grey-bellied Dunnart - Sminthopsis griseoventer
Hairy-footed Dunnart - Sminthopsis hirtipes
White-footed Dunnart - Sminthopsis leucopus
Long-tailed Dunnart - Sminthopsis longicaudata
Stripe-faced Dunnart - Sminthopsis macroura
Common Dunnart - Sminthopsis murina
Ooldea Dunnart - Sminthopsis ooldea
Sandhill Dunnart - Sminthopsis psammophila
Red-cheeked Dunnart - Sminthopsis virginiae
Lesser Hairy-footed Dunnart - Sminthopsis youngsoni

Additional Information

Key: Profile Photos Video Audio

Kultarr - Antechinomys laniger
The kultarr is found in Northern Australia, Western Australia, and New South Wales.
Source: Animal Diversity Web Intended Audience: General Reading Level: Middle School

Kultarr - Antechinomys laniger
The kultar has large ears, long legs, and a long tail with a tuft of fur on the end.
Source: New South Wales Government Intended Audience: General Reading Level: Middle School

Agile Antechinus - Antechinus agilis
The agile antechinus is found in Australia.
Source: Atlas of Living Australia Intended Audience: General Reading Level: Middle School

Fawn Antechinus - Antechinus bellus
The fawn antechinus is found in the Northern Territory in Australia.
Source: Atlas of Living Australia Intended Audience: General Reading Level: Middle School

Yellow-footed Antechinus - Antechinus flavipes
The yellow-footed antechinus is found in Australia.
Source: Brain Museum Intended Audience: General Reading Level: Middle School

Yellow-footed Antechinus - Antechinus flavipes
The yellow-footed antechinus is the siz of a small rat.
Source: Queensland Government Intended Audience: General Reading Level: Middle School

Brown Antechinus - Antechinus stuartii
The brown antechinus is found in Australia.
Source: Australian Museum Intended Audience: General Reading Level: Middle School

Brown Antechinus - Antechinus stuartii
The brown antechinus male has a lifespan of around a year. It dies a month after mating.
Source: BBC Intended Audience: General Reading Level: Middle School

Brown Antechinus - Antechinus stuartii
The brown antechinus is found in forests with dense ground cover and lots of fallen trees that it can use for nests.
Source: Animal Diversity Web Intended Audience: General Reading Level: Middle School

Subtropical Antechinus - Antechinus subtropicus
The subtropical antechinus is found in forests on the coast from southeastern Queensland to northeastern New South Wales, Australia.
Source: Queensland Museum Intended Audience: General Reading Level: Middle School

Dusky Antechinus - Antechinus swainsonii
The dusky antechinus is found in southeastern Australia, including on the island of Tasmania.
Source: Animal Diversity Web Intended Audience: General Reading Level: Middle School

Dusky Antechinus - Antechinus swainsonii
The dusky antechinus locates its prey by smell.
Source: Museum Victoria Intended Audience: General Reading Level: Middle School

Dusky Antechinus - Antechinus swainsonii
The dusky antechinus is nocturnal.
Source: Tazmania Online Intended Audience: General Reading Level: Middle School

Crest-tailed Mulgara - Dasycercus cristicauda
The crest-tailed mulgara is found in the inland deserts of central Australia.
Source: Arkive Intended Audience: General Reading Level: Middle School

Crest-tailed Mulgara - Dasycercus cristicauda
The crest-tailed mulgara lives in borrows in the sand.
Source: Animal Diversity Web Intended Audience: General Reading Level: Middle School

Kowari - Dasyuroides byrnei
The Kowari is found in southeastern Queensland and northern South Australia in Australia.
Source: Queensland Government Intended Audience: General Reading Level: Middle School

Kowari - Dasyuroides byrnei
The Kowari looks like a rat. It has a pointed snout and a bushy black tip on its tail.
Source: Arkive Intended Audience: General Reading Level: Middle School

Kowari - Dasyuroides byrnei
The Kowari is found in grasslands and deserts.
Source: Konica Minolta Intended Audience: Students Reading Level: Elementary School

Kowari - Dasyuroides byrnei
The Kowari is mostly nocturnal, but it can be active in the early morning.
Source: Animal Diversity Web Intended Audience: General Reading Level: Middle School

New Guinea Quoll - Dasyurus albopunctatus
The New Guinea quoll is foundin Indonesia and Papua New Guinea.
Source: Arkive Intended Audience: General Reading Level: Middle School

Western Quoll - Dasyurus geoffroii
The western quoll is found in southwestern Western Australia in Australia.
Source: Animal Diversity Web Intended Audience: General Reading Level: Middle School

Western Quoll - Dasyurus geoffroii
The western quoll was once found across most of Australia.
Source: Western Springs Desert Park Intended Audience: General Reading Level: Middle School

Western Quoll - Dasyurus geoffroii
The western quoll is also known as the chuditch.
Source: Perth Zoo Intended Audience: General Reading Level: Middle School

Western Quoll - Dasyurus geoffroii
The western quoll is solitary and nocturnal.
Source: Arkive Intended Audience: General Reading Level: Middle School

Northern Quoll - Dasyurus hallucatus
The northern quoll is found along the northern Australian coast.
Source: Animal Diversity Web Intended Audience: General Reading Level: Middle School

Northern Quoll - Dasyurus hallucatus
Male northern quolls usually die after their first mating season.
Source: Arkive Intended Audience: General Reading Level: Middle School

Northern Quoll - Dasyurus hallucatus
The northern quoll is the smallest quoll species. It is the size of a small cat.
Source: Perth Zoo Intended Audience: General Reading Level: Middle School

Northern Quoll - Dasyurus hallucatus
The northern quoll is threatened by cane toads.
Source: ABC News, Australia Intended Audience: General Reading Level: Middle School

Northern Quoll - Dasyurus hallucatus
The northern quoll is also called the northern Australian native cat, northern native cat, satanellus, and njanmak.
Source: Wildlife Queensland Intended Audience: General Reading Level: Middle School

Northern Quoll - Dasyurus hallucatus
The northern quoll was once found across much of northern Australia.
Source: Territory Wildlife Park Intended Audience: General Reading Level: Middle School

Spotted-tailed Quoll - Dasyurus maculatus
The spotted-tailed quoll is found along the eastern Australian coast from Queensland to Victoria. It is also found in Tasmania.
Source: Animal Diversity Web Intended Audience: General Reading Level: Middle School

Spotted-tailed Quoll - Dasyurus maculatus
The spotted-tailed quoll is the largest species of quoll.
Source: Arkive Intended Audience: General Reading Level: Middle School

Spotted-tailed Quoll - Dasyurus maculatus
The spotted-tailed quoll is solitary and nocturanl.
Source: Tasmania Online Intended Audience: General Reading Level: Middle School

Spotted-tailed Quoll - Dasyurus maculatus
The spotted-tailed quoll is an opportunistic predator and scavenger.
Source: Wildlife Queensland Intended Audience: General Reading Level: Middle School

Eastern Quoll - Dasyurus viverrinus
The eastern quoll is found in Tasmania.
Source: Arkive Intended Audience: General Reading Level: Middle School

Eastern Quoll - Dasyurus viverrinus
Eastern Quolls live in rainforests, woodlands, and closed forests.
Source: Animal Diversity Web Intended Audience: General Reading Level: Middle School

Eastern Quoll - Dasyurus viverrinus
The eastern quoll can be sandy brown, brown, or black with white spots.
Source: Tasmania Online Intended Audience: General Reading Level: Middle School

Eastern Quoll - Dasyurus viverrinus
The eastern quoll was once found on mainland Australia.
Source: Australian Geographic Intended Audience: General Reading Level: Middle School Teacher Section:No

Wallace's Three-striped Dasyure - Myoictis wallacei
Wallace's three-striped dasyure is found in Indonesia and Papua New Guinea.
Source: Arkive Intended Audience: General Reading Level: Middle School

Southern Ningaui - Ningaui yvonneae
The southern ningaui is found in semi-arid regions of southern Australia.
Source: New South Wales Government Intended Audience: General Reading Level: Middle School

Southern Ningaui - Ningaui yvonneae
The southern ningaui is nocturnal and preys on arthropods and small lizards.
Source: Animal Diversity Web Intended Audience: General Reading Level: Middle School

Dibbler - Parantechinus apicalis
The dibbler is found in Western Australia, Australia.
Source: Arkive Intended Audience: Genera l Reading Level: Middle School

Northern Brush-tailed Phascogale - Phascogale pirata
The northern brush-tailed phascogale is found in the Northern Territory, Queensland, and Western Australia in Australia.
Source: Animal Diversity Web Intended Audience: General Reading Level: Middle School

Brush-tailed Phascogale - Phascogale tapoatafa
The brush-tailed phascogale is found along the coast in Queensland, New South Wales and Victoria, Australia and along the coast in Western Australia, Australia.
Source: Arkive Intended Audience: Genera l Reading Level: Middle School

Common Planigale - Planigale maculata
The common planigale is found in northern Western Australia, Northern Territory, and eastern Queensland..
Source: Arkive Intended Audience: General Reading Level: Middle School

Narrow-nosed Planigale - Planigale tenuirostris
The narrow-nosed planigale is found in the interior of eastern Australia.
Source: Animal Diversity Web Intended Audience: General Reading Level: Middle School

Carpentarian Pseudantechinus - Pseudantechinus mimulus
The Carpentarian pseudantechinus is found in the Northern Territory and in Queensland, Australia.
Source: Arkive Intended Audience: General Reading Level: Middle School

Rory's Pseudantechinus - Pseudantechinus roryi
Rory's pseudantechinus is found in Western Australia, Australia.
Source: Arkive Intended Audience: General Reading Level: Middle School

Tasmanian Devil - Sarcophilus harrisii
The Tasmanian devil is found in Tasmania.
Source: Animal Diversity Web Intended Audience: General Reading Level: Middle School

Tasmanian Devil - Sarcophilus harrisii
The Tasmanian devil is the largest carnivorous marsupial.
Source: Arkive Intended Audience: General Reading Level: Middle School

Tasmanian Devil - Sarcophilus harrisii
The Tasmanian devil was once found on mainland Australia.
Source: Tasmania Park and Wildlife Service Intended Audience: General Reading Level: Middle School

Tasmanian Devil - Sarcophilus harrisii
The Tasmanian devil lets loose with blood-curdling screeches and snarls when it feels threatened or when it is fights over food.
Source: National Geographic Intended Audience: General Reading Level: Middle School

Tasmanian Devil - Sarcophilus harrisii
The Tasmanian devil can travel up to ten miles every night in search of food.
Source: San Diego Zoo Intended Audience: Students Reading Level: Middle School

Tasmanian Devil - Sarcophilus harrisii
Facial cancer has cut the number of Tasmanian devils in the wild by 60% in the last few years.
Source: BBC Intended Audience: Students Reading Level: Middle School

Fat-tailed Dunnart - Sminthopsis crassicaudata
The fat-tailed dunnart is nocturnal.
Source: Animal Diversity Web Intended Audience: General Reading Level: Middle School