CUBAN PASSERIFORMES - Perching Birds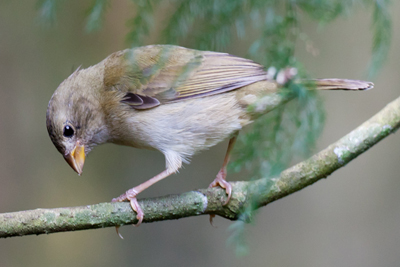 Perching birds have three unwebbed toes in the front and one strong, flexible toe in the back called the hallux, that lets them perch on tree branches. Most species of perching birds have 12 tail feathers. Perching birds are found in all parts of the world and they come in a wide variety of colors, patterns, shapes, and sizes. Most chicks in this order are completely featherless and helpless when they hatch and must be fed by their parents.
The order is divided into two suborders - Tyranni and Passeri.

The Passeri are the songbirds. They are different from other birds because of the complex set of four muscles in their voice box or syrinx. These muscles allow songbirds to make complex songs and calls. The birds in this suborder can also learn songs. They learn their songs by listening to other birds in their species.

The Tyranni suborder is made up of over 1,000 species of tropical birds. Most are found in South America. The birds in this suborder also have songs, but they don't learn them. They are born knowing their songs.

Birds of Cuba Photo Gallery >>
CUBAN PASSERIFORMES - Perching birds

World Status Key

Least Concern

Near Threatened

Vulnerable

Endangered

Critically Endangered

Extinct in the Wild

Extinct
Status and range is taken from ICUN Redlist. If no status is listed, there is not enough data to establish status.
US Status Key


Threatened in US

Threatened in NH

Endangered in US

Endangered in NH

Introduced

Breeds in NH (Birds)
Status taken from US Fish and Wildlife and NH Fish and Game
Location


Africa

Asia

Australia/Oceania

Europe

North America

South America

NH

Click for More Info

Click for Image
| | | | |
| --- | --- | --- | --- |
| Cuban Pewee - Contopus caribaeus | | Year-round | |
| | Audio Credit: xeno-canto.org Laura Gooch | | |
| Great Crested Flycatcher - Myiarchus crinitus | | Non-breeding | |
| | Audio Credit: xeno-canto.org Paul Driver | | |
| La Sagra's Flycatcher - Myiarchus sagrae | | Year-round | |
| | Audio Credit: xeno-canto.org Chris Benesh | | |
| Gray Kingbird - Tyrannus dominicensis | | Breeding | |
| | Audio Credit: xeno-canto.org Daniel Lane | | |
| Loggerhead Kingbird - Tyrannus caudifasciatus | | Year-round | |
| | Audio Credit: xeno-canto.org Daniel Lane | | |
| Giant Kingbird - Tyrannus cubensis | | Endemic | |
| | Audio Credit: xeno-canto.org Jon King | | |
| White-eyed Vireo - Vireo griseus | | Non-breeding | |
| | Audio Credit: xeno-canto.org Andrew Spencer | | |
| Thick-billed Vireo - Vireo crassirostris | | Non-breeding | |
| | Audio Credit: xeno-canto.org G M Kirwan | | |
| Cuban Vireo - Vireo gundlachii | | Endemic | |
| | Audio Credit: xeno-canto.org Brian Cox | | |
| Yellow-throated Vireo - Vireo flavifrons | | Non-breeding | |
| | Audio Credit: xeno-canto.org Mike Nelson | | |
| Black-whiskered Vireo - Vireo altiloquus | | Breeding | |
| | Audio Credit: xeno-canto.org Andrew Spencer | | |
| Palm Crow - Corvus palmarum | | Year-round | |
| | Audio Credit: xeno-canto.org Ian Davies | | |
| Cuban Crow - Corvus nasicus | | Year-round | |
| | Audio Credit: xeno-canto.org Laura Gooch | | |
| Cuban Martin - Progne cryptoleuca | No Audio Available | Endemic | |
| | | | |
| Tree Swallow - Tachycineta bicolor | | Non-breeding | |
| | Audio Credit: xeno-canto.org Andrew Spencer | | |
| Cave Swallow - Petrochelidon fulva | | Breeding | |
| | Audio Credit: xeno-canto.org Stuart Fisher | | |
| Zapata Wren - Ferminia cerverai | | Endemic | |
| | Audio Credit: xeno-canto.org G M Kirwan | | |
| Blue-gray Gnatcatcher - Polioptila caerulea | | Non-breeding | |
| | Audio Credit: xeno-canto.org Andrew Spencer | | |
| Cuban Gnatcatcher - Polioptila lembeyei | | Endemic | |
| | Audio Credit: xeno-canto.org Laura Gooch | | |
| Cuban Solitaire - Myadestes elisabeth | | Endemic | |
| | Audio Credit: xeno-canto.org Laura Gooch | | |
| Gray-cheeked Thrush - Catharus minimus | | Non-breeding | |
| | Audio Credit: xeno-canto.org Andrew Spencer | | |
| Swainson's Thrush - Catharus ustulatus | | Non-breeding | |
| | Audio Credit: xeno-canto.org Andrew Spencer | | |
| American Robin - Turdus migratorius | | Non-breeding | |
| | Audio Credit: xeno-canto.org Paul Jaszczak | | |
| Red-legged Thrush - Turdus plumbeus | | Year-round | |
| | Audio Credit: xeno-canto.org Daniel Lane | | |
| Gray Catbird - Dumetella carolinensis | | Non-breeding | |
| | Audio Credit: xeno-canto.org Prairie and Parkland Marsh Monitoring Program | | |
| Northern Mockingbird - Mimus polyglottos | | Year-round | |
| | Audio Credit: xeno-canto.org Mike Nelson | | |
| Bahama Mockingbird - Mimus gundlachii | | Year-round | |
| | Audio Credit: xeno-canto.org Paul Driver | | |
| European Starling - Sturnus vulgaris | | Introduced, Year-round | |
| | Audio Credit: xeno-canto.org Elias A. Ryberg | | |
| Cedar Waxwing - Bombycilla cedrorum | | Non-breeding | |
| | Audio Credit: xeno-canto.org Tayler Brooks | | |
| Ovenbird -Seiurus aurocapilla | | Non-breeding | |
| | Audio Credit: xeno-canto.org Mike Nelson | | |
| Worm-eating Warbler - Helmitheros vermivorus | | Non-breeding | |
| | Audio Credit: xeno-canto.org Andrew Spencer | | |
| Prairie Warbler - Dendroica discolor | | Non-breeding | |
| | Audio Credit: xeno-canto.org Mike Nelson | | |
| Louisiana Waterthrush - Parkesia motacilla | | Non-breeding | |
| | Audio Credit: xeno-canto.org Mike Nelson | | |
| Northern Waterthrush - Parkesia noveboracensis | | Non-breeding | |
| | Audio Credit: xeno-canto.org Daniel Parker | | |
| Blue-winged Warbler - Vermivora pinus | | Non-breeding | |
| | Audio Credit: xeno-canto.org Tayler Brooks | | |
| Black-and-white Warbler - Mniotilta varia | | Non-breeding | |
| | Audio Credit: xeno-canto.org Andrew Spencer | | |
| Swainson's Warbler - Limnothlypis swainsonii | | Non-breeding | |
| | Audio Credit: xeno-canto.org Mike Nelson | | |
| Red-legged Honeycreeper - Cyanerpes cyaneus | | Year-round | |
| | Audio Credit: xeno-canto.org Guillermo Funes | | |
| Cuban Grassquit - Tiaris canorus | No Available Audio | Endemic | |
| | | | |
| Yellow-faced Grassquit -Tiaris olivaceus | | Year-round | |
| | Audio Credit: xeno-canto.org Bernabe Lopez-Lanus | | |
| Cuban Bullfinch - Melopyrrha nigra | | Year-round | |
| | Audio Credit: xeno-canto.org William Adsett | | |
| Western Spindalis - Spindalis zena | | Year-round | |
| | Audio Credit: xeno-canto.org William Adsett | | |
| Cuban Sparrow - Torreornis inexpectata | | Endemic | |
| | Audio Credit: xeno-canto.org Desmond Allen | | |
| Chipping Sparrow - Spizella passerina | | Non-breeding | |
| | Audio Credit: xeno-canto.org Chris Parrish | | |
| Red-shouldered Blackbird - Agelaius assimilis | | Endemic | |
| | Audio Credit: xeno-canto.org Desmond Allen | | |
| Olive-capped Warbler - Dendroica pityophila | | Year-round | |
| | Audio Credit: xeno-canto.org Scott Connop | | |
| Yellow-headed Warbler - Teretistris fernandinae | | Year-round | |
| | Audio Credit: xeno-canto.org William Adsett | | |
| | | | |
| | | | |
Additional Information
Key:

Profile

Photos

Video

Audio
Cuban Pewee - Contopus caribaeus







The Cuban pewee is found in the Bahamas and Cuba.
Source: Internet Bird Collection Intended Audience: General Reading Level: Middle School
Great Crested Flycatcher - Myiarchus crinitus









The great crested flycatcher is found in southern Canada and the eastern half of the U.S. south to Mexico, Central America, the Caribbean and northern South America.
Source: Cornell Lab of Ornithology Intended Audience: General Reading Level: Middle School
Great Crested Flycatcher - Myiarchus crinitus








The great crested flycatcher is a neotropical migrant. It breeds in Canada and the U.S. and winters in Central America, South America, and the Caribbean.
Source: Animal Diversity Web Intended Audience: General Reading Level: Middle School
La Sagra's Flycatcher - Myiarchus sagrae







La Sagra's flycatcher is found in the Bahamas, the Cayman Islands, Cuba, and the Turks and Caicos Islands.
Source: Internet Bird Collection Intended Audience: General Reading Level: Middle School
Gray Kingbird - Tyrannus dominicensis








The gray kingbird breeds in southern Alabama and Mississippi, Florida, the Bahamas, Cuba, and Jamica and winters in northern South America. It lives year-round in parts of the Caribbean and in Central America.
Source: Internet Bird Collection Intended Audience: General Reading Level: Middle School
Gray Kingbird - Tyrannus dominicensis







The gray kingbird perches in trees and snaps up flying insects.
Source: Cornell Lab of Ornithology Intended Audience: General Reading Level: Middle School
Loggerhead Kingbird - Tyrannus caudifasciatus







The loggerhead kingbird is found in the Bahamas, the Cayman Islands, Cuba, the Dominican Republic, Haiti, Jamaica, Puerto Rico, and the Turks and Caicos Islands.
Source: Internet Bird Collection Intended Audience: General Reading Level: Middle School
Giant Kingbird - Tyrannus cubensis





The giant kingbird is only found in Cuba.
Source: Arkive Intended Audience: General Reading Level: Middle School
White-eyed Vireo - Vireo griseus







The white-eyed vireo is found from Nebraska east to Massachusetts and south to Central America and the Caribbean.
Source: Cornell Lab of Ornithology Intended Audience: General Reading Level: Middle School
White-eyed Vireo - Vireo griseus






The white-eyed vireo is usually found in brushy habitats near a water source.
Source: Animal Diversity Web Intended Audience: General Reading Level: Middle School
Thick-billed Vireo - Vireo crassirostris







The thick-billed vireo is found in the Bahamas, the Cayman Islands, Cuba, Haiti, and the Turks and Caicos Islands.
Source: Internet Bird Collection Intended Audience: General Reading Level: Middle School
Cuban Vireo - Vireo gundlachii







The Cuban vireo is only found in Cuba.
Source: Internet Bird Collection Intended Audience: General Reading Level: Middle School
Yellow-throated Vireo - Vireo flavifrons









The yellow-throated vireo breeds in the eastern half of the U.S. and winters in Mexico, Central America, South America, and the Caribbean.
Source: Cornell Lab of Ornithology Intended Audience: General Reading Level: Middle School
Black-whiskered Vireo - Vireo altiloquus







The black-whiskered vireo breeds in the Florida and the Caribbean and winters in South America.
Source: Cornell Lab of Ornithology Intended Audience: General Reading Level: Middle School
Palm Crow - Corvus palmarum






The palm crow is found in Cuba, the Dominican Republic, and Haiti.
Source: Internet Bird Collection Intended Audience: General Reading Level: Middle School
Cuban Crow - Corvus nasicus






The Cuban crow is found in Cuba and the Turks and Caicos Islands.
Source: Internet Bird Collection Intended Audience: General Reading Level: Middle School
Cuban Martin - Progne cryptoleuca







The Cuban martin is only found in Cuba.
Source: Internet Bird Collection Intended Audience: General Reading Level: Middle School
Tree Swallow - Tachycineta bicolor









In North America, the tree swallow breeds from Alaska east to Newfoundland and south to California, Colorado, Nebraska, and Maryland. It winters from southern California, the Gulf Coast, and the Carolinas to Central America and the Caribbean.
Source: Cornell Lab of Ornithology Intended Audience: General Reading Level: Middle School
Tree Swallow - Tachycineta bicolor









In North America, the tree swallow breeds from Alaska east to Newfoundland and south to California, Colorado, Nebraska, and Maryland. It winters from southern California, the Gulf Coast, and the Carolinas to Central America and the Caribbean.
Source: Animal Diversity Web Intended Audience: General Reading Level: Middle School
Cave Swallow - Petrochelidon fulva








The cave swallow is found in Texas, New Mexico, Florida, the Caribbean, and Mexico.
Source: Internet Bird Collection Intended Audience: General Reading Level: Middle School
Zapata Wren - Ferminia cerverai






The Zapata wren is only found in the Zapata Swamp in Cuba.
Source: Arkive Intended Audience: General Reading Level: Middle School
Blue-gray Gnatcatcher - Polioptila caerulea








The blue-gray gnatcatcher breeds across much of the U.S. with the exception of areas of the Great Plains, the Rocky Mountain region and the Pacific Northwest. It is a permanent resident in the southern part of its range, and it winters in Mexico, Central America, and the Caribbean.
Source: Cornell Lab of Ornithology Intended Audience: General Reading Level: Middle School
Cuban Gnatcatcher - Polioptila lembeyei






The Cuban gnatcatcher is only found in Cuba.
Source: Cornell Lab of Ornithology Intended Audience: General Reading Level: Middle School
Cuban Solitaire - Myadestes elisabeth






The Cuban solitaire is only found in Cuba.
Source: Internet Bird Collection Intended Audience: General Reading Level: Middle School
Gray-cheeked Thrush - Catharus minimus








The gray-cheeked thrush breeds in the Arctic tundra of Canada, Alaska, and Russia. It winters in the Caribbean and Central and South America.
Source: Cornell Lab of Ornithology Intended Audience: General Reading Level: Middle School
Gray-cheeked Thrush - Catharus minimus







An omnivore, the Gray-cheeked Thrush eats mostly insects like beetles, weevils, ants, wasps and caterpillars. It may eat spiders, crayfish, sow bugs and earthworms. In addition, the Gray-cheeked Thrush eats grapes, wild cherries, blackberries, raspberries and other fruit.
Source: Animal Diversity Web Intended Audience: General Reading Level: Middle School
Swainson's Thrush - Catharus ustulatus







Swainson's thrush breeds in Canada and the northern U.S. It winters in Mexico, Central America, and South America. It winters in the Caribbean and Central and South America.
Source: Cornell Lab of Ornithology Intended Audience: General Reading Level: Middle School
Swainson's Thrush - Catharus ustulatus






Swainson's thrush breeds in coniferous forests and winters in tropical forests.
Source: Arkive Intended Audience: General Reading Level: Middle School
American Robin - Turdus migratorius









The American robin is found in all of the United States and Canada, except for Hawaii and the northern most parts of Alaska and Canada. It is also found in parts of Mexico and Central America. The American robin is migratory and populations move south in the winter, although some populations stay in place.
Source: Cornell Lab of Ornithology Intended Audience: General Reading Level: Middle School
American Robin - Turdus migratorius








The American robin lives in open woodlands, fields, gardens, and yards.
Source: Animal Diversity Web Intended Audience: General Reading Level: Middle School
American Robin - Turdus migratorius








The male robin uses its voice to protect its territory and to attract a mate. It is often one of the first birds heard in the spring.
Source: Arkive Intended Audience: General Reading Level: Middle School
Red-legged Thrush - Turdus plumbeus






The red-legged thrush is found in the Caribbean.
Source: Cornell Lab of Ornithology Intended Audience: General Reading Level: Middle School
Gray Catbird - Dumetella carolinensis









The gray catbird breeds across southern Canada and most of the U.S., except for parts of the west. It winters along the Gulf Coast, in Florida, and in Mexico, Central America, northern South America, and the Caribbean.
Source: Cornell Lab of Ornithology Intended Audience: General Reading Level: Middle School
Gray Catbird - Dumetella carolinensis









The gray catbird can make more than 100 different types of sounds.
Source: Animal Diversity Web Intended Audience: General Reading Level: Middle School
Northern Mockingbird - Mimus polyglottos








The northern mockingbird is found in most of the continental United States south to Mexico. It is also found in the Caribbean.
Source: Cornell Lab of Ornithology Intended Audience: General Reading Level: Middle School
Northern Mockingbird - Mimus polyglottos








The mockingbird was given its name because of its ability to mimic the calls of dozens of other bird species. In fact, the mockingbird's Latin name, Mimus polyglottos, means many-tongued mimic. The mockingbird has even been known to mimic the sounds of dogs and sirens. The mockingbird is especially vocal on moonlit spring nights.
Source: Animal Diversity Web Intended Audience: General Reading Level: Middle School
Bahama Mockingbird - Mimus gundlachii





The Bahama mockingbird is found in the Bahamas, the Cayman Islands, Cuba, Jamaica, and the Turks and Caicos Islands.
Source: Internet Bird Collection Intended Audience: General Reading Level: Middle School
Cedar Waxwing - Bombycilla cedrorum








The cedar waxwing's face has a narrow black mask outlined in white.
Source: Cornell Lab of Ornithology Intended Audience: General Reading Level: Middle School
Cedar Waxwing - Bombycilla cedrorum








The cedar waxwing is only found in North America.
Source: Animal Diversity Web Intended Audience: General Reading Level: Middle School
Cedar Waxwing - Bombycilla cedrorum








Cedar Waxwings eat some insects, but are primarily fruit-eaters.
Source: Seattle Audubon Intended Audience: General Reading Level: Middle School
Ovenbird -Seiurus aurocapilla








The ovenbird breeds in Canada and the eastern United States.
Source: Animal Diversity Web Intended Audience: General Reading Level: Middle School
Ovenbird - Seiurus aurocapilla









The ovenbird walks on the forest floor hunting insects, spiders, snails, and worms.
Source: Cornell Lab of Ornithology Intended Audience: General Reading Level: Middle School
Worm-eating Warbler - Helmitheros vermivorus






The worm-eating warbler breeds in the eastern United States and winters in the Caribbean, Mexico, and Central America.
Source: Cornell Lab of Ornithology Intended Audience: General Reading Level: Middle School
Prairie Warbler - Dendroica discolor









The prairie warbler is found in the eastern United States.
Source: Cornell Lab of Ornithology Intended Audience: General Reading Level: Middle School
Louisiana Waterthrush - Seiurus motacilla







The Louisiana waterthrush breeds in the eastern United States and winters in Mexico, the Caribbean, and Central and South America.
Source: Arkive Intended Audience: General Reading Level: Middle School Teacher Section: Yes
Louisiana Waterthrush - Seiurus motacilla









The Louisiana waterthrush is found near forest streams.
Source: Cornell Lab of Ornithology Intended Audience: General Reading Level: Middle School
Northern Waterthrush - Seiurus noveboracensis









The northern waterthrush breeds in Canada and the northern United States. It winters in southern Florida, Mexico, the Caribbean, Central America, and South America.
Source: Cornell Lab of Ornithology Intended Audience: General Reading Level: Middle School
Blue-winged Warbler - Vermivora pinus







The blue-winged warbler breeds in the eastern United States and winters in Central America and the Caribbean.
Source: Arkive Intended Audience: General Reading Level: Middle School Teacher Section: Yes
Blue-winged Warbler - Vermivora pinus









The blue-winged warbler breeds at forest and field edges.
Source: Cornell Lab of Ornithology Intended Audience: General Reading Level: Middle School
Black-and-white Warbler - Mniotilta varia









The black-and-white warbler breeds in Canada and the eastern United States.
Source: Cornell Lab of Ornithology Intended Audience: General Reading Level: Middle School
Swainson's Warbler - Limnothlypis swainsonii






Swainson's warbler breeds in the southeastern United States.
Source: Cornell Lab of Ornithology Intended Audience: General Reading Level: Middle School
Red-legged Honeycreeper - Cyanerpes cyaneus







The red-legged honeycreeper is found in Mexico, Central America, South America, and the Caribbean.
Source: Internet Bird Collection Intended Audience: General Reading Level: Middle School
Cuban Grassquit - Tiaris canorus






The Cuban grassquit is found in the Bahamas, Cuba, and the Turks and Caicos Islands.
Source: Internet Bird Collection Intended Audience: General Reading Level: Middle School
Cuban Bullfinch - Melopyrrha nigra





The Cuban bullfinch is found in the Cayman Islands and Cuba.
Source: Internet Bird Collection Intended Audience: General Reading Level: Middle School
Yellow-faced Grassquit -Tiaris olivaceus







The yellow-faced grassquit is found in Mexico, Central America, South America, and the Caribbean.
Source: Cornell Lab of Ornithology Intended Audience: General Reading Level: Middle School
Western Spindalis - Spindalis zena






"The western spindalis is found in southern Florida and the Caribbean.
Source: Internet Bird Collection Intended Audience: General Reading Level: Middle School
Cuban Sparrow - Torreornis inexpectata





The Cuban sparrow is found in three locations in Cuba.
Source: BirdLife International Intended Audience: General Reading Level: High School
Cuban Sparrow - Torreornis inexpectata






The Cuban sparrow has short, round wings and is a weak flier.
Source: Arkive Intended Audience: General Reading Level: Middle School
Cuban Sparrow - Torreornis inexpectata






The Cuban sparrow is also know as the Zapata sparrow.
Source: Internet Bird Collection Intended Audience: General Reading Level: Middle School
Chipping Sparrow - Spizella passerina








The chipping sparrow is found in most of the United States, Canada, and Mexico. It is also found in the Caribbean and Central America.
Source: Cornell Lab of Ornithology Intended Audience: General Reading Level: Middle School
Chipping Sparrow - Spizella passerina








The chipping sparrow is found in a variety of habitats including open woodlands, marshes, deserts, fields, gardens, and farmland.
Source: Animal Diversity Web Intended Audience: General Reading Level: Middle School
Savannah Sparrow - Passerculus sandwichensis








The Savannah sparrow is found across much of Canada, the U.S., Mexico and the Caribbean.
Source: Cornell Lab of Ornithology Intended Audience: General Reading Level: Middle School
Grasshopper Sparrow - Ammodramus savannarum










The grasshopper sparrow is found across most of the U.S. It is also found in southern Canada, Mexico, Central America, and the Caribbean.
Source: Cornell Lab of Ornithology Intended Audience: General Reading Level: Middle School
Grasshopper Sparrow - Ammodramus savannarum










The grasshopper sparrow gets its names from its buzzy grasshopper-like call.
Source: Arkive Intended Audience: General Reading Level: Middle School
Eastern Meadowlark - Sturnella magna









The eastern meadowlark male can sing many versions of its song. In New York, a male was observed to sing over 100 different song patterns!
Source: Cornell Lab of Ornithology Intended Audience: General Reading Level: Middle School
Eastern Meadowlark - Sturnella magna









The eastern meadowlark inhabits wide open spaces like farm fields, grassland and wet fields.
Source: Animal Diversity Web Intended Audience: General Reading Level: Middle School
Eastern Meadowlark - Sturnella magna








The eastern meadowlark builds its nest on the ground and sings on perches such as treetops, fence posts, and power lines.
Source: Arkive Intended Audience: General Reading Level: Middle School
Red-shouldered Blackbird - Agelaius assimilis




The red-shouldered blackbird was once thought to be a subspecies of the red-winged blackbird.
Source: Cornell Lab of Ornithology Intended Audience: General Reading Level: Middle School
Red-shouldered Blackbird - Agelaius assimilis






The red-shouldered blackbird is found in scattered locations in central and western Cuba.
Source: Internet Bird Collection Intended Audience: General Reading Level: Middle School
Olive-capped Warbler - Dendroica pityophila




The olive-capped warbler is found in the Bahamas, Cuba, and the Turks and Caicos Islands.
Source: Internet Bird Collection Intended Audience: General Reading Level: Middle School
Yellow-headed Warbler - Teretistris fernandinae






The yellow-headed warbler is found in western Cuba.
Source: Internet Bird Collection Intended Audience: General Reading Level: Middle School