CUBAN PODICIPEDIFORMES - Grebes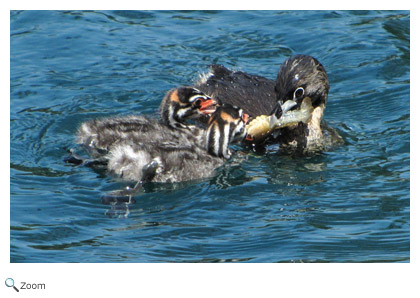 Grebes are diving bird that are found on fresh water lakes, ponds, and rivers. Some species winter along ocean coasts. Grebes dive from the surface of the water for fish, crustaceans, and mollusks.
Grebes have stocky bodies; long, slightly webbed, lobed toes; long necks; small heads; and small tails. Some species have long, pointed bills, other species have medium length, conical bills. Their legs are set back on their bodies and grebes are clumsy on land.
There are two species of grebe found in Cuba, the pied-billed grebe and the least grebe.

Birds of Cuba Photo Gallery >>
CUBAN PODICIPEDIFORMES - Grebes

World Status Key

Least Concern

Near Threatened

Vulnerable

Endangered

Critically Endangered

Extinct in the Wild

Extinct
Status and range is taken from ICUN Redlist. If no status is listed, there is not enough data to establish status.
US Status Key


Threatened in US

Threatened in NH

Endangered in US

Endangered in NH

Introduced

Breeds in NH (Birds)
Status taken from US Fish and Wildlife and NH Fish and Game
Location


Africa

Asia

Australia/Oceania

Europe

North America

South America

NH

Click for More Info

Click for Image
| | | |
| --- | --- | --- |
| Species | Sounds | Occurrence |
| Pied-billed Grebe - Podilymbus podiceps | | Year-round |
| | Audio Credit: xeno-canto.org Jon King | |
| Least Grebe - Tachybaptus dominicus | | Year-round |
| | Audio Credit: xeno-canto.org Renan Campos de Oliveira | |
Additional Information
Key:

Profile

Photos

Video

Audio
Pied-billed Grebe - Podilymbus podiceps










The pied-billed grebe breeds on the Alaskan coasts, and throughout Canada and the United States. They also breed in some areas of the Caribbean and in South America.
Source: Animal Diversity Web Intended Audience: General Reading Level: Middle School
Pied-billed Grebe - Podilymbus podiceps










The pied-billed grebe has a black ring around its bill in the summer.
Source: Cornell Lab of Ornithology Intended Audience: General Reading Level: Middle School
Pied-billed Grebe - Podilymbus podiceps










Pied-billed Grebes are less social than most species of grebes and are rarely found in flocks.
Source: Seattle Audubon BirdWeb Intended Audience: General Reading Level: Middle School
Pied-billed Grebe - Podilymbus podiceps










The pied-billed grebe is an excellent swimmer and diver. It often dives to evade predators.
Source: Internet Bird Collection Intended Audience: General Reading Level: Middle School
Least Grebe - Tachybaptus dominicus







The least grebe is found from Texas to Argentina. It is also found in the Caribbean.
Source: Internet Bird Collection Intended Audience: General Reading Level: Middle School
Least Grebe - Tachybaptus dominicus







The least grebe is the smallest grebe species in the Americas.
Source: Cornell Lab of Ornithology Intended Audience: General Reading Level: Middle School
Little Grebe - Tachybaptus ruficollis









The little grebe is found across southern Europe and Asia as well as in central and southern Africa.
Source: Internet Bird Collection Intended Audience: General Reading Level: Middle School
Little Grebe - Tachybaptus ruficollis








The little grebe is is also known as the dabchick. It is the smallest species of grebe.
Source: Arkive Intended Audience: General Reading Level: Middle School