CUBAN PICIFORMES - Woodpeckers, Flickers, Sapsuckers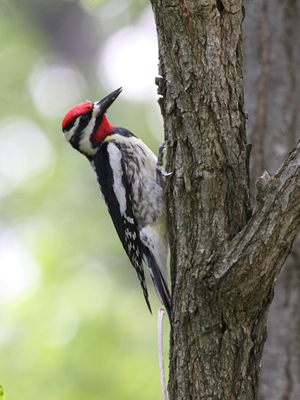 There are five species of birds in this order found in Cuba and one species that is probably extinct. They are all in the Picidae or woodpecker family.
Woodpeckers can range in size from 3-23 inches in length. Many species in this family have some combination of red, white, and black feathers. They have strong, straight bills; long, sticky tongues; long, stiff tail feathers; and zygodactyl feet. That means they have two toes facing frontwards and two toes facing backwards. This helps them climb tree trunks. Their stiff tails help them keep their balance as they cling to the sides of trees.
The birds in this family nest in tree cavities. Most species dig out their own cavity, although wrynecks use the abandoned cavities of other birds or a tree crotch or natural crevice. Males and females work together to build the nest. In some species, the male does most of the excavation and the female arranges the inside of the nest. Females lay 2-5 eggs and both the male and female incubate the eggs and feed and care for the chicks. Most species eat ants, beetles, spiders,moths, grasshoppers, crickets, and insect larvae. Some species may also eat nuts, berries, seeds, and sap.
Species found in Cuba include the West Indian Woodpecker, the northern flicker, and the yellow-bellied sapsucker. Two species, the Cuban green woodpecker and Fernandina's flicker are only found in Cuba.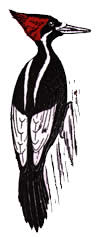 The ivory-billed woodpecker was once thought to be extinct, but scientists may have spotted this large woodpecker along The Cache River in Arkansas in 2004 and again in 2005. The ivory-billed woodpecker is a large black and white woodpecker. It has white wing patches and a white stripe that runs from its cheek down its neck and back. Ivory-billed woodpeckers have an ivory-colored bill. The male has a red crest and the female has a black crest. The ivory-billed woodpecker was once found in the southeastern United States and in Cuba. It may still survive in Cuba, but there has been no record of it since the late 1980s. The ivory-billed woodpecker found in Cuba is subspecies, Campephilus principalis bairdii. Its bill is a little smaller than the bill of the ivory-billed woodpeckers found in the U.S. and its white neck stripes went further up its face.

Birds of Cuba Photo Gallery >>
CUBAN PICIFORMES - Woodpeckers, Flickers, Sapsuckers

World Status Key

Least Concern

Near Threatened

Vulnerable

Endangered

Critically Endangered

Extinct in the Wild

Extinct
Status and range is taken from ICUN Redlist. If no status is listed, there is not enough data to establish status.
US Status Key


Threatened in US

Threatened in NH

Endangered in US

Endangered in NH

Introduced

Breeds in NH (Birds)
Status taken from US Fish and Wildlife and NH Fish and Game
Location


Africa

Asia

Australia/Oceania

Europe

North America

South America

NH

Click for More Info

Click for Image
| | | |
| --- | --- | --- |
| Species | Sounds | Occurrence |
| West Indian Woodpecker - Melanerpes superciliaris | | Non-breeding |
| | Audio Credit: xeno-canto.org Jon King | |
| Yellow-bellied Sapsucker - Sphyrapicus varius | | Non-breeding |
| | Audio Credit: xeno-canto.org Jonathon Jongsma | |
| Cuban Green Woodpecker - Xiphidiopicus percussus | | Endemic |
| | Audio Credit: xeno-canto.org Gerard Gorman | |
| Northern Flicker - Colaptes auratus | | Year-round |
| | Audio Credit: xeno-canto.org Paul Jaszczak | |
| Fernandina's Flicker - Colaptes fernandinae | | Endemic |
| | Audio Credit: xeno-canto.org Brian Cox | |
| Ivory-billed Woodpecker - Campephilus principalis | No Available Audio | Possibly Extinct |
| | | |
Additional Information
Key:

Profile

Photos

Video

Audio
West Indian Woodpecker - Melanerpes superciliaris






The West Indian woodpecker is found in the Bahamas, the Cayman Islands, Cuba, and the Turks and Caicos Islands.
Source: Internet Bird Collection Intended Audience: General Reading Level: Middle School
Yellow-bellied Sapsucker - Sphyrapicus varius








The yellow-bellied sapsucker is found in North America, Central America, and the Caribbean.
Source: Arkive Intended Audience: General Reading Level: Middle School
Yellow-bellied Sapsucker - Sphyrapicus varius








In the United States, the yellow-bellied sapsucker is found in the eastern half of the country.
Source: Cornell Lab of Ornithology Intended Audience: General Reading Level: Middle School
Yellow-bellied Sapsucker - Sphyrapicus varius







The male yellow-bellied sapsucker male has a red crown, black and white head and a red throat. The female has a white throat. Both the male and the female have a yellow breast and upper belly.
Source: Animal Diversity Web Intended Audience: General Reading Level: Middle School
Yellow-bellied Sapsucker - Sphyrapicus varius








The male yellow-bellied sapsucker feeds on sap, insects, fruit, and berries.
Source: Internet Bird Collection Intended Audience: General Reading Level: Middle School
Cuban Green Woodpecker - Xiphidiopicus percussus






The Cuban green woodpecker is found in Cuba.
Source: Internet Bird Collection Intended Audience: General Reading Level: Middle School
Northern Flicker - Colaptes auratus







The northern flicker is found in Canada, the cayman Islands, Cuba, El Salvador, Guatemala, Honduras, Mexico, Nicaragua, Saint Pierre and Miquelon, and the United States.
Source: Arkive Intended Audience: General Reading Level: Middle School
Northern Flicker - Colaptes auratus








The northern flicker is found across most of the United States.
Source: Cornell Lab of Ornithology Intended Audience: General Reading Level: Middle School
Northern Flicker - Colaptes auratus








Unlike most black and white woodpecker species in the United States, the northern flicker is a brownish-gray.
Source: Seattle Audubon BirdWeb Intended Audience: General Reading Level: Middle School
Northern Flicker - Colaptes auratus








A large part of the northern flicker's diet is made up of ants.
Source: Animal Diversity Web Intended Audience: General Reading Level: Middle School
Northern Flicker - Colaptes auratus








The northern flicker is also known as The yellowhammer.
Source: Internet Bird Collection Intended Audience: General Reading Level: Middle School
Fernandina's Flicker - Colaptes fernandinae






Fernandina's flicker is found in Cuba.
Source: Arkive Intended Audience: General Reading Level: Middle School
Fernandina's Flicker - Colaptes fernandinae





Fernandina's flicker is threatened by habitat fragmentation.
Source:BirdLife International Intended Audience: General Reading Level: High School
Fernandina's Flicker - Colaptes fernandinae





Fernandina's flicker is a small yellowish-tan bird with black-barred wings.
Source: Internet Bird Collection Intended Audience: General Reading Level: Middle School
Ivory-billed Woodpecker - Campephilus principalis






The ivory-billed woodpecker is found in Cuba.
Source: Arkive Intended Audience: General Reading Level: Middle School
Ivory-billed Woodpecker - Campephilus principalis








The ivory-billed woodpecker was once found from east Texas to North Carolina, from southern Illinois through Florida, and south to Cuba. Scientists are trying to determine if it is still in its original range.
Source: Cornell Lab of Ornithology - Ivory-billed Woodpecker Search Intended Audience: General Reading Level: Middle School
Ivory-billed Woodpecker - Campephilus principalis







The ivory-billed woodpecker is the the third largest woodpecker in the world.
Source: Cornell Lab of Ornithology Intended Audience: General Reading Level: Middle School
Ivory-billed Woodpecker - Campephilus principalis






Ivory-billed woodpeckers make a unique double-knock noise when pecking at trees.
Source: National Geographic Intended Audience: General Reading Level: Middle School
Ivory-billed Woodpecker - Campephilus principalis






Ivory-billed woodpeckers get their name from their long, sharp white bill.
Source: Animal Diversity Web Intended Audience: General Reading Level: Middle School
Ivory-billed Woodpecker - Campephilus principalis






Robert Krulwich reports on the search for the ivory-billed woodpecker.
Source: PBS NOVA ScienceNOW Intended Audience: General Reading Level: Middle School