CUBAN PELECANIFORMES - Pelicans, Boobies, Cormorants, Frigatebirds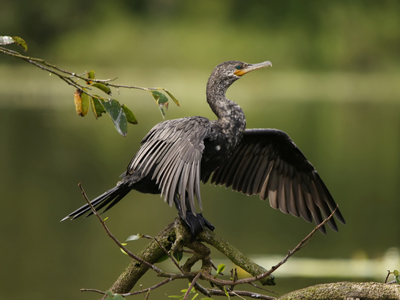 Most of the species in this order are some combination of brown, black, or white or a combination of those colors. Most species have a gular pouch of bare skin located between their lower jaws.
The birds in this order are the only birds that are totipalmate, that means they have webbed feet with four toes! In most species of birds, the hallux is the first toe and it points backwards. In the birds in this order, the hallux points to the front and it is webbed with the other three toes.
There are 10 species of birds in this order in five families found in Cuba including the brown pelican, the magnificent frigate bird, the neotropic cormorant, the brown booby, the anhinga, and the double-crested cormorant.



Birds of Cuba >>

Birds of Cuba Photo Gallery >>
Cuban Pelecaniformes - Pelicans, Boobies, Cormorants, Frigatebirds

World Status Key

Least Concern

Near Threatened

Vulnerable

Endangered

Critically Endangered

Extinct in the Wild

Extinct
Status and range is taken from ICUN Redlist. If no status is listed, there is not enough data to establish status.
US Status Key


Threatened in US

Threatened in NH

Endangered in US

Endangered in NH

Introduced

Breeds in NH (Birds)
Status taken from US Fish and Wildlife and NH Fish and Game
Location


Africa

Asia

Australia/Oceania

Europe

North America

South America

NH

Click for More Info

Click for Image
| | | |
| --- | --- | --- |
| Species | Sounds | Occurrence |
| Magnificent Frigatebird - Fregata magnificens | | Non-breeding |
| | Audio Credit: xeno-canto.org Sandra Gallo-Corona | |
| Brown Booby - Sula leucogaster | | Year-round |
| | Audio Credit: xeno-canto.org Tomas Sigrist | |
| Masked Booby - Sula dactylatra | | Non-breedng |
| | Audio Credit: xeno-canto.org Robson Silva e Silva | |
| Red-footed Booby - Sula sula | | Non-breeding |
| | Audio Credit: xeno-canto.org Alvaro Jaramillo | |
| Double-crested Cormorant- Phalacrocorax auritus | | Year-round |
| | Audio Credit: xeno-canto.org Mike Nelson | |
| Neotropic Cormorant - Phalacrocorax brasilianus | | Year-round |
| | Audio Credit: xeno-canto.org Bernabe Lopez-Lanus | |
| Anhinga - Anhinga anhinga | | Year-round |
| | Audio Credit: xeno-canto.org Miguel Angel Roda | |
| Brown Pelican - Pelecanus occidentalis | | Year-round |
| | Audio Credit: xeno-canto.org Andrew Spencer | |
| Red-billed Tropicbird - Phaethon aethereus | | Non-breeding |
| | Audio Credit: xeno-canto.org Bram Piot | |
| White-tailed Tropicbird - Phaethon lepturus | | Year-round |
| | Audio Credit: xeno-canto.org Matthias Feuersenger | |
Additional Information
Key:

Profile

Photos

Video

Audio
Magnificent Frigatebird - Fregata magnificens








The magnificent frigate bird breeds on islands throughout the Caribbean, in tropical areas along the Pacific and Atlantic coasts of Central and South America, and in the Galapagos Islands. They are also found in southern Florida and the Gulf Coast.
Source: Arkive Intended Audience: General Reading Level: Middle School
Magnificent Frigatebird - Fregata magnificens








The magnificent frigate bird snatches food off the surface of the ocean and steals food from other birds.
Source: Cornell Lab of Ornithology Intended Audience: General Reading Level: Middle School
Magnificent Frigatebird - Fregata magnificens







The magnificent frigate bird can glide for long distances without beating its wings.
Source: Animal Diversity Web Intended Audience: General Reading Level: Middle School
Brown Booby - Sula leucogaster










The brown booby is found in tropical oceans around the world.
Source: Arkive Intended Audience: General Reading Level: Middle School
Brown Booby - Sula leucogaster









The brown booby is monogamous.
Source: Animal Diversity Web Intended Audience: General Reading Level: Middle School
Masked Booby - Sula dactylatra









The masked booby is found in tropical waters around the world.
Source: Arkive Intended Audience: General Reading Level: Middle School Teacher Section: Yes
Masked Booby - Sula dactylatra










The masked booby lays two eggs, but only one hatchling survives. The older chick ejects the younger chick from the nest.
Source: Cornell Lab of Ornithology Intended Audience: General Reading Level: Middle School Teacher Section: No
Red-footed Booby - Sula sula










The red-footed booby is the smallest species of booby.
Source: Arkive Intended Audience: General Reading Level: Middle School Teacher Section: Yes
Red-footed Booby - Sula sula









The red-footed booby is found in tropical and subtropical regions of the Atlantic, Pacific, and Indian Oceans.
Source: National Geographic Intended Audience: General Reading Level: Middle School Teacher Section: No
Red-footed Booby - Sula sula










The red-footed booby nests on coral atolls or volcanic islands.
Source: Cornell Lab of Ornithology Intended Audience: General Reading Level: Middle School Teacher Section: No
Double-crested Cormorant - Phalacrocorax auritus







The double-crested cormorant is found in Anguilla, Antigua and Barbuda, Bahamas, Barbados, Belize, Canada, the Cayman Islands, Cuba, Dominica, the Dominican Republic, Guadeloupe, Haiti, Martinique, Mexico, Montserrat, Puerto Rico, Saint Kitts and Nevis, Saint Lucia, Saint Pierre and Miquelon, Saint Vincent and the Grenadines, the Turks and Caicos Islands, and the United States.
Source: Internet Bird Collection Intended Audience: General Reading Level: Middle School Teacher Section: No
Double-crested Cormorant
- Phalacrocorax auritus






The double-crested cormorant is found in inland and coastal areas.
Source: Arkive Intended Audience: General Reading Level: Middle School
Double-crested Cormorant - Phalacrocorax auritus







The double-crested cormorant is found throughout much of the United States and its range is increasing.
Source: Cornell Lab of Ornithology Intended Audience: General Reading Level: Middle School Teacher Section: No
Double-crested Cormorant
- Phalacrocorax auritus






The double-crested cormorant breeds in colonies of up to three thousand pairs.
Source: Animal Diversity Web Intended Audience: General Reading Level: Middle School
Neotropic Cormorant - Phalacrocorax brasilianus







The neotropic cormorant is found in Arizona, Texas, Mexico, Central America, South America, and the Caribbean.
Source: Internet Bird Collection Intended Audience: General Reading Level: Middle School Teacher Section: No
Neotropic Cormorant - Phalacrocorax brasilianus







The neotropic cormorant is the only cormorant known to plunge-dive into water to catch fish.
Source: Cornell Lab of Ornithology Intended Audience: General Reading Level: Middle School Teacher Section: No
Neotropic Cormorant - Phalacrocorax brasilianus





The neotropic cormorant is very clumsy on land, but it is an excellent swimmer.
Source: Animal Diversity Web Intended Audience: General Reading Level: Middle School
Anhinga - Anhinga anhinga







The anhinga is also known as the water-turkey.
Source: Cornell Lab of Ornithology Intended Audience: General Reading Level: Middle School
Anhinga - Anhinga anhinga






Anhingas start flight by either running on the surface of the water or diving from a tree.
Source: Animal Diversity Web Intended Audience: General Reading Level: Middle School
Brown Pelican - Pelecanus occidentalis





The brown pelican breeds along the Pacific coast from California to Chile and along the Atlantic coast from South Carolina through the Caribbean to Venezuela.
Source: Arkive Intended Audience: General Reading Level: Middle School Teacher Section: Yes
Brown Pelican - Pelecanus occidentalis





The brown pelican is a coastal bird. It is rarely seen inland.
Source: Animal Diversity Web Intended Audience: General Reading Level: Middle School Teacher Section: Yes
Brown Pelican - Pelecanus occidentalis







The brown pelican is the only pelican species that plunges from the air into the water to catch its food.
Source: Cornell Lab of Ornithology Intended Audience: General Reading Level: Middle School Teacher Section: No
Brown Pelican - Pelecanus occidentalis







The brown pelican is a dark brown bird with a white to pale yellow neck and black feet and legs.
Source: National Zoo Intended Audience: General Reading Level: Middle School Teacher Section: Yes
Brown Pelican - Pelecanus occidentalis






The brown pelican nests on the ground.
Source: Philadelphia Zoo Intended Audience: Students Reading Level: Middle School Teacher Section: Yes
Brown Pelican - Pelecanus occidentalis






The brown pelican eats shrimp and small fish like anchovies, sardines, and menhaden.
Source: Los Angeles Zoo Intended Audience: Students Reading Level: Elementary/Middle School
Brown Pelican - Pelecanus occidentalis






The brown pelican is the sate bird of Louisiana.
Source: Internet Bird Collection Intended Audience: Students Reading Level: Elementary/Middle School Teacher Section: No
Red-billed Tropicbird - Phaethon aethereus









The red-billed tropicbird is found on coasts and islands in the tropical Atlantic, eastern Pacific, and Indian Oceans.
Source: Internet Bird Collection Intended Audience: General Reading Level: Middle School Teacher Section: No
Red-billed Tropicbird - Phaethon aethereus










The red-billed tropicbird is the largest species of tropicbird.
Source: Arkive Intended Audience: General Reading Level: Middle School Teacher Section: Yes
White-tailed Tropicbird - Phaethon lepturus









The white-tailed tropicbird is found on coasts and islands in the tropical Atlantic, western Pacific, and Indian Oceans.
Source: Internet Bird Collection Intended Audience: General Reading Level: Middle School Teacher Section: No

White-tailed Tropicbird - Phaethon lepturus










The white-tailed tropicbird is the smallest species of tropicbird.
Source: Arkive Intended Audience: General Reading Level: Middle School Teacher Section: Yes