CUBAN GRUIFORMES - Coots, Cranes, Rails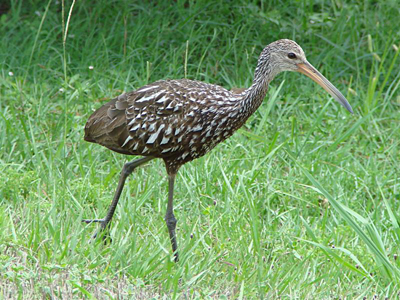 The birds in this order come in a wide variety of sizes and shapes. Many species are brown, gray, and white, but some species, like the purple gallinule are more brightly colored. Most species are wading birds and fly with their necks out and their feet stretched out behind them.
Most of the species live and nest on the ground both parents incubate the eggs and care for the chicks. Chicks are precocial and feed themselves shortly after hatching. Males and females usually look alike.
There are 11 species in this order found in Cuba. Species include the yellow-breasted crake, the spotted rail, the purple gallinule, and the sandhill crane. One species, the Zapata rail is endemic to Cuba.



Birds of Cuba >>

Birds of Cuba Photo Gallery >>
CUBAN GRUIFORMES - Coots, Cranes, Rails

World Status Key

Least Concern

Near Threatened

Vulnerable

Endangered

Critically Endangered

Extinct in the Wild

Extinct
Status and range is taken from ICUN Redlist. If no status is listed, there is not enough data to establish status.
US Status Key


Threatened in US

Threatened in NH

Endangered in US

Endangered in NH

Introduced

Breeds in NH (Birds)
Status taken from US Fish and Wildlife and NH Fish and Game
Location


Africa

Asia

Australia/Oceania

Europe

North America

South America

NH

Click for More Info

Click for Image
| | | |
| --- | --- | --- |
| Species | Sounds | Occurrence |
| Black Rail - Laterallus jamaicensis | | Non-breeding |
| | Audio Credit: xeno-canto.org Andrew Spencer | |
| Clapper Rail - Rallus longirostris | | Year-round |
| | Audio Credit: xeno-canto.org Antonio Silveira | |
| King Rail - Rallus elegans | | Year-round |
| | Audio Credit: xeno-canto.org Todd Wilson | |
| Sora - Porzana carolina | | Non-breeding |
| | Audio Credit: xeno-canto.org Chris Parrish | |
| Yellow-breasted Crake - Porzana flaviventer | | Year-round |
| | Audio Credit: xeno-canto.org Alex Lees | |
| Zapata Rail - Cyanolimnas cerverai | No Audio Available | Endemic |
| | | |
| Spotted Rail - Pardirallus maculatus | | Year-round |
| | Audio Credit: xeno-canto.org Bernabe Lopez-Lanus | |
| Purple Gallinule -Porphyrio martinicus | | Year-round |
| | Audio Credit: xeno-canto.org Glauco Alves Pereira | |
| American Coot - Fulica americana | | Year-round |
| | Audio Credit: xeno-canto.org Daniel Lane | |
| Limpkin - Aramus guarauna | | Year-round |
| | Audio Credit: xeno-canto.org Sjoerd Mayer | |
| Sandhill Crane - Grus canadensis | | Year-round |
| | Audio Credit: xeno-canto.org Andrew Spencer | |
Additional Information
Key:

Profile

Photos

Video

Audio
Black Rail - Laterallus jamaicensis







The black rail is found in marshes and wetlands along the Atlantic Coast from southern New England south to Florida and the Caribbean. It is also found on the Gulf Coast and in parts of South and Central America. The black rail is also found in some inland areas in the U.S. in California and Kansas.
Source: Cornell Lab of Ornithology Intended Audience: General Reading Level: Middle School
Clapper Rail - Rallus longirostris









The clapper rail is found along the Atlantic Coast from Maine to South America. It is also found along the Gulf Coast and the Pacific Coast from California to Mexico.
Source: Cornell Lab of Ornithology Intended Audience: General Reading Level: Middle School
King Rail - Rallus elegans






Found in the United States, Central America, and the Caribbean, the King Rail has a very large range that stretches from the Midwestern United States to the Atlantic Ocean.
Source: Animal Diversity Web Intended Audience: General Reading Level: Middle School
Sora - Porzana carolina









The sora breeds from British Columbia east to the Maritime Islands and south to California, Arizona, Oklahoma, and Pennsylvania. It usually winters along the Pacific and Atlantic coasts from California and Virginia south to Mexico, Central America, South America, and the Caribbean.
Source: Cornell Lab of Ornithology Intended Audience: General Reading Level: Middle School
Yellow-breasted Crake - Porzana flaviventer






The yellow-breasted crake is found in southern Mexico, Central America, South America, and the Caribbean.
Source: Internet Bird Collection Intended Audience: General Reading Level: Middle School
Zapata Rail - Cyanolimnas cerverai





The Zapata rail is found in the Zapata swamp in southwest Cuba.
Source:BirdLife International Intended Audience: General Reading Level: Middle School
Spotted Rail - Pardirallus maculatus






The spotted rail is found in southern Mexico, Central America, South America, and the Caribbean.
Source: Internet Bird Collection Intended Audience: General Reading Level: Middle School
Purple Gallinule -Porphyrio martinicus







The purple gallinule is found in South Carolina, Georgia, Florida, Arkansas, Louisiana, Mississippi, Alabama, Texas, and Oklahoma. It winters on the Gulf Coast. It is also found in Central and South America and the Caribbean.
Source: Cornell Lab of Ornithology Intended Audience: General Reading Level: Middle School
American Coot - Fulica americana








The American coot is found in Canada, much of the U.S., Mexico, Central America, and the Caribbean.
Source: Cornell Lab of Ornithology Intended Audience: General Reading Level: Middle School
American Coot - Fulica americana








The American coot is a social bird and lives in flocks.
Source: Animal Diversity Web Intended Audience: General Reading Level: Middle School
Limpkin - Aramus guarauna







The limpkin feeds almost exclusively on apple snails.
Source: Cornell Lab of Ornithology Intended Audience: General Reading Level: Middle School
Limpkin - Aramus guarauna






The limpkin looks like a cross between a crane and a rail.
Source: Animal Diversity Web Intended Audience: General Reading Level: Middle School
Limpkin - Aramus guarauna







The limpkin is also known as the crying bird because of the sound it makes.
Source: Internet Bird Collection Intended Audience: General Reading Level: Middle School
Limpkin - Aramus guarauna





The limpkin lives in woody swamps and marshes.
Source: National Zoo Bird Photo Gallery Intended Audience: General Reading Level: N/A
Sandhill Crane - Grus canadensis






In North America, the sandhill crane breeds as far north as Alaska and the Arctic coast of Canada south into the Great Lakes region and west across Idaho, Nevada and Oregon. It also breeds in the extreme southeastern United States and Cuba. Northern populations winter in California, New Mexico, Arizona, Texas, Georgia, Florida and northern Mexico. The sandhill crane is also found in Russia.
Source: Animal Diversity Web Intended Audience: General Reading Level: Middle School
Sandhill Crane - Grus canadensis







The sandhill crane is found in grasslands, wetlands, and meadows.
Source: Cornell Lab of Ornithology Intended Audience: General Reading Level: Middle School
Sandhill Crane - Grus canadensis







The sandhill crane migrates in groups that can number in the thousands.
Source: Arkive Intended Audience: General Reading Level: Middle School