CUBAN CORACIIFORMES - Kingfishers, Todies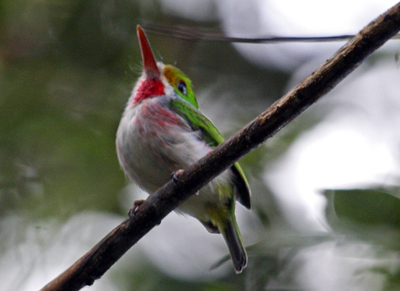 There are only two species in this order of birds found in Cuba, the belted kingfisher and the Cuban tody.
The belted kingfisher is a member of the Alcedinidaefamily. It is found across Alaska and Canada south through the United States, Mexico and Central America. It winters from southern Canada south to Central America and the Caribbean. It winter in Cuba, but does not breed there.
The Cuban tody is a member of the Todidae family. It is only found in Cuba. Todies are small birds, a little bit larger than hummingbirds. They are found in the Caribbean and live in forests and open woodlands. Like otjher species of tody, the Cuban tody has a long, flat, pointed bill with bristles at the base and a short tail.



Birds of Cuba >>

Birds of Cuba Photo Gallery >>
CUBAN CORACIIFORMES - Kingfishers, Todys

World Status Key

Least Concern

Near Threatened

Vulnerable

Endangered

Critically Endangered

Extinct in the Wild

Extinct
Status and range is taken from ICUN Redlist. If no status is listed, there is not enough data to establish status.
US Status Key


Threatened in US

Threatened in NH

Endangered in US

Endangered in NH

Introduced

Breeds in NH (Birds)
Status taken from US Fish and Wildlife and NH Fish and Game
Location


Africa

Asia

Australia/Oceania

Europe

North America

South America

NH

Click for More Info

Click for Image
| | | |
| --- | --- | --- |
| Species | Sounds | Occurrence |
| Cuban Tody - Todus multicolor | | Endemic |
| | Audio Credit: xeno-canto.org Laura Gooch | |
| Belted Kingfisher - Megaceryle alcyon | | Non-breeding |
| | Audio Credit: xeno-canto.org Mike Nelson | |
Additional Information
Key:

Profile

Photos

Video

Audio
Cuban Tody - Todus multicolor






The Cuban tody is only found in Cuba.
Source: Cornell Lab of Ornithology Intended Audience: General Reading Level: Middle School
Belted Kingfisher - Megaceryle alcyon








The belted kingfisher is the only kingfisher found in New Hampshire.
Source: Arkive Intended Audience: General Reading Level: Middle School
Belted Kingfisher - Megaceryle alcyon








Male and female belted kingfishers have a band of slate-blue across their breasts.
Source: Cornell Lab of Ornithology Intended Audience: General Reading Level: Middle School
Belted Kingfisher - Megaceryle alcyon








The female belted kingfisher has a band of rusty-red across its breast and on its sides.
Source: Seattle Audubon Intended Audience: General Reading Level: Elementary/Middle School