CUBAN COLUMBIFORMES - Doves, Pigeons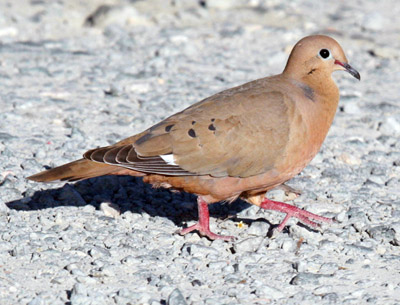 There are around 12 species of doves and pigeons found in Cuba. Doves and pigeons have small heads, plump bodies, short necks, and small bills with soft fleshy covering at the base called the cere. They have a ring of skin around their eyes that can be red, yellow, blue, or white. They eat seeds, fruits, and other plant matter. Doves and pigeons that eat seeds are usually gray or brown; fruit eating species are often more brightly colored.
Pigeons and doves pairs stay together and mate from year-to-year. Pigeons and doves feed their chicks crop-milk for the first few days after they hatch. Crop milk is a milky substance that comes form the bird's crop. The crop is special food-storage chamber that is part of the bird's digestive system. Both the male and the female produce crop milk. Crop milk is high in fat and vitamins A and B and helps the chicks grow!
One species, the blue-headed quail dove, is only found in Cuba. While it was once common throughout Cuba, it is now very rare and found in only a few locations.

Birds of Cuba Photo Gallery >>
CUBAN COLUMBIFORMES - Doves, Pigeons

World Status Key

Least Concern

Near Threatened

Vulnerable

Endangered

Critically Endangered

Extinct in the Wild

Extinct
Status and range is taken from ICUN Redlist. If no status is listed, there is not enough data to establish status.
US Status Key


Threatened in US

Threatened in NH

Endangered in US

Endangered in NH

Introduced

Breeds in NH (Birds)
Status taken from US Fish and Wildlife and NH Fish and Game
Location


Africa

Asia

Australia/Oceania

Europe

North America

South America

NH

Click for More Info

Click for Image
| | | |
| --- | --- | --- |
| Species | Sounds | Occurrence |
| Rock Pigeon - Columba livia | | Year-round/Introduced |
| | Audio Credit: xeno-canto.org Bernabe Lopez-Lanus | |
| Scaly-naped Pigeon - Patagioenas squamosa | | Year-round |
| | Audio Credit: xeno-canto.org Daniel Lane | |
| White-crowned Pigeon - Patagioenas leucocephala | | Year-round |
| | Audio Credit: xeno-canto.org Andrew Spencer | |
| Plain Pigeon - Patagioenas inornata | | Year-round |
| | Audio Credit: xeno-canto.org Laura Gooch | |
| White-winged Dove - Zenaida asiatica | | Year-round |
| | Audio Credit: xeno-canto.org Chris Harrison | |
| Zenaida Dove - Zenaida aurita | | Year-round |
| | Audio Credit: xeno-canto.org Daniel Lane | |
| Mourning Dove - Zenaida macroura | | Year-round |
| | Audio Credit: xeno-canto.org Andrew Spenser | |
| Common Ground-dove - Columbina passerina | | Year-round |
| | Audio Credit: xeno-canto.org Andrew Spenser | |
| Key West Quail-dove - Geotrygon chrysia | | Year-round |
| | Audio Credit: xeno-canto.org Paul van Els | |
| Gray-headed Quail-dove - Geotrygon caniceps | | Year-round |
| | Audio Credit: xeno-canto.org Scott Connop | |
| Ruddy Quail-dove - Geotrygon montana | | Year-round |
| | Audio Credit: xeno-canto.org Alexandre Bianco | |
| Blue-headed Quail-dove - Starnoenas cyanocephala | | Endemic |
| | Audio Credit: xeno-canto.org Scott Connop | |
Additional Information
Key:

Profile

Photos

Video

Audio
Rock Pigeon - Columba livia












The rock pigeon is found from southern Canada and Alaska south through the United States, Mexico, and Central America. The rock pigeon is native to Europe, North Africa, and southwestern Asia. In the 17th-century, colonists brought the rock pigeon to Atlantic Coast settlements in North America.
Source: Arkive Intended Audience: General Reading Level: Middle School
Rock Pigeon - Columba livia













The rock pigeon is found in variety of habitats including rocky cliffs, farm land, parks, gardens, cities, and suburbs.
Source: Cornell Lab of Ornithology Intended Audience: General Reading Level: Middle School
Scaly-naped Pigeon - Patagioenas squamosa







The scaly-naped pigeon is found in the Caribbean.
Source: Cornell Lab of Ornithology Intended Audience: General Reading Level: Middle School
White-crowned Pigeon - Patagioenas leucocephala







The white-crowned pigeon is found in southern Florida, the Caribbean, Mexico, and Central America.
Source: Arkive Intended Audience: General Reading Level: Middle School
White-crowned Pigeon - Patagioenas leucocephala







The white-crowned pigeon eats fruits and berries.
Source: Cornell Lab of Ornithology Intended Audience: General Reading Level: Middle School
Plain Pigeon - Patagioenas inornata






The plain pigeon is found in the Caribbean.
Source: Arkive Intended Audience: General Reading Level: Middle School
White-winged Dove - Zenaida asiatica







In the U.S., the white-winged dove is found in California, Nevada, Arizona, New Mexico, Texas, and along the Gulf Coast. It is also found in Mexico, Central America, and the Caribbean.
Source: Animal Diversity Web Intended Audience: General Reading Level: Middle School
White-winged Dove - Zenaida asiatica







Although the white-winged dove's range in the U.S. is in the southwest and Gulf states, it has been observed as far north as Alaska to Ontario, Maine, and Newfoundland.
Source: Cornell Lab of Ornithology Intended Audience: General Reading Level: Middle School
Zenaida Dove - Zenaida aurita





The Zenaida dove is found in the Caribbean and southern Mexico.
Source: Arkive Intended Audience: General Reading Level: Middle School
Mourning Dove - Zenaida macroura










The mourning dove breeds from southern Canada south through most of the United States. Only the northern most populations migrate in the fall. The mourning dove is also found in Central America and the Caribbean.
Source: Cornell Lab of Ornithology Intended Audience: General Reading Level: Middle School
Mourning Dove - Zenaida macroura









The mourning dove is found in variety of open habitats including farms, parks, woods, deserts, forest edges, cities, and suburbs.
Source: Animal Diversity Web Intended Audience: General Reading Level: Middle School
Mourning Dove - Zenaida macroura









The mourning dove is named for is haunting and sad cooing sound. Its call is sometimes mistaken for the call of an owl.
Source: Arkive Intended Audience: General Reading Level: Middle School
Common Ground-dove - Columbina passerina







The common ground dove is found from California east to South Carolina and south to South America.
Source: Cornell Lab of Ornithology Intended Audience: General Reading Level: Middle School
Key West Quail-dove - Geotrygon chrysia





The Key West quail-dove is found in the Caribbean.
Source: Cornell Lab of Ornithology Intended Audience: General Reading Level: Middle School
Gray-headed Quail-dove - Geotrygon caniceps






The gray-headed quail-dove is found in Cuba and the Dominican Republic.
Source: Arkive Intended Audience: General Reading Level: Middle School
Ruddy Quail-dove - Geotrygon montana







The ruddy quail-dove is found in Mexico, Central America, the Caribbean, and South America.
Source: Cornell Lab of Ornithology Intended Audience: General Reading Level: Middle School
Blue-headed Quail-dove - Starnoenas cyanocephala





The blue-headed quail-dove is found in Cuba.
Source: Arkive Intended Audience: General Reading Level: Middle School