Cracidae - chachalacas, curassows, and guans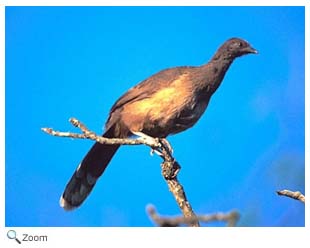 There are 50 species in this family. They are found in Central and South America. One species in the family, the plain chachalaca is found in southern Texas.
These birds are similar in shape to turkeys. They have long, thick tails; small bills, large feet, and small heads. They are dull in color and eat seeds, insects, worms, and fruit.
They nest in trees and their chicks are precocial and can move around and feed themselves shortly after birth and can fly a few days after hatching.
World Status Key


Least Concern

Near Threatened

Vulnerable

Endangered

Critically Endangered

Extinct in the Wild

Extinct
Status and range is taken from ICUN Redlist. If no status is listed, there is not enough data to establish status.

US Status Key


Threatened in US

Threatened in NH

Endangered in US

Endangered in NH


Breeds in NH

Introduced
Status taken from US Fish and Wildlife and NH Fish and Game
New Hampshire Species

North/Central American Species

None
Sickle-winged Guan - Chamaepetes goudotii
Black Guan - Chamaepetes unicolor
Great Curassow - Crax rubra
Horned Guan - Oreophasis derbianus
Gray-headed Chachalaca - Ortalis cinereiceps
White-bellied Chachalaca - Ortalis leucogastra
West Mexican Chachalaca - Ortalis poliocephala
Rufous-vented Chachalaca - Ortalis ruficauda
Plain Chachalaca - Ortalis vetula
Rufous-bellied Chachalaca - Ortalis wagleri
Species Around the World

Africa Asia Australia/Oceania Europe North/Central America South America NH Species

Wattled Guan - Aburria aburri
Sickle-winged Guan - Chamaepetes goudotii
Black Guan - Chamaepetes unicolor
Blue-billed Curassow - Crax alberti
Black Curassow - Crax alector
Red-billed Curassow - Crax blumenbachii
Yellow-knobbed Curassow - Crax daubentoni
Bare-faced Curassow - Crax fasciolata
Wattled Curassow - Crax globulosa
Great Curassow - Crax rubra
Alagoas Curassow - Mitu mitu
Salvin's Curassow - Mitu salvini
Crestless Curassow - Mitu tomentosum
Razor-billed Curassow - Mitu tuberosum
Nocturnal Curassow - Nothocrax urumutum
Horned Guan - Oreophasis derbianus
Chaco Chachalaca - Ortalis canicollis



Gray-headed Chachalaca - Ortalis cinereiceps
Rufous-headed Chachalaca - Ortalis erythroptera
Chestnut-winged Chachalaca - Ortalis garrula
Speckled Chachalaca - Ortalis guttata
White-bellied Chachalaca - Ortalis leucogastra
Little Chachalaca - Ortalis motmot
West Mexican Chachalaca - Ortalis poliocephala
Rufous-vented Chachalaca - Ortalis ruficauda
Buff-browed Chachalaca - Ortalis superciliaris
Plain Chachalaca - Ortalis vetula
Rufous-bellied Chachalaca - Ortalis wagleri
Helmeted Curassow - Pauxi pauxi
Horned Curassow - Pauxi unicornis
White-winged Guan - Penelope albipennis
Band-tailed Guan - Penelope argyrotis
Bearded Guan - Penelope barbata
Red-faced Guan - Penelope dabbenei