Cisticolidae - Apalis, Cisticolas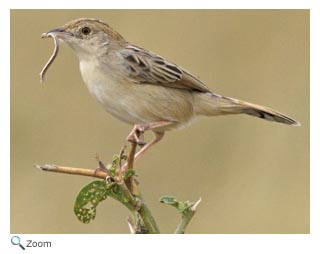 There are around 114 species of small songbirds in this family. Most species are found in Africa, but there are species in Asia and Australia and one species, the Zitting Cisticola, is found in Europe.
The birds in this family are found in grasslands, scrublands, and deserts. They are usually a dull gray or brown in color.

Cisticolidae Photo Gallery
World Status Key


Least Concern

Near Threatened

Vulnerable

Endangered

Critically Endangered

Extinct in the Wild

Extinct
Status and range is taken from ICUN Redlist. If no status is listed, there is not enough data to establish status.
US Status Key


Threatened in US

Threatened in NH

Endangered in US

Endangered in NH

Breeds in NH

Introduced
Status taken from US Fish and Wildlife and NH Fish and Game
| | | |
| --- | --- | --- |
| New Hampshire Species | | North/Central American Species |
| None | | None |
Other Species Around the World

Africa Asia Australia/Oceania Europe North/Central America South America NH Species

Kungwe Apalis- Apalis argentea
Bamenda Apalis- Apalis bamendae
Masked Apalis- Apalis binotata
Chapin's Apalis- Apalis chapini
White-winged Apalis- Apalis chariessa
Chirinda Apalis- Apalis chirindensis
Grey Apalis- Apalis cinerea
Yellow-breasted Apalis- Apalis flavida
Yellow-throated Apalis- Apalis flavigularis
Taita Apalis- Apalis fuscigularis
Gosling's Apalis- Apalis goslingi
Black-throated Apalis- Apalis jacksoni
Karamoja Apalis- Apalis karamojae
Namuli Apalis- Apalis lynesi
Black-headed Apalis- Apalis melanocephala
Black-capped Apalis- Apalis nigriceps
Black-faced Apalis- Apalis personata
Chestnut-throated Apalis- Apalis porphyrolaema
Rudd's Apalis- Apalis ruddi
Buff-throated Apalis- Apalis rufogularis
Sharpe's Apalis- Apalis sharpii
Bar-throated Apalis- Apalis thoracica
Green-backed Camaroptera- Camaroptera brachyura
Olive-green Camaroptera- Camaroptera chloronota
Barred Wren-warbler- Camaroptera fasciolata
Grey Wren-warbler- Camaroptera simplex
Yellow-browed Camaroptera- Camaroptera superciliaris
Miombo Wren-warbler- Camaroptera undosa
Aberdare Cisticola- Cisticola aberdare
Lazy Cisticola- Cisticola aberrans
Tabora Cisticola- Cisticola angusticauda
Chattering Cisticola- Cisticola anonymus
Desert Cisticola- Cisticola aridulus
Wing-snapping Cisticola- Cisticola ayresii
Boran Cisticola- Cisticola bodessa
Siffling Cisticola- Cisticola brachypterus
Pectoral-patch Cisticola- Cisticola brunnescens
Bubbling Cisticola- Cisticola bulliens
Singing Cisticola- Cisticola cantans
Carruthers's Cisticola- Cisticola carruthersi
Madagascar Cisticola- Cisticola cherina
Rattling Cisticola- Cisticola chiniana
Chubb's Cisticola- Cisticola chubbi
Ashy Cisticola- Cisticola cinereolus
Black-tailed Cisticola- Cisticola dambo
Brown-backed Cisticola- Cisticola discolor
Red-faced Cisticola- Cisticola erythrops
Golden-headed Cisticola- Cisticola exilis
Black-necked Cisticola - Cisticola eximius
Piping Cisticola - Cisticola fulvicapilla
Winding Cisticola - Cisticola galactotes
Dorst's Cisticola - Cisticola guinea
Island Cisticola - Cisticola haesitatus
Hunter's Cisticola - Cisticola hunteri
Zitting Cisticola - Cisticola juncidis
Wailing Cisticola - Cisticola lais
Whistling Cisticola - Cisticola lateralis
Slender-tailed Cisticola - Cisticola melanurus
Tiny Cisticola - Cisticola nanus
Croaking Cisticola - Cisticola natalensis
Black-lored Cisticola - Cisticola nigriloris
Churring Cisticola - Cisticola njombe
Chirping Cisticola - Cisticola pipiens
Tana River Cisticola - Cisticola restrictus
Stout Cisticola - Cisticola robustus
Red-pate Cisticola - Cisticola ruficeps
Tinkling Cisticola - Cisticola rufilatus
Rufous Cisticola - Cisticola rufus
Grey-backed Cisticola - Cisticola subruficapilla
Tink-tink Cisticola - Cisticola textrix
Levaillant's Cisticola - Cisticola tinniens
Foxy Cisticola - Cisticola troglodytes
Trilling Cisticola - Cisticola woosnami
Red-winged Grey Warbler - Drymocichla incana
Grey-capped Warbler - Eminia lepida
Kopje Warbler - Euryptila subcinnamomea
Red-winged Warbler - Heliolais erythropterus
Oriole Warbler - Hypergerus atriceps
Socotra Warbler - Incana incana
Rufous-eared Warbler - Malcorus pectoralis
Black-collared Apalis - Oreolais pulchra
Collared Apalis - Oreolais ruwenzorii
Namaqua Warbler - Phragmacia substriata
Buff-bellied Warbler - Phyllolais pulchella
Hill Prinia - Prinia atrogularis
Banded Prinia - Prinia bairdii
Rufous-fronted Prinia - Prinia buchanani
Rufous-vented Prinia - Prinia burnesii
Grey-crowned Prinia - Prinia cinereocapilla
Striated Prinia - Prinia crinigera
Bar-winged Prinia - Prinia familiaris
Black-chested Prinia - Prinia flavicans
Yellow-bellied Prinia - Prinia flaviventris
River Prinia - Prinia fluviatilis
Graceful Prinia - Prinia gracilis
Grey-breasted Prinia - Prinia hodgsonii
Saffron-breasted Prinia - Prinia hypoxantha
Plain Prinia - Prinia inornata
White-eyed Prinia - Prinia leontica
White-chinned Prinia - Prinia leucopogon
Karoo Prinia - Prinia maculosa
Sao Tome Prinia - Prinia molleri
Brown Prinia - Prinia polychroa
Briar Warbler - Prinia robertsi
Rufescent Prinia - Prinia rufescens
Ashy Prinia - Prinia socialis
Pale Prinia - Prinia somalica
Tawny-flanked Prinia - Prinia subflava
Jungle Prinia - Prinia sylvatica
White-browed Chinese Warbler - Rhopophilus pekinensis
Streaked Scrub-warbler - Scotocerca inquieta
Cricket Longtail - Spiloptila clamans
Red-faced Apalis - Spiloptila rufifrons
Green Longtail - Urolais epichlorus