Campephagidae - Cuckooshrikes, Minivets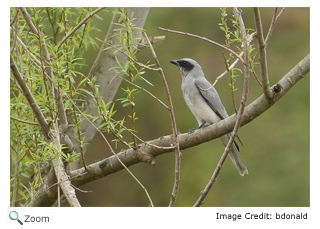 There are around 84 species in this family of birds. They are found in the forests of Asia, Africa, the East Indies, and Australia.
They are 5-14 inches in length and have slightly curved bills with bristles on their nostrils. They have pointed wings, long tails, and short legs. They eat insects, berries, and fruit.
Cuckoo shrikes are usually gray or black. Minivets are more brightly colored in reds and yellows.

Campephagidae Photo Gallery
World Status Key


Least Concern

Near Threatened

Vulnerable

Endangered

Critically Endangered

Extinct in Wild

Extinct
Status and range is taken from ICUN Redlist. If no status is listed, there is not enough data to establish status.
US Status Key


Threatened in US

Threatened in NH

Endangered in US

Endangered in NH

Introduced
Status taken from US Fish and Wildlife and NH Fish and Game
| | | |
| --- | --- | --- |
| New Hampshire Species | | North/Central American Species |
| None | | None |
Species Around the World

Africa Asia Australia/Oceania Europe North/Central America South America NH Species

Black Cuckooshrike - Campephaga flava
Western Wattled Cuckooshrike - Campephaga lobata
Eastern Wattled Cuckooshrike - Campephaga oriolina
Petit's Cuckooshrike - Campephaga petiti
Red- shouldered Cuckooshrike - Campephaga phoenicea
Purple- throated Cuckooshrike - Campephaga quiscalina
Golden Cuckooshrike - Campochaera sloetii
Pygmy Cuckooshrike - Coracina abbotti
New Caledonian Cuckooshrike - Coracina analis
Moluccan Cuckooshrike - Coracina atriceps
Blue Cuckooshrike - Coracina azurea
Pied Cuckooshrike - Coracina bicolor
Boyer's Cuckooshrike - Coracina boyeri
Stout-billed Cuckooshrike - Coracina caeruleogrisea
Gray Cuckooshrike - Coracina caesia
Melanesian Cuckooshrike - Coracina caledonica
Pale Cicadabird - Coracina ceramensis
Ashy Cuckooshrike - Coracina cinerea
Blackish Cuckooshrike - Coracina coerulescens
Kai Cicadabird - Coracina dispar
Sumba Cicadabird - Coracina dohertyi
Lesser Cuckooshrike - Coracina fimbriata
Buru Cuckooshrike - Coracina fortis
Grauer's Cuckooshrike - Coracina graueri
Solomons Cuckooshrike - Coracina holopolia
Black-shouldered Cicadabird - Coracina incerta
Javan Cuckooshrike - Coracina javensis
Sunda Cuckooshrike - Coracina larvata
White-rumped Cuckooshrike - Coracina leucopygia
Yellow-eyed Cuckooshrike - Coracina lineata
Hooded Cuckooshrike - Coracina longicauda
Large Cuckooshrike - Coracina macei
Ground Cuckooshrike - Coracina maxima
Mcgregor's Cuckooshrike - Coracina mcgregori
Black-headed Cuckooshrike - Coracina melanoptera
New Guinea Cuckooshrike - Coracina melas
Black- winged Cuckooshrike - Coracina melaschistos
Black-bibbed Cicadabird - Coracina mindanensis
Black-bellied Cuckooshrike - Coracina montana
Black-faced Cuckooshrike - Coracina novaehollabdiae
Sulawesi Cicadabird - Coracina morio
Reunion Cuckooshrike - Coracina newtoni

Black-faced Cuckooshrike - Coracina novaehollandiae
White-winged Cuckooshrike - Coracina ostenta
White-bellied Cuckooshrike - Coracina papuensis
Halmahera Cuckooshrike - Coracina parvula
White-breasted Cuckooshrike - Coracina pectoralis
Wallacean Cuckooshrike - Coracina personata
Indochinese Cuckooshrike - Coracina polioptera
Slaty Cuckooshrike - Coracina schistacea
Gray-headed Cuckooshrike - Coracina schisticeps
Bar- bellied Cuckooshrike - Coracina striata
Sula Cicadabird - Coracina sula
Cerulean Cuckooshrike - Coracina temminckii
Slender-billed Cicadabird - Coracina tenuirostris
Mauritius Cuckooshrike - Coracina typica
Black-winged Flycatcher-shrike - Hemipus hirundinaceus
Bar-winged Flycatcher- shrike - Hemipus picatus
Black-browed Triller - Lalage atrovirens
Rufous-bellied Triller - Lalage aurea
Varied Triller - Lalage leucomela
Long-tailed Triller - Lalage leucopyga
White-rumped Triller - Lalage leucopygialis
Polynesian Triller - Lalage maculosa
Black-and- white Triller - Lalage melanoleuca
White-browed Triller - Lalage moesta
Pied Triller - Lalage nigra
Samoan Triller - Lalage sharpei
White-shouldered Triller - Lalage sueurii
White-winged Triller - Lalage tricolor
Short- billed Minivet - Pericrocotus brevirostris
Brown-rumped Minivet - Pericrocotus cantonensis
Small Minivet - Pericrocotus cinnamomeus
Ashy Minivet - Pericrocotus divaricatus
White-bellied Minivet - Pericrocotus erythropygius
Long-tailed Minivet - Pericrocotus ethologus
Scarlet Minivet - Pericrocotus flammeus
Fiery Minivet - Pericrocotus igneus
Flores Minivet - Pericrocotus lansbergei
Sunda Minivet - Pericrocotus miniatus
Rosy Minivet - Pericrocotus roseus
Gray-chinned Minivet - Pericrocotus solaris
Ryukyu Minivet - Pericrocotus tegimae
Large Woodshrike - Tephrodornis gularis
Common Woodshrike - Tephrodornis pondicerianus
Additional Information
Key:

Profile

Photos

Video

Audio
Ashy Minivet - Pericrocotus divaricatus






The ashy minivet is found in Cambodia, China, India, Indonesia, Japan, North Korea, Laos, Malaysia, Myanmar, the Philippines, Singapore, South Korea, Taiwan, Thailand, and Vietnam.
Source: Internet Bird Collection Intended Audience: General Reading Level: Middle School
Bar-bellied Cuckooshrike - Coracina striata






The bar-bellied cuckooshrike is found in India, Indonesia, Malaysia, the Philippines, and Thailand.
Source: Internet Bird Collection Intended Audience: General Reading Level: Middle School
Bar- winged Flycatcher- shrike - Hemipus picatus






The bar-winged flycatcher shrike is found in Bangladesh, Bhutan, Brunei, Cambodia, China, India, Indonesia, Laos, Malaysia, Myanmar, Nepal, Sri Lanka, Thailand, and Vietnam.
Source: Internet Bird Collection Intended Audience: General Reading Level: Middle School
Black Cuckooshrike - Campephaga flava






The black cuckooshrike is found in Angola, Botswana, Burundi, Congo, Ethiopia, Kenya, Malawi, Mozambique, Namibia, Rwanda, Somalia, South Africa, Sudan, Swaziland, Tanzania, Uganda, Zambia, and Zimbabwe.
Source: Internet Bird Collection Intended Audience: General Reading Level: Middle School
Black-and- white Triller - Lalage melanoleuca





The black-and-white triller is found in the Philippines.
Source: Internet Bird Collection Intended Audience: General Reading Level: Middle School
Black-bellied Cuckooshrike - Coracina montana






The black-bellied cuckooshrike is found in Indonesia and Papua New Guinea.
Source: Internet Bird Collection Intended Audience: General Reading Level: Middle School
Black-bibbed Cicadabird - Coracina mindanensis





The black-bibbed cicadabird is found in the Philippines.
Source: Arkive Intended Audience: General Reading Level: Middle School
Black-browed Triller - Lalage atrovirens






The black-browed triller is found in Indonesia and Papua New Guinea.
Source: Internet Bird Collection Intended Audience: General Reading Level: Middle School
Black-faced Cuckooshrike - Coracina novaehollabdiae





The black-faced cuckooshrike is found in Australia, Indonesia, Papua New Guinea, the Solomon Islands, and East Timor.
Source: Internet Bird Collection Intended Audience: General Reading Level: Middle School
Black-headed Cuckooshrike - Coracina melanoptera






The black-headed cuckooshrike is found in Bangladesh, Bhutan, India, Myanmar, Nepal, and Sri Lanka.
Source: Internet Bird Collection Intended Audience: General Reading Level: Middle School
Black-shouldered Cicadabird -Coracina incerta






The black-shouldered cuckooshrike is found in Indonesia and Papua New Guinea.
Source: Internet Bird Collection Intended Audience: General Reading Level: Middle School
Black-winged Cuckooshrike - Coracina melaschistos





The black-winged cuckooshrike is found in Bangladesh, Bhutan, Cambodia, China, India, Japan, Laos, Myanmar, Nepal, Pakistan, Taiwan, Thailand, and Vietnam.
Source: Internet Bird Collection Intended Audience: General Reading Level: Middle School
Black-winged Flycatcher-shrike - Hemipus hirundinaceus





The black-winged flycatcher-shrike is found in Brunei, Indonesia, Malaysia, Myanmar, and Thailand.
Source: Internet Bird Collection Intended Audience: General Reading Level: Middle School
Blackish Cuckooshrike - Coracina coerulescens






The blackish cuckooshrike is found in the Philippines.
Source: Internet Bird Collection Intended Audience: General Reading Level: Middle School
Blue Cuckooshrike - Coracina azurea





The blue cuckooshrike is found in Angola, Cameroon, Central African Republic, Congo, Côte d'Ivoire, Equatorial Guinea, Gabon, Ghana, Guinea, Liberia, Nigeria, Sierra Leone, Togo, and Uganda.
Source: Internet Bird Collection Intended Audience: General Reading Level: Middle School
Brown-rumped Minivet - Pericrocotus cantonensis





The brown-rumped minivet also known as the Inhoe's minivet. It is found in Cambodia, China, Laos, Myanmar, Thailand, and Vietnam.
Source: Internet Bird Collection Intended Audience: General Reading Level: Middle School
Cerulean Cuckooshrike - Coracina temminckii




The Cerulean cuckooshrike is found in Indonesia.
Source: Internet Bird Collection Intended Audience: General Reading Level: Middle School
Common Woodshrike - Tephrodornis pondicerianus






The Cerulean cuckooshrike is found in Bangladesh, Bhutan, Cambodia, India, Laos, Myanmar, Nepal, Pakistan, Sri Lanka, Thailand, and Vietnam.
Source: Internet Bird Collection Intended Audience: General Reading Level: Middle School
Fiery Minivet - Pericrocotus igneus




The fiery minivet is found in Brunei, Indonesia, Malaysia, Myanmar, Philippines, and Thailand.
Source: Arkive Intended Audience: General Reading Level: Middle School
Fiery Minivet - Pericrocotus igneus




The fiery minivet is found in subtropical or tropical forests.
Source: Internet Bird Collection Intended Audience: General Reading Level: Middle School
Gray-chinned Minivet - Pericrocotus solaris





The gray-chinned minivet is found in Bangladesh, Bhutan, Cambodia, China, India, Indonesia, Laos, Malaysia, Myanmar, Nepal, Taiwan, Thailand, and Vietnam.
Source: Internet Bird Collection Intended Audience: General Reading Level: Middle School
Gray Cuckooshrike - Coracina caesia






The gray cuckooshrike is found in Burundi, Cameroon, Congo, Equatorial Guinea, Ethiopia, Kenya, Malawi, Mozambique, Nigeria, Rwanda, South Africa, Sudan, Swaziland, Tanzania, Uganda, and Zimbabwe.
Source: Internet Bird Collection Intended Audience: General Reading Level: Middle School
Gray-headed Cuckooshrike - Coracina schisticeps






The gray-headed cuckooshrike is found in Indonesia and Papua New Guinea.
Source: Internet Bird Collection Intended Audience: General Reading Level: Middle School
Indochinese Cuckooshrike - Coracina polioptera




The gray-headed cuckooshrike is found in Cambodia, Laos, Myanmar, Thailand, and Vietnam.
Source: Internet Bird Collection Intended Audience: General Reading Level: Middle School
Large Cuckooshrike - Coracina macei






The large cuckooshrike is found in Bhutan, Cambodia, China, India, Laos, Myanmar, Nepal, Pakistan, Sri Lanka, Taiwan, Thailand, and Vietnam.
Source: Internet Bird Collection Intended Audience: General Reading Level: Middle School
Large Woodshrike - Tephrodornis gularis





The large woodshrike is found in Bhutan, Cambodia, China, India, Laos, Myanmar, Nepal, Pakistan, Sri Lanka, Taiwan, Thailand, and Vietnam.
Source: Internet Bird Collection Intended Audience: General Reading Level: Middle School
Lesser Cuckooshrike - Coracina fimbriata





The lesser cuckooshrike is found in Brunei, Indonesia, Malaysia, Myanmar, Singapore, and Thailand.
Source: Internet Bird Collection Intended Audience: General Reading Level: Middle School
Long-tailed Minivet - Pericrocotus ethologus





The long-tailed minivet is found in Afghanistan, Bangladesh, Bhutan, China, India, Laos, Myanmar, Nepal, Pakistan, Thailand, and Vietnam.
Source: Internet Bird Collection Intended Audience: General Reading Level: Middle School
Long-tailed Triller - Lalage leucopyga





The long-tailed triller is found in New Caledonia, the Solomon Islands, and Vanuatu.
Source: Internet Bird Collection Intended Audience: General Reading Level: Middle School
Mauritius Cuckooshrike - Coracina typica





The Mauritius cuckooshrike is found in the south of the island of Mauritius.
Source: Arkive Intended Audience: General Reading Level: Middle School
Mauritius Cuckooshrike - Coracina typica





There are around 300-350 pairs of Mauritius cuckooshrikes in the wild.
Source: BirdLife International Intended Audience: General Reading Level: High School
Melanesian Cuckooshrike - Coracina caledonica






The Melanesian cuckooshrike is found in New Caledonia, Papua New Guinea, the Solomon Islands, and Vanuatu.
Source: Internet Bird Collection Intended Audience: General Reading Level: Middle School
Moluccan Cuckooshrike - Coracina atriceps




The Moluccan cuckooshrike is found in Indonesia.
Source: Internet Bird Collection Intended Audience: General Reading Level: Middle School
New Caledonian Cuckooshrike - Coracina analis






The New Caledonian cuckooshrike is found in New Caledonia.
Source: Internet Bird Collection Intended Audience: General Reading Level: Middle School
Petit's Cuckooshrike - Campephaga petiti





Petit's cuckooshrike is found in Angola, Cameroon, Congo, Gabon, Kenya, Nigeria, and Uganda.
Source: Internet Bird Collection Intended Audience: General Reading Level: Middle School
Pied Triller - Lalage nigra






The pied triller is found in Brunei, India, Indonesia, Malaysia, Philippines, Singapore, and Thailand.
Source: Internet Bird Collection Intended Audience: General Reading Level: Middle School
Polynesian Triller - Lalage maculosa





The Polynesian triller is found in Fiji, Niue, Samoa, the Solomon Islands, Tonga, Vanuatu, and Wallis and Futuna Islands.
Source: Internet Bird Collection Intended Audience: General Reading Level: Middle School
Purple-throated Cuckooshrike - Campephaga quiscalina




The purple-shouldered cuckooshrike is found in Angola, Benin, Cameroon, Central African Republic, Congo, , Côte d'Ivoire, Equatorial Guinea, Gabon, Ghana, Guinea, Kenya, Liberia, Mali, Nigeria, Sierra Leone, Sudan, Tanzania, Togo, Uganda, and Zambia.
Source: Internet Bird Collection Intended Audience: General Reading Level: Middle School
Red-shouldered Cuckooshrike - Campephaga phoenicea





The red-shouldered cuckooshrike is found in Benin, Burkina Faso, Cameroon, Central African Republic, Chad, Congo, Côte d'Ivoire, Eritrea, Ethiopia, Gambia, Ghana, Guinea, Guinea-Bissau, Kenya, Liberia, Mali, Niger, Nigeria, Senegal, Sierra Leone, Sudan, Togo, and Uganda.
Source: Internet Bird Collection Intended Audience: General Reading Level: Middle School
Reunion Cuckooshrike - Coracina newtoni




The Reunion cuckooshrike is found east of Madagascar on Reunion Island.
Source: Arkive Intended Audience: General Reading Level: Middle School
Reunion Cuckooshrike - Coracina newtoni





There are only around 25 breeding pairs of Reunion cuckooshrikes in the wild.
Source: BirdLife International Intended Audience: General Reading Level: High School
Rosy Minivet - Pericrocotus roseus





The rosy minivet is found in Bangladesh, Bhutan, China, India, Laos, Myanmar, Nepal, Pakistan, Thailand, and Vietnam.
Source: Internet Bird Collection Intended Audience: General Reading Level: Middle School
Rufous-bellied Triller - Lalage aurea




The rufous-bellied triller is found in Indonesia.
Source: Arkive Intended Audience: General Reading Level: Middle School
Scarlet Minivet - Pericrocotus flammeus




The scarlet minivet is found in Bangladesh, Bhutan, Brunei, Cambodia, China, India, Indonesia, Laos, Malaysia, Myanmar, Nepal, Philippines, Singapore, Sri Lanka, Thailand, and Vietnam.
Source: Arkive Intended Audience: General Reading Level: Middle School
Scarlet Minivet - Pericrocotus flammeus






Male scarlet minivets are orange to red with black upperparts and females are yellow with gray upperparts.
Source: Internet Bird Collection Intended Audience: General Reading Level: Middle School
Short-billed Minivet - Pericrocotus brevirostris





The short-billed minivet is found in Bangladesh, Bhutan, Cambodia, China, India, Laos, Myanmar, Nepal, Thailand, and Vietnam.
Source: Internet Bird Collection Intended Audience: General Reading Level: Middle School
Slender-billed Cicadabird - Coracina tenuirostris







The slender- billed cicadabird is found in Australia, East Timor, Indonesia, Micronesia, Palau, Papua New Guinea, and the Solomon Islands.
Source: Internet Bird Collection Intended Audience: General Reading Level: Middle School
Small Minivet - Pericrocotus cinnamomeus






The small minivet is found in Bangladesh, Bhutan, Cambodia, India, Indonesia, Laos, Myanmar, Nepal, Pakistan, Sri Lanka, Thailand, and Vietnam.
Source: Internet Bird Collection Intended Audience: General Reading Level: Middle School
Solomons Cuckooshrike - Coracina holopolia






The Solomons cuckooshrike is found in Papua New Guinea and the Solomon Islands.
Source: Internet Bird Collection Intended Audience: General Reading Level: Middle School
Sunda Cuckooshrike - Coracina larvata





The Sunda cuckooshrike is found in Indonesia and Malaysia.
Source: Internet Bird Collection Intended Audience: General Reading Level: Middle School
Varied Triller - Lalage leucomela







The varied triller is found in Australia, Indonesia, and Papua New Guinea.
Source: Internet Bird Collection Intended Audience: General Reading Level: Middle School
Wallacean Cuckooshrike - Coracina personata





The Wallacean cuckooshrike is found in Indonesia and Timor.
Source: Internet Bird Collection Intended Audience: General Reading Level: Middle School
Western Wattled Cuckooshrike - Campephaga lobata





The western wattled cuckooshrike is found in Côte d'Ivoire, Ghana, Guinea, Liberia, and Sierra Leone.
Source: Internet Bird Collection Intended Audience: General Reading Level: Middle School
White-bellied Cuckooshrike - Coracina papuensis






The white-bellied cuckooshrike is found in Australia, Indonesia, Papua New Guinea, and the Solomon Islands.
Source: Internet Bird Collection Intended Audience: General Reading Level: Middle School
White-bellied Minivet - Pericrocotus erythropygius





The white-bellied minivet is found in India, Myanmar, and Nepal.
Source: Internet Bird Collection Intended Audience: General Reading Level: Middle School
White-rumped Cuckooshrike - Coracina leucopygia





The white-rumped cuckooshrike is found in Indonesia.
Source: Internet Bird Collection Intended Audience: General Reading Level: Middle School
White-rumped Triller - Lalage leucopygialis




The white-rumped triller is found in Indonesia.
Source: Internet Bird Collection Intended Audience: General Reading Level: Middle School
White- winged Cuckooshrike - Coracina ostenta




The white-winged cuckooshrike is found in the Western Visayas in the Philippines.
Source: Arkive Intended Audience: General Reading Level: Middle School
White-winged Cuckooshrike - Coracina ostenta




The white-winged cuckooshrike is black with a white breast and belly and white edges on its wings.
Source: Internet Bird Collection Intended Audience: General Reading Level: Middle School
White-winged Cuckooshrike - Coracina ostenta





The white-winged cuckooshrike is found in the canopy of lowland and mid-montane forests.
Source: BirdLife International Intended Audience: General Reading Level: High School
White-winged Cuckooshrike - Coracina ostenta





The white-winged cuckooshrike is found in the canopy in lowland and mid-montane forests.
Source: BirdLife International Intended Audience: General Reading Level: High School
White-winged Triller - Lalage tricolor






The white-winged triller is found in Australia and Papua New Guinea.
Source: Internet Bird Collection Intended Audience: General Reading Level: Middle School
Yellow-eyed Cuckooshrike - Coracina lineata







The yellow-eyed cuckooshrike is also known as the barred-cuckooshrike. It is found in Australia, Indonesia, Papua New Guinea, and the Solomon Islands.
Source: Internet Bird Collection Intended Audience: General Reading Level: Middle School