Calopterygidae - Broad-winged Damselflies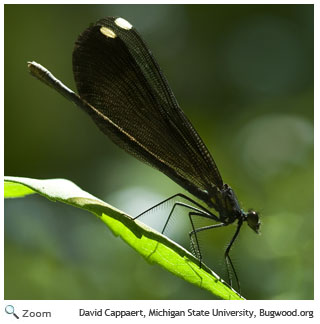 There are about 150 species in this family of damselflies. Nine species are found in North America. Broad-winged damselflies are 1.5 - 2.5 inches in length.They are usually metallic black or green in color. Broad-winged damselflies have broad wings; long antennae; and long, slender, stick-like abdomens.
When broad-winged damselflies are at rest, they hold their wings together vertically above their body. They are usually found on vegetation around rivers and streams. They eat insects and other arthropods.
Broad-winged damselflies overwinter as eggs. Broad-wing damselfly larvae are usually found in rivers and streams. They are predators and hunt in the vegetation in the water for food. In some species in this family, immature damselflies have gills.

Calopterygidae Photo Gallery
World Status Key


Least Concern

Near Threatened

Vulnerable

Endangered

Critically Endangered

Extinct in Wild

Extinct

Not Enough Data
Status and range is taken from ICUN Redlist.
U.S. Status Key
Threatened in US Endangered in US Introduced
Status taken from US Fish and Wildlife. Click on U.S. status icon to go to the U.S. Fish and Wildlife species profile.
New Hampshire Status Key
Threatened in NH Endangered in NH Breeds in NH (birds)
Status taken from NH Fish and Game
Location Key


Africa

Asia

Australia/Oceania

Europe

North America

South America

NH

Click for More Info

Click for Image
New Hampshire Species

North American Species

River Jewelwing - Calopteryx aequabilis
Superb Jewelwing - Calopteryx amata  
Sparkling Jewelwing - Calopteryx dimidiata
Ebony Jewelwing - Calopteryx maculata  


American Rubyspot

-

Hetaerina americana


Appalachian Jewelwing - Calopteryx angustipennis
Canyon Rubyspot - Hetaerina vulnerata
Guatemalan Rubyspot - Hetaerina rudis
Smoky Rubyspot - Hetaerina titia
Selected Species Around the World

Archineura hetaerinoides
Archineura incarnata
Atrocalopteryx atrocyana
Caliphaea angka
Caliphaea confusa
Caliphaea nitens
Caliphaea thailandica
Calopteryx atrata
Calopteryx coomani
Calopteryx cornelia
Glittering Demoiselle - Calopteryx exul
Copper Demoiselle - Calopteryx haemorrhoidalis
Clear-Winged Demoiselle - Calopteryx hyalina
Calopteryx japonica
Calopteryx laosica
Calopteryx melli
Calopteryx oberthuri
Calopteryx orientalis
Banded Demoiselle - Calopteryx splendens
Syrian Demoiselle - Calopteryx syriaca
Beautiful Demoiselle - Calopteryx virgo
Western Demoiselle - Calopteryx xanthostoma
Echo margarita
Echo maxima
Echo modesta
Echo uniformis
Hook-tipped Rubyspot - Hetaerina curvicauda
Hetaerina gallardi
Hetaerina hebe
Hetaerina indeprensa
Hetaerina mendezi
Tepui Shinywing - Iridictyon myersi
White-banded Shinywing - Iridictyon trebbaui
Matrona - Matrona basilaris
Mnais costalis
Mnais mneme
Mnais pruinosa
Mnais andersoni
Mnais gregoryi
Mnais icteroptera
Mnais yunosukei
Mnesarete guttifera
Mnesarete mariana

Mnesarete smaragdina
Neurobasis anumariae
Neurobasis chinensis
Neurobasis kimminsi
Neurobasis longipes
Noguchiphaea mattii
Noguchiphaea yoshikoae
Ormenophlebia imperatrix
Ormenophlebia regina
Forest Flashwing - Phaon camerunensis
Common Flashwing - Phaon iridipennis
Spring Bluewing - Sapho bicolor
Western Bluewing - Sapho ciliata
Smokewing - Sapho fumosa
Glorious Bluewing - Sapho gloriosa
Sapho infumosa
Eastern Bluewing - Sapho orichalcea
Clearwing - Sapho puella
Broad-winged Sparklewing - Umma cincta
Green-banded Sparklewing - Umma declivium
Sapphire Demoiselle - Umma saphirina
Metallic Sparklewing - Umma electa
Angola Sparklewing - Umma femina
Bare-bellied Sparklewing - Umma longistigma
Hairy-bellied Sparklewing - Umma mesostigma
Cameroon Sparklewing - Umma mesumbei
Purple Sparklewing - Umma purpurea
Vestalaria miao
Vestalaria smaragdina
Vestalaria velata
Vestalaria vinnula
Vestalis amethystina
Vestalis amoena
Vestalis anacolosa
Vestalis anne
Black-tipped Forest Glory - Vestalis apicalis
Vestalis atropha
Clear-winged Forest Glory - Vestalis gracilis
Vestalis luctuosa
Vestalis venusta
Additional Information
Key:

Profile

Photos

Video

Audio

NH Species
Atrocalopteryx atrocyana





Atrocalopteryx atrocyana is found in China and Vietnam.
Source: Dragonflies and Damselflies of Vietnam Intended Audience: General Reading Level: Middle
Archineura hetaerinoides




Archineura hetaerinoides is found in Laos and Vietnam.
Source: YouTube Intended Audience: General Reading Level: N/A
American Rubyspot - Hetaerina americana




The American rubyspot is found from Oregon, Montana, Ontario, and Maine south to Honduras and Florida. In New Hampshire, it can be found south of the White Mountains from August to October.
Source: BioKids Intended Audience: Students Reading Level: Elementary School
American Rubyspot - Hetaerina americana





The American rubyspot male has a red head and thorax and an iridescent green abdomen. Females are an iridescent green.
Source: Odonata Central- Texas Natural Science Center Intended Audience: General Reading Level: High School
American Rubyspot - Hetaerina americana





The American rubyspot is found along streams.
Source: BugGuide Intended Audience: General Reading Level: Middle School
Caliphaea confusa





Caliphaea confusa is found in Bhutan, China, India, Myanmar, Nepal, and Vietnam.
Source: Vietnam Insects Intended Audience: General Reading Level: Middle School
Caliphaea confusa





Caliphaea confusa is found in montane (mountain) habitats.
Source: Odonata of India Intended Audience: General Reading Level: Middle School
Appalachian Jewelwing - Calopteryx angustipennis





The is found in Alabama, Georgia, Indiana, Kentucky, New York, North Carolina, Ohio, Pennsylvania, South Carolina, Tennessee, Virginia, and West Virginia.
Source: BugGuide Intended Audience: General Reading Level: Middle School
Banded Demoiselle - Calopteryx splendens







The banded demoiselle is found from western Europe to northwest China.
Source: Arkive Intended Audience: General Reading Level: Middle School
Beautiful Demoiselle - Calopteryx virgo





The beautiful demoiselle is found all over Europe.
Source: British Dragonfly Society Intended Audience: General Reading Level: Middle School
Black-tipped Forest Glory - Vestalis apicalis





The black-tipped forest glory is found in India.
Source: Odonata of India Intended Audience: General Reading Level: Middle School
Canyon Rubyspot - Hetaerina vulnerata 




The canyon rubyspot is found in the southwestern United States south through Mexico to Guatemala and Hounduras.
Source: BugGuide Intended Audience: General Reading Level: Middle School
Canyon Rubyspot - Hetaerina vulnerata 





The male canyon rubyspot has red spots on the base of its wings that get darker with age.
Source: Odonata Central- Texas Natural Science Center Intended Audience: General Reading Level: High School
Clear-Winged Demoiselle - Calopteryx hyalina




The clear-winged demoiselle is found in Israel, Lebanon, and Syria.
Source: Arkive Intended Audience: General Reading Level: Middle School
Copper Demoiselle - Calopteryx haemorrhoidalis





The copper demoiselle is found in Algeria, France, Italy, Monaco, Morocco, Portugal, Spain, and Tunisia.
Source: DragonflyPix Intended Audience: General Reading Level: Middle School
Ebony Jewelwing - Calopteryx maculata




The ebony jewelwing is found from Manitoba east to Nova Scotia and south to Texas and Florida.
Source: BioKids Intended Audience: Students Reading Level: Elementary School
Ebony Jewelwing - Calopteryx maculata





In New Hampshire, the ebony jewelwing is found across the state.
Source: BugGuide Intended Audience: General Reading Level: Middle School
Ebony Jewelwing - Calopteryx maculata





The male ebony jewelwing has black wings.
Source: Odonata Central- Texas Natural Science Center Intended Audience: General Reading Level: High School
Ebony Jewelwing - Calopteryx maculata





The adult ebony jewelwing has a lifespan of about two weeks.
Source: National Park Service Intended Audience: General Reading Level: Middle School
Glittering Demoiselle - Calopteryx exul





The glittering demoiselle is found in Algeria, Morocco, and Tunisia.
Source: Arkive Intended Audience: General Reading Level: Middle School
Matrona - Matrona basilaris 




Matrona basilaris is found in China, Japan, and Vietnam.
Source: Arkive Intended Audience: General Reading Level: Middle School
Green-banded Sparklewing - Umma declivium




The green-banded sparklewing is also known as the montane demoiselle. It is found in Malawi and Tanzania.
Source: Arkive Intended Audience: General Reading Level: Middle School
River Jewelwing - Calopteryx aequabilis





The river jewelwing is found from southern British Columbia and Saskatchewan east to Newfoundland and south to California, Colorado, Illinois, and New Jersey. In New Hampshire, it is found across the state.
Source: BioKids Intended Audience: Students Reading Level: Elementary School
Echo margarita





Echo margarita is found in India and Myanmar.
Source: Odonata of India Intended Audience: General Reading Level: Middle School
Echo maxima





Echo maxima is found in Vietnam
Source: Viet Odonata Intended Audience: General Reading Level: Middle School
Smoky Rubyspot - Hetaerina titia 




The smoky rubyspot is found in the eastern United States.
Source: BugGuide Intended Audience: General Reading Level: Middle School
Smoky Rubyspot - Hetaerina titia 




The male smoky rubyspot has black wings with a red spot near the base.
Source: Odonata Central- Texas Natural Science Center Intended Audience: General Reading Level: High School
Sparkling Jewelwing - Calopteryx dimidiate 





The sparkling jewelwing is found from Massachusetts to Florida and west to Texas. In New Hampshire, they are found in the southeastern part of the state.
Source: Odonata Central- Texas Natural Science Center Intended Audience: General Reading Level: High School
Sparkling Jewelwing - Calopteryx dimidiate





In New Hampshire, sparkling jewlewings are found in the southeastern part of the state.
Source: BugGuide Intended Audience: General Reading Level: Middle School
Sparkling Jewelwing - Calopteryx dimidiate





Sparkling jewelwings are found along forest streams and rivers with moderate to swift currents.
Source: Bio Kids Intended Audience: Students Reading Level: Elementary School
Superb Jewelwing - Calopteryx amata





The superb jewelwing is found in the eastern U.S. It is found across much of New Hampshire.
Source: BugGuide Intended Audience: General Reading Level: Middle School
Syrian Demoiselle - Calopteryx syriaca





The montane demoiselle is found in Israel, Jordan, Lebanon, the Palestinian Territory, and Syria.
Source: Arkive Intended Audience: General Reading Level: Middle School
Vestilis - Vestalis luctuosa




Vestalis luctuosa is found in Indonesia.
Source: Arkive Intended Audience: General Reading Level: Middle School
Western Demoiselle - Calopteryx xanthostoma




The western demoiselle is found in France, Italy, Portugual, and Spain.
Source: Dragonfly Pix Intended Audience: General Reading Level: Middle School
Neurobasis chinensis




Neurobasis chinensis is found in Bangladesh, China, Hong Kong, India, Indonesia, Laos, Malaysia, Myanmar, Nepal, Sri Lanka, Thailand, and Vietnam.
Source: Odonata of India Intended Audience: General Reading Level: Middle School
Neurobasis chinensis




Neurobasis chinensis breeds in forested and partially forested streams.
Source: YouTube Intended Audience: General Reading Level: N/A
Mnesarete guttifera




Mnesarete guttifera is found in Argentina, Brazil, and Paraguay.
Source: Smithsonian Intended Audience: General Reading Level: Middle School
Clear-winged Forest Glory - Vestalis gracilis




The clear-winged forest glory is found in Cambodia, India, Laos, Malaysia, Myanmar, Nepal, Thailand, and Vietnam.
Source: Odonata of India Intended Audience: General Reading Level: Middle School
Mnais andersoni





Mnais andersoni is found in China, Laos, Myanmar, Taiwan, Thailand, and Vietnam.
Source: Dragonflies and Damselflies of Vietnam Intended Audience: General Reading Level: Middle School
Neurobasis longipes





Neurobasis longipes is found in Brunei Darussalam, Indonesia, and Malaysia.
Source: Dragons & Damsels Intended Audience: General Reading Level: Middle School
Noguchiphaea yoshikoae





Noguchiphaea yoshikoae is found in Thailand and Vietnam.
Source: Dragonflies and Damselflies of Vietnam Intended Audience: General Reading Level: Middle School