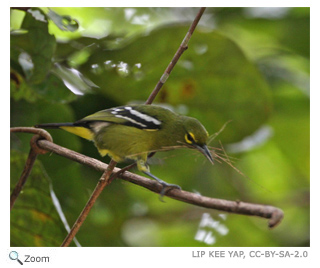 There are four species of small to medium-sized birds in this family. They are found in India and Southeast Asia.
Ioras are yellow or green in color and are 4-6 inches in length. Males are usually larger than females. Two species, the common iora and the green iora, have black wings with white bars.
Ioras are found in forests and scrub areas and eat berries, fruit, insects, and spiders. They spend most of their time in the tree canopy.
Females lay 2-3 eggs in a cup-shaped nest. Both the male and the female incubate the eggs and care for and feed the chicks.

Aegithinidae Photo Gallery
World Status Key


Least Concern

Near Threatened

Vulnerable

Endangered

Critically Endangered

Extinct in Wild

Extinct

Not Enough Data
Status and range is taken from ICUN Redlist.

U.S. Status Key


Threatened in US

Endangered in US

Introduced
Status taken from US Fish and Wildlife. Click on U.S. status icon to go to the U.S. Fish and Wildlife species profile.

New Hampshire Status Key


Threatened in NH

Endangered in NH

Breeds in NH (birds)
Status taken from NH Fish and Game
Location Key


Africa

Asia

Australia/Oceania

Europe

North America

South America

NH
More Info


Click for More Info

Click for Image
Resource Key


Profile

Photos

Video

Audio
New Hampshire Species
None
North/Central American Species
None
Other Species Around the World
Common Iora - Aegithina tiphia





Great Iora - Aegithina lafresnayei




Green Iora - Aegithina viridissima





White-tailed Iora- Aegithina nigrolutea




Additional Information
Common Iora - Aegithina tiphia







The common iora is found in Bangladesh, Bhutan, Brunei, Cambodia, China, India, Indonesia, Laos, Malaysia, Myanmar, Nepal, Pakistan, Philippines, Singapore, Sri Lanka, Thailand, and Vietnam.
Source: eBird Cornell Lab of Ornithology Intended Audience: General Reading Level: Middle School
Great Iora - Aegithina lafresnayei







The male great iora has a black back and wings and a yellow breast and belly. The female is yellow with grayish wings. It is found in is found in Cambodia, China, Laos, Malaysia, Myanmar, Thailand, and Vietnam.
Source: eBird Cornell Lab of Ornithology Intended Audience: General Reading Level: Middle School
Green Iora - Aegithina viridissima







The green iora lives in subtropical or tropical lowland forests or mangrove forests in Brunei, Indonesia, Malaysia, Myanmar, Singapore, and Thailand.
Source: eBird Cornell Lab of Ornithology Intended Audience: General Reading Level: Middle School
White-tailed Iora - Aegithina nigrolutea







The white-tailed iora is found in India. It is also known as Marshall's iora.
Source: eBird Cornell Lab of Ornithology Intended Audience: General Reading Level: Middle School