nad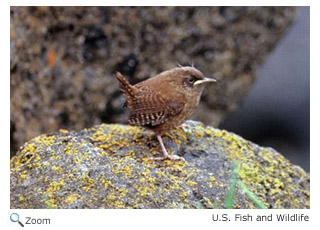 There are around 90 species of birds in this family. They are found in North and South America. They are found in forests, brushlands, deserts and marshes.
They are small birds between 3.5-8.5 inches in length. They have slender, long downcurved bills; short, rounded wings; and a short square or rounded tail.
They are usually brown in color with brown, black or white spots, streaks or bars. They usually forage on or near the ground for worms, insects, and other invertebrates.
World Status Key


Least Concern

Near Threatened

Vulnerable

Endangered

Critically Endangered

Extinct in Wild

Extinct

Not Enough Data
Status and range is taken from ICUN Redlist.
U.S. Status Key
Threatened in US Endangered in US
Status taken from US Fish and Wildlife Click on U.S. status icon to go to the U.S. Fish and Wildlife species profile.

New Hampshire Status Key
Threatened in NH Endangered in NH Introduced
Status taken from NH Fish and Game
Location Key


Africa

Asia

Australia/Oceania

Europe

North America

South America

NH

Click for More Info

Click for Image
New Hampshire Species

North/Central American Species

Carolina Wren - Thryothorus ludovicianus
House Wren - Troglodytes aedon
Marsh Wren - Cistothorus palustris
Winter Wren - Troglodytes hiemalis



Song Wren - Cyphorhinus phaeocephalus
Zapata Wren - Ferminia cerverai
Gray-breasted Wood-wren - Henicorhina leucophrys
White-breasted Wood-wren - Henicorhina leucosticta
Nava's Wren - Hylorchilus navai
Sumichrast's Wren - Hylorchilus sumichrasti
Southern Nightingale-wren -Microcerculus marginatus
Northern Nightingale-wren - Microcerculus philomela
Black-throated Wren - Pheugopedius atrogularis
Black-bellied Wren - Pheugopedius fasciatoventris
Happy Wren - Pheugopedius felix
Spot-breasted Wren - Pheugopedius maculipectus
Rufous-breasted Wren - Pheugopedius rutilus
Sooty-headed Wren - Pheugopedius spadix
Rock Wren - Salpinctes obsoletus
Bewick's Wren - Thryomanes bewickii
Banded Wren - Thryothorus pleurostictus
Rufous-and-white Wren - Thryothorus rufalbus
Sinaloa Wren - Thryothorus sinaloa
Timberline Wren - Thryorchilus browni
White-browed Wren - Thryothorus albinucha
Cozumel Wren - Troglodytes beani
Ochraceous Wren - Troglodytes ochraceus
Pacific Wren - Troglodytes pacificus
Rufous-browed Wren - Troglodytes rufociliatus
Socorro Wren - Troglodytes sissonii
Clarion Wren - Troglodytes tanneri
White-bellied Wren - Uropsila leucogastra

North/Central American Species

White-headed Wren - Campylorhynchus albobrunneus
Cactus Wren - Campylorhynchus brunneicapillus
Giant Wren - Campylorhynchus chiapensis
Rufous-backed Wren - Campylorhynchus capistratus
Spotted Wren - Campylorhynchus gularis
Sclater's Wren - Campylorhynchus humilis
Boucard's Wren - Campylorhynchus jocosus
Gray-barred Wren - Campylorhynchus megalopterus
Rufous-naped Wren - Campylorhynchus rufinucha
Yucatan Wren - Campylorhynchus yucatanicus
Band-backed Wren - Campylorhynchus zonatus
Stripe-throated Wren - Cantorchilus leucopogon
Buff-breasted Wren - Cantorchilus leucotis
Plain Wren - Cantorchilus modestus
Bay Wren - Cantorchilus nigricapillus
Riverside Wren - Cantorchilus semibadius
Stripe-breasted Wren - Cantorchilus thoracicus
Canebrake Wren - Cantorchilus zeledoni
Canyon Wren - Catherpes mexicanus
Grass Wren - Cistothorus platensis
Sedge Wren - Cistothorus stellaris

Other Species Around the World

Africa Asia Australia/Oceania Europe North America South America NH


Fasciated Wren - Campylorhynchus fasciatus
Bicolored Wren - Campylorhynchus griseus
Stripe-backed Wren - Campylorhynchus nuchalis
Thrush-like Wren - Campylorhynchus turdinus
Gray Wren - Cantorchilus griseus
Fawn-breasted Wren - Cantorchilus guarayanus
Long-billed Wren - Cantorchilus longirostris
Superciliated Wren - Cantorchilus superciliaris
Fulvous Wren - Cinnycerthia fulva
Sharpe's Wren - Cinnycerthia olivascens
Peruvian Wren - Cinnycerthia peruana
Rufous Wren - Cinnycerthia unirufa
Apolinar's Wren - Cistothorus apolinari
Merida Wren - Cistothorus meridae
Musician Wren - Cyphorhinus arada
Chestnut-breasted Wren - Cyphorhinus thoracicus
Hermit Wood-wren - Henicorhina anachoreta
Bar-winged Wood-wren - Henicorhina leucoptera
Munchique Wood-wren - Henicorhina negreti


Wing-banded Wren - Microcerculus bambla
Flutist Wren - Microcerculus ustulatus
Gray-mantled Wren - Odontorchilus branickii
Tooth-billed Wren - Odontorchilus cinereus
Colombian Wren - Pheugopedius columbianus
Coraya Wren - Pheugopedius coraya
Inca Wren - Pheugopedius eisenmanni
Plain-tailed Wren - Pheugopedius euophrys
Moustached Wren - Pheugopedius genibarbis
Whiskered Wren - Pheugopedius mystacalis
Speckle-breasted Wren - Pheugopedius paucimaculatus
Gray-browed Wren - Pheugopedius schulenbergi
Maranon Wren - Pheugopedius sclateri
Niceforo's Wren - Thryothorus nicefori
Antioquia Wren - Thryophilus sernai
Cobb's Wren - Troglodytes cobbi
Santa Marta Wren - Troglodytes monticola
Tepui Wren - Troglodytes rufulus
Northern Wren - Troglodytes troglodytes
Mountain Wren - Troglodytes solstitialis
Additional Information

Key:

Profile

Photos

Video

Audio

Carolina Wren - Thryothorus ludovicianus








The Carolina wren is found in the eastern U.S. It is also found in southeastern Canada and Mexico.
Source: Cornell Lab of Ornithology Intended Audience: General Reading Level: Middle School Teacher Section: No

Carolina Wren - Thryothorus ludovicianus







The Carolina wren does not migrate.
Source: Animal Diversity Web Intended Audience: General Reading Level: Middle School Teacher Section: No

House Wren - Troglodytes aedon








The house wren is found across the U.S. It is also found in Canada, Mexico, and throughout Central and South America.
Source: Cornell Lab of Ornithology Intended Audience: General Reading Level: Middle School Teacher Section: No
House Wren - Troglodytes aedon







The house wren is found in open shrubby woodlands and in backyards.
Source: Animal Diversity Web Intended Audience: General Reading Level: Middle School Teacher Section: No
House Wren - Troglodytes aedon








The house wren forages for insects in trees and brush and on the ground.
Source: Audubon Intended Audience: General Reading Level: Middle School Teacher Section: No

Marsh Wren - Cistothorus palustris








The marsh wren is found across the most of the U.S., except for Alaska and Hawaii. It is also found in Canada and Mexico.
Source: Cornell Lab of Ornithology Intended Audience: General Reading Level: Middle School Teacher Section: No
Marsh Wren - Cistothorus palustris







The marsh wren is found in a variety of wetland habitats.
Source: Animal Diversity Web Intended Audience: General Reading Level: Middle School Teacher Section: No
Marsh Wren - Cistothorus palustris








Male marsh wrens mate with more than one female during the breeding season.
Source: Arkive Intended Audience: General Reading Level: Middle School Teacher Section: Yes

Sedge Wren - Cistothorus stellaris









The sedge wren is found in the eastern U.S. It is also found in Canada and Mexico.
Source: HBW Alive Intended Audience: General Reading Level: Middle School Teacher Section: No

Winter Wren - Troglodytes hiemalis








The winter wren is found across much of Canada and the eastern U.S. into northeastern Mexico.
Source: Cornell Lab of Ornithology Intended Audience: General Reading Level: Middle School Teacher Section: No
Winter Wren - Troglodytes hiemalis








The winter wren forages for insects in dense underbrush.
Source: Audubon Intended Audience: General Reading Level: Middle School Teacher Section: No
White-headed Wren - Campylorhynchus albobrunneus







The white-headed wren is found in Colombia and Panama.
Source: Cornell Lab of Ornithology Intended Audience: General Reading Level: Middle School Teacher Section: No
Cactus Wren - Campylorhynchus brunneicapillus






The cactus wren is found in desert areas of southern California, southern Nevada, Arizona, New Mexico, Utah, western Texas, and Mexico.
Source: Cornell Lab of Ornithology Intended Audience: General Reading Level: Middle School Teacher Section: No
Cactus Wren - Campylorhynchus brunneicapillus





The female cactus wren often builds her nest in a cholla cactus.
Source: Animal Diversity Web Intended Audience: General Reading Level: Middle School Teacher Section: No
Giant Wren - Campylorhynchus chiapensis






The giant wren is found in Mexico.
Source: Cornell Lab of Ornithology Intended Audience: General Reading Level: Middle School Teacher Section: No
Rufous-backed Wren - Campylorhynchus capistratus







The rufous-backed wren is found in Costa Rica, El Salvador, Guatemala, Honduras, Mexico, and Nicaragua.
Source: HBW Alive Intended Audience: General Reading Level: Middle School Teacher Section: No
Spotted Wren - Campylorhynchus gularis






The spotted wren is found in Mexico.
Source: Cornell Lab of Ornithology Intended Audience: General Reading Level: Middle School Teacher Section: No
Sclater's Wren - Campylorhynchus humilis







Sclater's wren is found in Mexico.
Source: HBW Alive Intended Audience: General Reading Level: Middle School Teacher Section: No

Boucard's Wren - Campylorhynchus jocosus






Boucard's wren is found in Mexico.
Source: Cornell Lab of Ornithology Intended Audience: General Reading Level: Middle School Teacher Section: No

Gray-barred Wren - Campylorhynchus megalopterus






The gray-barred wren is found in Mexico.
Source: Cornell Lab of Ornithology Intended Audience: General Reading Level: Middle School Teacher Section: No

Rufous-naped Wren - Campylorhynchus rufinucha






The rufous-napped wren is found in Mexico.
Source: Cornell Lab of Ornithology Intended Audience: General Reading Level: Middle School Teacher Section: No

Yucatan Wren - Campylorhynchus yucatanicus






The Yucatan wren is found in Mexico.
Source: Cornell Lab of Ornithology Intended Audience: General Reading Level: Middle School Teacher Section: No

Band-backed Wren - Campylorhynchus zonatus







The band-backed wren is found in Belize, Colombia, Costa Rica, Ecuador, El Salvador, Guatemala, Honduras, Mexico, Nicaragua, and Panama.
Source: Cornell Lab of Ornithology Intended Audience: General Reading Level: Middle School Teacher Section: No

Stripe-throated Wren - Cantorchilus leucopogon







The stripe-throated wren is found in Colombia, Ecuador, and Panama.
Source: Cornell Lab of Ornithology Intended Audience: General Reading Level: Middle School Teacher Section: No

Buff-breasted Wren - Cantorchilus leucotis








The buff-breasted wren is found in Bolivia, Brazil, Colombia, Ecuador, French Guiana, Guyana, Panama, Paraguay, Peru, Suriname, and Venezuela.
Source: Cornell Lab of Ornithology Intended Audience: General Reading Level: Middle School Teacher Section: No

Plain Wren - Cantorchilus modestus






The plain wren is found in Belize, Costa Rica, El Salvador, Guatemala, Honduras, Mexico, Nicaragua, and Panama.
Source: Cornell Lab of Ornithology Intended Audience: General Reading Level: Middle School Teacher Section: No

Bay Wren - Cantorchilus nigricapillus








The bay wren is found in Colombia, Costa Rica, Ecuador, Nicaragua, and Panama.
Source: HBW Alive Intended Audience: General Reading Level: Middle School Teacher Section: No

Riverside Wren - Cantorchilus semibadius






The riverside wren is found in Costa Rica and Panama.
Source: Cornell Lab of Ornithology Intended Audience: General Reading Level: Middle School Teacher Section: No

Stripe-breasted Wren - Cantorchilus thoracicus






The stripe-breasted wren is found in Costa Rica, Nicaragua, and Panama.
Source: Cornell Lab of Ornithology Intended Audience: General Reading Level: Middle School Teacher Section: No

Canebrake Wren - Cantorchilus zeledoni






The canebrake wren is found in Costa Rica, Nicaragua, and Panama.
Source: Cornell Lab of Ornithology Intended Audience: General Reading Level: Middle School Teacher Section: No

Canyon Wren - Catherpes mexicanus






The canyon wren is found in the western U.S. It is also found in Canada and Mexico.
Source: Cornell Lab of Ornithology Intended Audience: General Reading Level: Middle School Teacher Section: No
Canyon Wren - Catherpes mexicanus






The canyon wren usually makes its home in places where there are cliffs, canyons, rocky outcrops, or boulder piles.
Source: Animal Diversity Web Intended Audience: General Reading Level: Middle School Teacher Section: No

Grass Wren - Cistothorus platensis








The grass wren is found in Argentina, Belize, Bolivia, Colombia, Costa Rica, Guatemala, Guyana, Honduras, Mexico, Nicaragua, Panama, Peru, and Venezuela.
Source: HBW Alive Intended Audience: General Reading Level: Middle School Teacher Section: No

Sedge Wren - Cistothorus stellaris







In the U.S. the sedge wren is found from North Dakota east to New York and south to Texas and Florida.
Source: HBW Alive Intended Audience: General Reading Level: Middle School Teacher Section: No

Song Wren - Cyphorhinus phaeocephalus







The song wren is found in Colombia, Costa Rica, Ecuador, Honduras, Nicaragua, and Panama.
Source: Cornell Lab of Ornithology Intended Audience: General Reading Level: Middle School Teacher Section: No

Zapata Wren - Ferminia cerverai







The Zapata wren is found in Cuba.
Source: HBW Alive Intended Audience: General Reading Level: Middle School Teacher Section: No

Gray-breasted Wood-wren - Henicorhina leucophrys







The gray-breasted wood-wren is found in Bolivia, Colombia, Costa Rica, Ecuador, El Salvador, Guatemala, Honduras, Mexico, Nicaragua, Panama, Peru, and Venezuela.
Source: Cornell Lab of Ornithology Intended Audience: General Reading Level: Middle School Teacher Section: No

White-breasted Wood-wren - Henicorhina leucosticta







The white-breasted wood-wren is found in Belize, Brazil, Colombia, Costa Rica, Ecuador, French Guiana, Guatemala, Guyana, Honduras, Mexico, Nicaragua, Panama, Peru, Suriname, and Venezuela.
Source: Cornell Lab of Ornithology Intended Audience: General Reading Level: Middle School Teacher Section: No

Nava's Wren - Hylorchilus navai






Nava's wren is found in Mexico.
Source: Cornell Lab of Ornithology Intended Audience: General Reading Level: Middle School Teacher Section: No

Sumichrast's Wren - Hylorchilus sumichrasti






Sumichrast's wren is found in Mexico.
Source: Cornell Lab of Ornithology Intended Audience: General Reading Level: Middle School Teacher Section: No

Southern Nightingale-wren - Microcerculus marginatus







The southern nightingale-wren is found in Bolivia, Brazil, Colombia, Costa Rica, Ecuador, Panama, Peru, and Venezuela..
Source: Cornell Lab of Ornithology Intended Audience: General Reading Level: Middle School Teacher Section: No
Northern Nightingale-wren - Microcerculus philomela






The northern nightingale-wren is found in Belize, Costa Rica, Guatemala, Honduras, Mexico, and Nicaragua.
Source: Cornell Lab of Ornithology Intended Audience: General Reading Level: Middle School Teacher Section: No

Black-throated Wren - Pheugopedius atrogularis







Theblack-throated wren is found in Costa Rica, Nicaragua, and Panama.
Source: HBW Alive Intended Audience: General Reading Level: Middle School Teacher Section: No

Black-bellied Wren - Pheugopedius fasciatoventris







The black-bellied wren is found in Colombia, Costa Rica, and Panama.
Source: Cornell Lab of Ornithology Intended Audience: General Reading Level: Middle School Teacher Section: No

Happy Wren - Pheugopedius felix






The happy wren is found in Mexico.
Source: Cornell Lab of Ornithology Intended Audience: General Reading Level: Middle School Teacher Section: No

Spot-breasted Wren - Pheugopedius maculipectus






The spot-breasted wren is found in Belize, Costa Rica, El Salvador, Guatemala, Honduras, Mexico, and Nicaragua.
Source: Cornell Lab of Ornithology Intended Audience: General Reading Level: Middle School Teacher Section: No

Rufous-breasted Wren - Pheugopedius rutilus







The rufous-breasted wren is found in Colombia, Costa Rica, Panama, Trinidad and Tobago, and Venezuela.
Source: Cornell Lab of Ornithology Intended Audience: General Reading Level: Middle School Teacher Section: No

Sooty-headed Wren - Pheugopedius spadix







The sooty-headed wren is found in Colombia and Panama.
Source: Cornell Lab of Ornithology Intended Audience: General Reading Level: Middle School Teacher Section: No

Rock Wren - Salpinctes obsoletus






The rock wren is found in the western U.S. It is also found in Canada, Mexico and Central America.
Source: Cornell Lab of Ornithology Intended Audience: General Reading Level: Middle School Teacher Section: No

Bewick's Wren - Thryomanes bewickii






Bewick's wren is found from southwestern Canada south through western and central U.S. into Mexico.
Source: Cornell Lab of Ornithology Intended Audience: General Reading Level: Middle School Teacher Section: No

Banded Wren - Thryothorus pleurostictus







The banded wren is found in Costa Rica, El Salvador, Guatemala, Honduras, Mexico, Nicaragua
Source: HBW Alive Intended Audience: General Reading Level: Middle School Teacher Section: No

Rufous-and-white Wren - Thryothorus rufalbus








The rufous-and-white -wren is found in Colombia, Costa Rica, El Salvador, Guatemala, Honduras, Mexico, Nicaragua, Panama, and Venezuela
Source: Cornell Lab of Ornithology Intended Audience: General Reading Level: Middle School Teacher Section: No

Sinaloa Wren - Thryothorus sinaloa






The Sinaloa wren is found in Mexico.
Source: Cornell Lab of Ornithology Intended Audience: General Reading Level: Middle School Teacher Section: No

Timberline Wren - Thryorchilus browni






The timberline wren is found in Costa Rica and Panama.
Source: Cornell Lab of Ornithology Intended Audience: General Reading Level: Middle School Teacher Section: No

White-browed Wren - Thryothorus albinucha







The white-browed wren is found in Belize, Guatemala, Mexico, and Nicaragua.
Source: HBW Alive Intended Audience: General Reading Level: Middle School Teacher Section: No

Cozumel Wren - Troglodytes beani






The Cozumel wren is found in Mexico.
Source: Cornell Lab of Ornithology Intended Audience: General Reading Level: Middle School Teacher Section: No

Ochraceous Wren - Troglodytes ochraceus






The Ochraceous wren is found in Costa Rica and Panama.
Source: Cornell Lab of Ornithology Intended Audience: General Reading Level: Middle School Teacher Section: No

Pacific Wren - Troglodytes pacificus






The Pacific wren is found along the Pacific coast from Alaska to California.
Source: Cornell Lab of Ornithology Intended Audience: General Reading Level: Middle School Teacher Section: No

Rufous-browed Wren - Troglodytes rufociliatus






The rufous-browed wren is found in El Salvador, Guatemala, Honduras, Mexico, and Nicaragua.
Source: Cornell Lab of Ornithology Intended Audience: General Reading Level: Middle School Teacher Section: No

Socorro Wren - Troglodytes sissonii






The Socorro wren is only found on Isla Socorro in the Revillagigedo Islands in Mexico.
Source: HBW Alive Intended Audience: General Reading Level: Middle School Teacher Section: No

Clarion Wren - Troglodytes tanneri





The clarion wren nightingale-wren is found on Isla Clarión in the Revillagigedo Islands in Mexico.
Source: HBW Alive Intended Audience: General Reading Level: Middle School Teacher Section: No

White-bellied Wren - Uropsila leucogastra






The white-bellied wren is found in Belize, Guatemala, Honduras, and Mexico.
Source: HBW Alive Intended Audience: General Reading Level: Middle School Teacher Section: No
Fasciated Wren - Campylorhynchus fasciatus






The faciated wren is found in Ecuador and Peru.
Source: Cornell Lab of Ornithology Intended Audience: General Reading Level: Middle School Teacher Section: No

Bicolored Wren - Campylorhynchus griseus






The bicolored wren is found in Brazil, Colombia, Guyana, and Venezuela.
Source: Cornell Lab of Ornithology Intended Audience: General Reading Level: Middle School Teacher Section: No

Stripe-backed Wren - Campylorhynchus nuchalis






The stripe-backed wren is found in Colombia and Venezuela.
Source: Cornell Lab of Ornithology Intended Audience: General Reading Level: Middle School Teacher Section: No

Thrush-like Wren - Campylorhynchus turdinus






The thrush-like wren is found in Argentina, Bolivia, Brazil, Colombia, Ecuador, Paraguay, and Peru.
Source: Cornell Lab of Ornithology Intended Audience: General Reading Level: Middle School Teacher Section: No

Gray Wren - Cantorchilus griseus






The gray wren is found in Brazil.
Source: Cornell Lab of Ornithology Intended Audience: General Reading Level: Middle School Teacher Section: No

Fawn-breasted Wren - Cantorchilus guarayanus






The fawn-breasted wren is found in Bolivia, Brazil, and Paraguay.
Source: Cornell Lab of Ornithology Intended Audience: General Reading Level: Middle School Teacher Section: No

Long-billed Wren - Cantorchilus longirostris






The long-billed wren is found in Brazil.
Source: Cornell Lab of Ornithology Intended Audience: General Reading Level: Middle School Teacher Section: No

Superciliated Wren - Cantorchilus superciliaris






The superciliated wren is found in Ecuador and Peru.
Source: Cornell Lab of Ornithology Intended Audience: General Reading Level: Middle School Teacher Section: No
Fulvous Wren - Cinnycerthia fulva






The fulvous wren is found in Bolivia and Peru.
Source: Cornell Lab of Ornithology Intended Audience: General Reading Level: Middle School Teacher Section: No

Sharpe's Wren - Cinnycerthia olivascens






Sharpe's wren is found in Colombia, Ecuador, and Peru.
Source: Cornell Lab of Ornithology Intended Audience: General Reading Level: Middle School Teacher Section: No

Peruvian Wren - Cinnycerthia peruana






The Peruvian wren is found in Peru.
Source: Cornell Lab of Ornithology Intended Audience: General Reading Level: Middle School Teacher Section: No

Rufous Wren - Cinnycerthia unirufa






The rufous wren is found in Colombia, Ecuador, Peru, and Venezuela.
Source: Cornell Lab of Ornithology Intended Audience: General Reading Level: Middle School Teacher Section: No

Apolinar's Wren - Cistothorus apolinari






Apolinar's wren is found in Colombia.
Source: Cornell Lab of Ornithology Intended Audience: General Reading Level: Middle School Teacher Section: No

Merida Wren - Cistothorus meridae






The Merida wren is found in Venezuela.
Source: Cornell Lab of Ornithology Intended Audience: General Reading Level: Middle School Teacher Section: No
Musician Wren - Cyphorhinus arada








The musician wren is found in Bolivia, Brazil, Colombia, Ecuador, French Guiana, Guyana, Peru, Suriname, and Venezuela.
Source: Cornell Lab of Ornithology Intended Audience: General Reading Level: Middle School Teacher Section: No

Chestnut-breasted Wren - Cyphorhinus thoracicus






The chestnut-breasted wren is found in Bolivia and Peru.
Source: Cornell Lab of Ornithology Intended Audience: General Reading Level: Middle School Teacher Section: No

Hermit Wood-wren - Henicorhina anachoreta






The hermit wood-wren is found in Colombia.
Source: Cornell Lab of Ornithology Intended Audience: General Reading Level: Middle School Teacher Section: No

Bar-winged Wood-wren - Henicorhina leucoptera






The bar-winged wood-wren is found in Ecuador and Peru.
Source: Cornell Lab of Ornithology Intended Audience: General Reading Level: Middle School Teacher Section: No

Munchique Wood-wren - Henicorhina negreti






The Munchique wood-wren is found in Colombia.
Source: Cornell Lab of Ornithology Intended Audience: General Reading Level: Middle School Teacher Section: No

Wing-banded Wren - Microcerculus bambla






The wing-banded wren is found in Brazil, Ecuador, French Guiana, Guyana, Peru, Suriname, and Venezuela.
Source: Cornell Lab of Ornithology Intended Audience: General Reading Level: Middle School Teacher Section: No

Flutist Wren - Microcerculus ustulatus






The flutist wren is found in Brazil, Guyana, and Venezuela.
Source: Cornell Lab of Ornithology Intended Audience: General Reading Level: Middle School Teacher Section: No

Gray-mantled Wren - Odontorchilus branickii






The gray-mantled wren is found in Bolivia, Colombia, Ecuador, and Peru.
Source: Cornell Lab of Ornithology Intended Audience: General Reading Level: Middle School Teacher Section: No
Tooth-billed Wren - Odontorchilus cinereus






The tooth-billed wren is found in Bolivia and Brazil.
Source: Cornell Lab of Ornithology Intended Audience: General Reading Level: Middle School Teacher Section: No

Colombian Wren - Pheugopedius columbianus







The Colombian wren is found in Colombia.
Source: HBW Alive Intended Audience: General Reading Level: Middle School Teacher Section: No

Coraya Wren - Pheugopedius coraya






The Coraya wren is found in Brazil, Colombia, Ecuador, French Guiana, Guyana, Peru, Suriname, and Venezuela.
Source: Cornell Lab of Ornithology Intended Audience: General Reading Level: Middle School Teacher Section: No

Inca Wren - Pheugopedius eisenmanni






The Inca wren is found in Peru.
Source: Cornell Lab of Ornithology Intended Audience: General Reading Level: Middle School Teacher Section: No

Plain-tailed Wren - Pheugopedius euophrys






The plain-tailed wren is found in Colombia, Ecuador, and Peru.
Source: Cornell Lab of Ornithology Intended Audience: General Reading Level: Middle School Teacher Section: No

Moustached Wren - Pheugopedius genibarbis






The moustached wren is found in Boliva, Brazil and Peru.
Source: Cornell Lab of Ornithology Intended Audience: General Reading Level: Middle School Teacher Section: No

Whiskered Wren - Pheugopedius mystacalis






The whiskered wren is found in Colombia, Ecuador, and Venezuela.
Source: Cornell Lab of Ornithology Intended Audience: General Reading Level: Middle School Teacher Section: No

Speckle-breasted Wren - Pheugopedius paucimaculatus






The speckle-breasted wren is found in Ecuador and Peru.
Source: Cornell Lab of Ornithology Intended Audience: General Reading Level: Middle School Teacher Section: No

Gray-browed Wren - Pheugopedius schulenbergi






The gray-browed wren is found in Peru.
Source: HBW Alive Intended Audience: General Reading Level: Middle School Teacher Section: No

Maranon Wren - Pheugopedius sclateri






The Maranon wren is found in Ecuador and Peru.
Source: Cornell Lab of Ornithology Intended Audience: General Reading Level: Middle School Teacher Section: No
Niceforo's Wren - Thryothorus nicefori







Niceforo's wren is found in Colombia.
Source: HBW Alive Intended Audience: General Reading Level: Middle School Teacher Section: No

Antioquia Wren - Thryophilus sernai






The Antioquia wren is found in Colombia .
Source: Cornell Lab of Ornithology Intended Audience: General Reading Level: Middle School Teacher Section: No

Cobb's Wren - Troglodytes cobbi





Cobb's wren is found in the Falkland Islands.
Source: Arkive Intended Audience: General Reading Level: Middle School Teacher Section: Yes

Santa Marta Wren - Troglodytes monticola





The Santa Marta wren is found in Colombia.
Source: Cornell Lab of Ornithology Intended Audience: General Reading Level: Middle School Teacher Section: No

Tepui Wren - Troglodytes rufulus





The Tepui wren is found in Brazil, Guyana, and Venezuela.
Source: HBW Alive Intended Audience: General Reading Level: Middle School Teacher Section: No

Northern Wren - Troglodytes troglodytes








The northern wren is found across much of Europe. It is also found in northern Africa and in Asia.
Source: Arkive Intended Audience: General Reading Level: Middle School Teacher Section: Yes

Mountain Wren - Troglodytes solstitialis






The mountain wren is found in Argentina, Bolivia, Colombia, Ecuador, Peru, and Venezuela.
Source: Cornell Lab of Ornithology Intended Audience: General Reading Level: Middle School Teacher Section: No