Pomatostomidae - Australo-Papuan babblers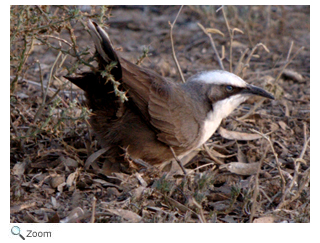 There are 5 species of small to medium sized birds in this family. They are found in Australia and New Guinea.
Australo-Papuan babblers live in flocks of 20-40 birds and are very social and noisy! They feed on insects on the ground.
They are usually brown to gray in color and have long tails and long, pointed, slightly curved bills.
Four species are found in arid and open areas. One species, the New Guinea Babbler (Pomatostomus isidorei), is found in the forests of New Guinea.
World Status Key


Least Concern

Near Threatened

Vulnerable

Endangered

Critically Endangered

Extinct in Wild

Extinct
Status and range is taken from ICUN Redlist. If no status is listed, there is not enough data to establish status.
US Status Key


Threatened in US

Threatened in NH

Endangered in US

Endangered in NH

Introduced

Breeds in NH
US Fish and Wildlifeand NH Fish and Game
| | | |
| --- | --- | --- |
| New Hampshire Species | | North/Central American Species |
| None | | None |
Other Species Around the World

Africa Asia Australia/Oceania Europe North America South America NH



Hall's Babbler - Pomatostomus halli
New Guinea Babbler - Pomatostomus isidorei
Chestnut-crowned Babbler - Pomatostomus ruficeps
White-browed Babbler - Pomatostomus superciliosus
Gray-crowned Babbler - Pomatostomus temporalis

Additional Information

Key: Profile Photos Video Audio

Chestnut-crowned Babbler - Pomatostomus ruficeps
The chestnut-crowned babbler is found in Australia.
Source: Internet Bird Collection Intended Audience: General Reading Level: Middle School

Gray-crowned Babbler - Pomatostomus temporalis
The gray-crowned babbler is found in Australia, Indonesia, and Papua New Guinea.
Source: Internet Bird Collection Intended Audience: General Reading Level: Middle School

Hall's Babbler - Pomatostomus halli
Hall's babbler is found in Australia, Indonesia, and Papua New Guinea.
Source: Internet Bird Collection Intended Audience: General Reading Level: Middle School

New Guinea Babbler - Pomatostomus isidorei
The New Guinea babbler is found in Indonesia and Papua New Guinea.
Source: Internet Bird Collection Intended Audience: General Reading Level: Middle School

White-browed Babbler - Pomatostomus superciliosus
The white-browed babbler is found in Australia.
Source: Internet Bird Collection Intended Audience: General Reading Level: Middle School