Oriolidae - Old World Orioles, Figbirds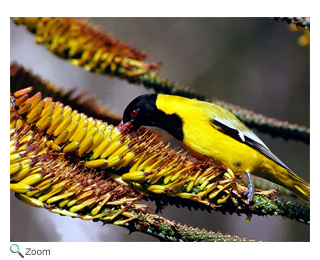 There are 30 species of birds in this family. They are found in Eurasia, Africa, the East Indies, Australia, and the Philippines.

They are 7-12 inches in length and most species are brightly colored in shades of yellows and greens with black patches. Females are duller in color than males.

They have strong, slightly hooked bills; long, pointed wings; and medium to long tails. They are found in forests and open woodlands and eat insects and fruits. They are not related to the orioles found in North America.

Oriolidae Photo Gallery
World Status Key


Least Concern

Near Threatened

Vulnerable

Endangered

Critically Endangered

Extinct in Wild

Extinct
Status and range is taken from ICUN Redlist. If no status is listed, there is not enough data to establish status.
US Status Key


Threatened in US

Threatened in NH

Endangered in US

Endangered in NH

Introduced
Status taken from US Fish and Wildlife and NH Fish and Game
| | | |
| --- | --- | --- |
| New Hampshire Species | | North/Central American Species |
| None | | None |
Other Species Around the World

Africa Asia Australia/Oceania Europe North America South America NH



White-lored Oriole -Oriolus albiloris
African Golden Oriole -Oriolus auratus
Black-eared Oriole -Oriolus bouroensis
Western Black-headed Oriole -Oriolus brachyrhynchus
Black-naped Oriole -Oriolus chinensis
Green-headed Oriole -Oriolus chlorocephalus
Sao Tome Oriole -Oriolus crassirostris
Black-and-crimson Oriole -Oriolus cruentus
Green Oriole -Oriolus flavocinctus
Grey-collared Oriole -Oriolus forsteni
Black Oriole -Oriolus hosii
Isabela Oriole -Oriolus isabellae
African Black-headed Oriole -Oriolus larvatus
Olive-brown Oriole -Oriolus melanotis
Silver Oriole -Oriolus mellianus

Dark-headed Oriole -Oriolus monacha
Black-winged Oriole -Oriolus nigripennis
Eurasian Golden Oriole -Oriolus oriolus
Black-tailed Oriole -Oriolus percivali
Dusky-brown Oriole -Oriolus phaeochromus
Olive-backed Oriole -Oriolus sagittatus
Philippine Oriole -Oriolus steerii
Brown Oriole -Oriolus szalayi
Slender-billed Oriole -Oriolus tenuirostris
Maroon Oriole -Oriolus traillii
Dark-throated Oriole -Oriolus xanthonotus
Black-hooded Oriole -Oriolus xanthornus
Wetar Figbird -Sphecotheres hypoleucus
Australasian Figbird -Sphecotheres vieilloti
Timor Figbird -Sphecotheres viridis

Additional Information

Key: Profile Photos Video Audio

African Black-headed Oriole -Oriolus larvatus
The African black-headed oriole is also known as the eastern black-headed oriole. It is found in Africa south of the Sahara.
Source: Internet Bird Collection Intended Audience: General Reading Level: Middle School

African Golden Oriole -Oriolus auratus
The African golden oriole is found in Africa south of the Sahara.
Source: Internet Bird Collection Intended Audience: General Reading Level: Middle School

Australasian Figbird -Sphecotheres vieilloti
The Australasian figbird is found in Australia and Papua New Guinea.
Source: Internet Bird Collection Intended Audience: General Reading Level: Middle School

Black-and-crimson Oriole -Oriolus cruentus
The black-and-crimson oriole is found in Indonesia and Malaysia.
Source: Internet Bird Collection Intended Audience: General Reading Level: Middle School

Black-hooded Oriole -Oriolus xanthornus
The black-hooded oriole is found in Bangladesh, Bhutan, Cambodia, China, India, Indonesia, Laos, Malaysia, Myanmar, Nepal, Sri Lanka, Thailand, and Vietnam.
Source: Internet Bird Collection Intended Audience: General Reading Level: Middle School

Black-naped Oriole -Oriolus chinensis
The black-naped oriole is found in Bangladesh, Cambodia, China, India, Indonesia, North Korea, South Korea, Laos, Malaysia, Myanmar, Philippines, Russia, Singapore, Taiwan, Thailand, and Vietnam.
Source: Internet Bird Collection Intended Audience: General Reading Level: Middle School

Black-tailed Oriole -Oriolus percivali
The black-tailed oriole is also known as the mountain oriole. It is found in Burundi, The Democratic Republic of the Congo, Kenya, Rwanda, Tanzania, and Uganda.
Source: Internet Bird Collection Intended Audience: General Reading Level: Middle School

Black-winged Oriole -Oriolus nigripennis
The black-winged oriole is found in Angola, Benin, Cameroon, Central African Republic, Congo, The Democratic Republic of the Congo, Côte d'Ivoire, Equatorial Guinea, Gabon, Ghana, Guinea, Guinea-Bissau, Liberia, Nigeria, Sierra Leone, Sudan, Togo, and Uganda.
Source: Internet Bird Collection Intended Audience: General Reading Level: Middle School

Brown Oriole -Oriolus szalayi
The brown oriole is found in Indonesia and Papua New Guinea.
Source: Internet Bird Collection Intended Audience: General Reading Level: Middle School

Dark-headed Oriole -Oriolus monacha
The dark-headed oriole is also known as the Ethiopian black-headed oriole. It is found in Eritrea and Ethiopia.
Source: Internet Bird Collection Intended Audience: General Reading Level: Middle School

Dark-throated Oriole -Oriolus xanthonotus
The dark-throated oriole is found in Brunei Darussalam, Indonesia, Malaysia, Myanmar, Philippines, and Thailand .
Source: Internet Bird Collection Intended Audience: General Reading Level: Middle School

Eurasian Golden Oriole -Oriolus oriolus
The Eurasian golden oriole is found across Europe, Asia, and Africa.
Source: Arkive Intended Audience: General Reading Level: Middle School

Eurasian Golden Oriole -Oriolus oriolus
The male Eurasian golden oriole is bright yellow with black wings and a black tail tip. The female is a duller green.
Source: Internet Bird Collection Intended Audience: General Reading Level: Middle School

Green Oriole -Oriolus flavocinctus
The green oriole is found in New Guinea and northern Australia.
Source: Internet Bird Collection Intended Audience: General Reading Level: Middle School

Green-headed Oriole -Oriolus chlorocephalus
The green-headed oriole is found in Kenya, Malawi, Mozambique, and Tanzania.
Source: Internet Bird Collection Intended Audience: General Reading Level: Middle School

Maroon Oriole -Oriolus traillii
The maroon oriole is found in Bangladesh, Bhutan, Cambodia, China, India, Laos, Myanmar, Nepal, Taiwan, Thailand, and Vietnam.
Source: Internet Bird Collection Intended Audience: General Reading Level: Middle School

Olive-backed Oriole -Oriolus sagittatus
The olive-backed oriole is found in Australia and Papua New Guinea.
Source: Internet Bird Collection Intended Audience: General Reading Level: Middle School

Olive-brown Oriole -Oriolus melanotis
The olive-brown oriole is found in Indonesia and East Timor.
Source: Internet Bird Collection Intended Audience: General Reading Level: Middle School

Philippine Oriole -Oriolus steerii
The Philippine oriole is found in the Philippines.
Source: Internet Bird Collection Intended Audience: General Reading Level: Middle School

Sao Tome Oriole -Oriolus crassirostris
The Sao Tome oriole is found in Sao Tomé and Principe.
Source: Arkive Intended Audience: General Reading Level: Middle School

Sao Tome Oriole -Oriolus crassirostris
The Sao Tome oriole is found in forests.
Source: Internet Bird Collection Intended Audience: General Reading Level: Middle School

Silver Oriole -Oriolus mellianus
The silver oriole is found in China.
Source: Internet Bird Collection Intended Audience: General Reading Level: Middle School

Slender-billed Oriole -Oriolus tenuirostris
The slender-billed oriole is found in Bhutan, China, India, Laos, Myanmar, Nepal, Thailand, and Vietnam.
Source: Internet Bird Collection Intended Audience: General Reading Level: Middle School

Timor Figbird -Sphecotheres viridis
The Timor figbird is found in Indonesia and East Timor.
Source: Internet Bird Collection Intended Audience: General Reading Level: Middle School

Western Black-headed Oriole -Oriolus brachyrhynchus
The western black-headed oriole is found in Angola, Benin, Cameroon, Central African Republic, Congo, The Democratic Republic of the Congo, Côte d'Ivoire, Equatorial Guinea, Gabon, Ghana, Guinea, Guinea-Bissau, Kenya, Liberia, Nigeria, Sierra Leone, Sudan, Tanzania, Togo, Uganda.
Source: Internet bird Collection Intended Audience: General Reading Level: Middle School