Megophryidae - South Asian Frogs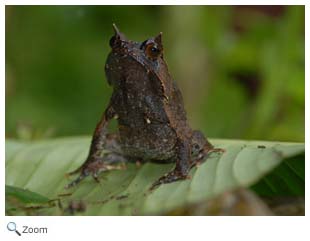 There are around 138 species of frogs and toads in this family. They are found from Pakistan to China and in Indonesia and the Philippines.
The frogs and toads in this family are 1-4 inches in length. Some species that live on the forest floor have leaf-like projections on their bodies that help camouflage them!
World Status Key


Least Concern

Near Threatened

Vulnerable

Endangered

Critically Endangered

Extinct in Wild

Extinct
Status and range is taken from ICUN Redlist. If no status is listed, there is not enough data to establish status.
US Status Key


Threatened in US

Threatened in NH

Endangered in US

Endangered in NH

Introduced
Status taken from US Fish and Wildlife and NH Fish and Game
| | | |
| --- | --- | --- |
| New Hampshire Species | | North/Central American Species |
| None | | None |
Other Species Around the World

Africa Asia Australia/Oceania Europe North/Central America South America NH Species

Rough Horned Frog - Borneophrys edwardinae
Brachytarsophrys carinense
Brachytarsophrys chuannanensis
Brachytarsophrys feae
Brachytarsophrys intermedia
Brachytarsophrys platyparietus
Kinabalu Dwarf Litter Frog - Leptobrachella baluensis
Leptobrachella brevicrus
Mount Gadin Borneo Frog - Leptobrachella mjobergi
Leptobrachella natunae
Leptobrachella palmata
Leptobrachella parva
Leptobrachella serasanae
Leptobrachium abbotti
Leptobrachium ailaonicum
Leptobrachium banae
Leptobrachium boringii
Leptobrachium buchardi
Chapa Spadefoot Toad - Leptobrachium chapaense
Leptobrachium echinatum
Asian Litter Frog - Leptobrachium gunungense
Hainan Pseudomoustache Toad - Leptobrachium hainanense
Java Spadefoot Toad - Leptobrachium hasseltii
Leptobrachium hendricksoni
Leptobrachium huashen
Leptobrachium leishanense
Leptobrachium liui
Leptobrachium montanum
Leptobrachium mouhoti
Leptobrachium ngoclinhense
Leptobrachium nigrops
Leptobrachium promustache
Leptobrachium pullum
Smith's Litter Frog - Leptobrachium smithi
Leptobrachium xanthospilum
Leptolalax alpinus
Kinabalu Slender Litter Frog - Leptolalax arayai
Leptolalax bourreti
Leptolalax dringi
Leptolalax fuliginosus
Slender Litter Frog - Leptolalax gracilis
Asian Toad - Leptolalax hamidi
Leptolalax heteropus
Leptolalax kajangensis
Leptolalax liui
Leptolalax maurus
Leptolalax melanolecus
Leptolalax nahangensis
Oshan Metacarpal-tubercled Toad - Leptolalax oshanensis
Leptolalax pelodytoides
Painted Slender Litter Frog - Leptolalax pictus
Leptolalax pluvialis
Leptolalax solus
Leptolalax sungi
Leptolalax - Leptolalax tuberosus
Leptolalax ventripunctatus
Kobayashi's Horned Frog - Megophrys kobayashii
Palawan Horned Frog - Megophrys ligayae
Javan Horned Frog - Megophrys montana
Malayan Horned Frog - Megophrys nasuta
Southeast Asian Horned Toad - Megophrys stejnegeri
Ophryophryne gerti
Ophryophryne hansi
Ophryophryne microstoma
Ophryophryne pachyproctus
Ophryophryne synoria
Oreolalax chuanbeiensis
Oreolalax granulosus
Oreolalax jingdongensis

Oreolalax liangbeiensis
Oreolalax lichuanensis
Large Toothed Toad - Oreolalax major
Oreolalax multipunctatus
Oreolalax nanjiangensis
Omei Toothed Toad - Oreolalax omeimontis
Oreolalax pingii
Oreolalax popei
Oreolalax puxiongensis
Oreolalax rhodostigmatus
Oreolalax rugosus
Oreolalax schmidti
Oreolalax weigoldi
Oreolalax xiangchengensis
Scutiger adungensis
Scutiger bhutanensis
Scutiger boulengeri
Scutiger brevipes
Scutiger chintingensis
Scutiger glandulatus
Scutiger gongshanensis
Scutiger jiulongensis
Scutiger liupanensis
Scutiger maculatus
Scutiger mammatus
Scutiger muliensis
Scutiger nepalensis
Scutiger ningshanensis
Scutiger nyingchiensis
Scutiger pingwuensis
Scutiger ruginosus
Scutiger sikimmensis
Round-tubercled Cat-eyed Toad - Scutiger tuberculatus
Xenophrys aceras
Xenophrys auralensis
Kinabalu Horned Frog - Xenophrys baluensis
Xenophrys binchuanensis
Pale-shouldered Horned Toad - Xenophrys boettgeri
Short-legged Horned Toad - Xenophrys brachykolos
Convex-tailed Horned Toad - Xenophrys caudoprocta
Xenophrys daweimontis
Dring's Horned Frog - Xenophrys dringi
Great Piebald Horned Toad - Xenophrys giganticus
Xenophrys glandulosa
Xenophrys huangshanensis
Jingdong Horned Toad - Xenophrys jingdongensis
Kuatun Horned Toad - Xenophrys kuatunensis
Xenophrys lekaguli
Xenophrys longipes
White-lipped Horned Toad - Xenophrys major
Mangshan Horned Toad - Xenophrys mangshanensis
Medog Horned Toad - Xenophrys medogensis
Little Horned Toad - Xenophrys minor
Nankiang Horned Toad - Xenophrys nankiangensis
Omei Horned Toad - Xenophrys omeimontis
Convex-vented Horned Toad - Xenophrys pachyproctus
Rough-skinned Horned Toad-Xenophrys palpebralespinosa
Xenophrys parallela
Concave-crowned Horned Toad - Xenophrys parva
Xenophrys robusta
Xenophrys serchhipii
Shaping Horned Toad - Xenophrys shapingensis
Xenophrys shuichengensis
Spiny-fingered Horned Toad - Xenophrys spinata
Xenophrys wawuensis
Wuliangshan Horned Toad - Xenophrys wuliangshanensis
Wushan Horned Toad - Xenophrys wushanensis
Zhang's Horned Toad - Xenophrys zhangi
Xenophrys zunhebotoensis

Additional Information

Key: Profile Photos Video Audio

Asian Litter Frog - Leptobrachium gunungense
The Asian litter frog is found in Malaysia.
Source: Arkive Intended Audience: General Reading Level: Middle School Teacher Section: Yes

Asian Toad - Leptolalax hamidi
The Asian toad is found in Indonesia and Malaysia.
Source: Arkive Intended Audience: General Reading Level: Middle School Teacher Section: Yes

Hainan Pseudomoustache Toad - Leptobrachium hainanense
The Hainan pseudomoustache toad is found in China.
Source: Arkive Intended Audience: General Reading Level: Middle School Teacher Section: Yes

Kinabalu Dwarf Litter Frog - Leptobrachella baluensis
The Kinabalu Dwarf litter frog is found in Indonesia and Malaysia.
Source: Arkive Intended Audience: General Reading Level: Middle School Teacher Section: Yes

Kinabalu Slender Litter Frog - Leptolalax arayai
The Kinabalu slender litter frog is found in Malaysia.
Source: Arkive Intended Audience: General Reading Level: Middle School Teacher Section: Yes

Large Toothed Toad - Oreolalax major
The large-toothed toad is found in China.
Source: Arkive Intended Audience: General Reading Level: Middle School Teacher Section: Yes

Leptolalax - Leptolalax tuberosus
The leptolalax is found in Vietnam.
Source: Arkive Intended Audience: General Reading Level: Middle School Teacher Section: Yes

Omei Toothed Toad - Oreolalax omeimontis
The Omei toothed toad is found in China.
Source: Arkive Intended Audience: General Reading Level: Middle School Teacher Section: Yes

Painted Slender Litter Frog - Leptolalax pictus
The painted slender liter frog is found in China.
Source: Arkive Intended Audience: General Reading Level: Middle School Teacher Section: Yes

Palawan Horned Frog - Megophrys ligayae [in]
The Palawan horned frog is found in Indonesia and Malaysia.
Source: Arkive Intended Audience: General Reading Level: Middle School Teacher Section: Yes

Rough Horned Frog - Borneophrys edwardinae
The rough horned frog is found in Malaysia.
Source: Arkive Intended Audience: General Reading Level: Middle School Teacher Section: Yes

Round-tubercled Cat-eyed Toad - Scutiger tuberculatus
The Round-tubercled Cat-eyed Toad is found in China.
Source: Arkive Intended Audience: General Reading Level: Middle School Teacher Section: Yes

Slender Litter Frog - Leptolalax gracilis
The slender litter frog is found in Brunei Darussalam, Indonesia, and Malaysia .
Source: Arkive Intended Audience: General Reading Level: Middle School Teacher Section: Yes