Maluridae - Fairywrens, Grasswrens, Emu-wrens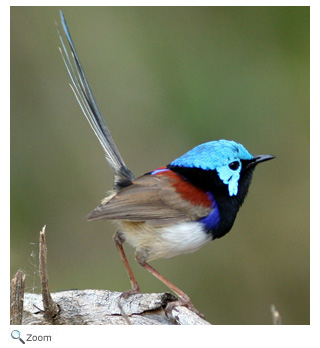 There are 27 bird species in this family. They are found only in Australia, New Guinea, and Indonesia in a variety of habitats including grasslands, deserts, rainforests and scrub areas. They are not related to true wrens.
They are small birds, between 3-10 inches in length, and come in a variety of colors and patterns. Males are brightly colored and females are duller in color.
They have small bills; short, rounded wings; and long tails. They eat insects and other invertebrates.
Many of the males in this family will court a female by bringing her flower petals. Some of the birds in this family form pairs, but both the male and the female will mate with other birds. They may even help raise the chicks from their their partner's other relationships!

Maluridae Photo Gallery
World Status Key


Least Concern

Near Threatened

Vulnerable

Endangered

Critically Endangered

Extinct in Wild

Extinct
Status and range is taken from ICUN Redlist. If no status is listed, there is not enough data to establish status.
US Status Key


Threatened in US

Threatened in NH

Endangered in US

Endangered in NH

Introduced
Status taken from US Fish and Wildlife and NH Fish and Game
| | | |
| --- | --- | --- |
| New Hampshire Species | | North/Central American Species |
| None | | None |
Other Species Around the World

Africa Asia Australia/Oceania Europe North/Central America South America NH Species

Kalkadoon Grasswren - Amytornis ballarae
Gray Grasswren - Amytornis barbatus
Carpentarian Grasswren - Amytornis dorotheae
Eyrean Grasswren - Amytornis goyderi
Black Grasswren - Amytornis housei
Short-tailed Grasswren - Amytornis merrotsyi
Dusky Grasswren - Amytornis purnelli
Striated Grasswren - Amytornis striatus
Thick-billed Grasswren - Amytornis textilis
White-throated Grasswren - Amytornis woodwardi
Orange-crowned Fairywren - Clytomyias insignis
White-shouldered Fairywren - Malurus alboscapulatus
Lovely Fairywren - Malurus amabilis
Purple-crowned Fairywren - Malurus coronatus

Superb Fairywren - Malurus cyaneus
Emperor Fairywren - Malurus cyanocephalus
Red-winged Fairywren - Malurus elegans
Broad-billed Fairywren - Malurus grayi
Variegated Fairywren - Malurus lamberti
White-winged Fairywren - Malurus leucopterus
Red-backed Fairywren - Malurus melanocephalus
Blue-breasted Fairywren - Malurus pulcherrimus
Splendid Fairywren - Malurus splendens
Wallace's Fairywren - Sipodotus wallacii
Southern Emuwren - Stipiturus malachurus
Mallee Emuwren - Stipiturus mallee
Rufous-crowned Emuwren - Stipiturus ruficeps

Additional Information

Key: Profile Photos Video Audio

Carpentarian Grasswren - Amytornis dorotheae
The Carpentarian grasswren is found in north-western Queensland and eastern Northern Territory, Australia
Source: Arkive Intended Audience: General Reading Level: Middle School

Dusky Grasswren - Amytornis purnelli
The dusky grasswren is found in Australia.
Source: Internet Bird Collection Intended Audience: General Reading Level: Middle School

Eyrean Grasswren - Amytornis goyderi
The Eyrean grasswren is found in Australia.
Source: Internet Bird Collection Intended Audience: General Reading Level: Middle School

Gray Grasswren - Amytornis barbatus
The gray grasswren is found in Queensland, New South Wales and South Australia.
Source: Internet Bird Collection Intended Audience: General Reading Level: Middle School

Striated Grasswren - Amytornis striatus
The striated grasswren is found in western, central and southern Australia.
Source: Internet Bird Collection Intended Audience: General Reading Level: Middle School

Thick-billed Grasswren - Amytornis textilis
The thick-billed grasswren is found in shrublands in Australia.
Source: Internet Bird Collection Intended Audience: General Reading Level: Middle School

White-throated Grasswren - Amytornis woodwardi
The white-throated grasswren is found in the Northern Territory in Australia.
Source: Arkive Intended Audience: General Reading Level: Middle School

White-throated Grasswren - Amytornis woodwardi
The white-throated grasswren is found in areas with bare rocks.
Source: Internet Bird Collection Intended Audience: General Reading Level: Middle School