Macromiidae - River Cruisers
The dragonflies in this family are known for flying right down the middle of streams and rivers at high speeds. They even fly right down the middle of roads! 
River cruisers are large dragonflies. Most species in this family have green eyes that almost meet at the top of their heads.
Females in this family lay their eggs by dipping the tip of their abdomen in the water as they fly over it.
There are nine species found in North America.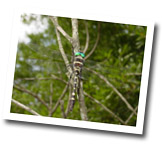 Macromiidae Photo Gallery
World Status Key


Least Concern

Near Threatened

Vulnerable

Endangered

Critically Endangered

Extinct in Wild

Extinct

Not Enough Data
Status and range is taken from ICUN Redlist.
U.S. Status Key
Threatened in US Endangered in US Introduced
Status taken from US Fish and Wildlife. Click on U.S. status icon to go to the U.S. Fish and Wildlife species profile.
New Hampshire Status Key
Threatened in NH Endangered in NH Breeds in NH
Status taken from NH Fish and Game
Location Key


Africa

Asia

Australia/Oceania

Europe

North America

South America

NH

Click for More Info

Click for Image
New Hampshire Species

North American Species

Swift River Cruiser - Macromia illinoiensis
Stream Cruiser - Didymops transversa

Allegheny River Cruiser - Macromia alleghaniensis 
Bronzed River Cruiser - Macromia annulata 
Gilded River Cruiser - Macromia pacifica
Mountain River Cruiser - Macromia margarita 
Royal River Cruiser - Macromia taeniolata
Western River Cruiser - Macromia magnifica
Selected Species Around the World


Africa Asia Australia/Oceania Europe North America South America NH



Regal Pond Cruiser - Epophthalmia elegans
Macromia erato
Macromia flinti
Macromia irina
Macromia katae
Macromia kubokaiya
Splendid Cruiser - Macromia splendens
Club-tailed Cruiser  - Macromia urania  
Rainforest Cruiser - Macromia viridescens
Two-banded Cruiser - Phyllomacromia contumax




Phyllomacromia funicularioides
Kimmins' Cruiser - Phyllomacromia kimminsi
Western Double-spined Cruiser - Phyllomacromia lamottei
Unicorn Cruiser - Phyllomacromia monoceros
Brown-templed Cruiser - Phyllomacromia occidentalis
Clubbed Cruiser - Phyllomacromia overlaeti
Darting Cruiser - Phyllomacromia picta
Conbo Double-spined Cruiser - Phyllomacromia villiersi



Additional Information
Key:

Profile

Photos

Video

Audio

NH Species
Allegheny River Cruiser - Macromia alleghaniensis 



The Allegheny River cruiser is found across the eastern U.S. from New Jersey south to Georgia and west to Illinois, Missouri, and Arkansas.
Source: BugGuide Intended Audience: General Reading Level: Middle School
Allegheny River Cruiser - Macromia alleghaniensis




The Allegheny River cruiser is found near cool, upland streams.
Source: Odonata Central - Texas Natural Science Center Intended Audience: General Reading Level: High School
Bronzed River Cruiser - Macromia annulata




The bronzed river cruiser is found in New Mexico, Oklahoma, Texas , and Mexico.
Source: BugGuide Intended Audience: General Reading Level: Middle School
Bronzed River Cruiser - Macromia annulata 





The bronzed river cruiser is found near large rivers and streams.
Source: Odonata Central - Texas Natural Science Center Intended Audience: General Reading Level: High School

Gilded River Cruiser - Macromia pacifica




The gilded river cruiser is found from Ohio and Indiana south to Texas.
Source: Odonata Central - Texas Natural Science Center Intended Audience: General Reading Level: High School

Mountain River Cruiser - Macromia margarita




The mountain river cruiser is found in Alabama, Georgia, North Carolina, North Dakota, Tennessee, and Virginia.
Source: BugGuide Intended Audience: General Reading Level: Middle School

Royal River Cruiser - Macromia taeniolata




The royal river cruiser is found in the eastern U.S. from  Delaware south to Florida and west to Wisconsin, Oklahoma, and Texas.
Source: Odonata Central - Texas Natural Science Center Intended Audience: General Reading Level: High School
Stream Cruiser - Didymops transversa




The stream cruiser is found in the eastern U.S. and Canada from Manitoba to Nova Scotia and south to Texas and Florida.
Source: BugGuide Intended Audience: General Reading Level: Middle School
Stream Cruiser - Didymops transversa





The stream cruiser is found near large streams and rivers.
Source: Odonata Central - Texas Natural Science Center Intended Audience: General Reading Level: High School

Swift River Cruiser - Macromia illinoiensis




The Swift River cruiser is found in the eastern U.S.
Source: Odonata Central - Texas Natural Science Center Intended Audience: General Reading Level: High School
Swift River Cruiser - Macromia illinoiensis




The Swift River cruiser is also known as the Illinois River Cruiser.
Source: BugGuide Intended Audience: General Reading Level: Middle School

Western River Cruiser - Macromia magnifica



The western river cruiser is found from southern British Columbia south to California and Arizona.
Source: Odonata Central - Texas Natural Science Center Intended Audience: General Reading Level: High School
Western River Cruiser - Macromia magnifica



The western river cruiser is 2.5-3 inches in length.
Source: BugGuide Intended Audience: General Reading Level: Middle School
Splendid Cruiser - Macromia splendens





The splendid cruiser is found in France, Portugual, and Spain.
Source: Arkive Intended Audience: General Reading Level: Middle School
Macromia katae




Macromia katae is found in China, Hong Kong, and Laos.
Source: Arkive Intended Audience: General Reading Level: Middle School