Libellulidae - Common Skimmers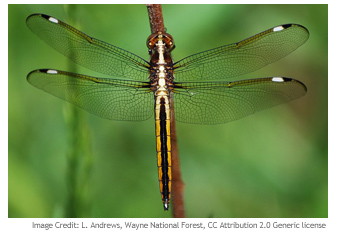 This is the largest family of dragonflies. It contains around 1,000 species. It is a very diverse family of dragonflies.
Most skimmers are small to medium-sized dragonflies. Some skimmers are very colorful, and some species have patterned wings. Most species of skimmers are perchers, except for the gliders and saddlebags. The abdomen of a skimmer can be thick or slender.
If you see a dragonfly, there is a good chance it is a member of this family! Pondhawks, meadowhawks, dashers, gliders, and saddlebags are all members of this family. Skimmers are found all over the world.

Libellulidae Photo Gallery
World Status Key


Least Concern

Near Threatened

Vulnerable

Endangered

Critically Endangered

Extinct in Wild

Extinct

Not Enough Data
Status and range is taken from ICUN Redlist.
U.S. Status Key
Threatened in US Endangered in US Introduced
Status taken from US Fish and Wildlife. Click on U.S. status icon to go to the U.S. Fish and Wildlife species profile.
New Hampshire Status Key
Threatened in NH Endangered in NH Breeds in NH
Status taken from NH Fish and Game
Location Key


Africa

Asia

Australia/Oceania

Europe

North America

South America

NH

Click for More Info

Click for Image
New Hampshire Species

North American Species

Calico Pennant - Celithemis elisa
Halloween Pennant - Celithemis eponina
Banded Pennant - Celithemis fasciata
Martha's Pennant - Celithemis martha
Eastern Pondhawk - Erythemis simplicicollis
Seaside Dragonlet - Erythrodiplax berenice
Blue Corporal - Ladona deplanata
White Corporal - Ladona exusta
Chalk-fronted Corporal - Ladona julia
Frosted Whiteface - Leucorrhinia frigida
Hudsonian Whiteface - Leucorrhinia hudsonica
Dot-tailed Whiteface - Leucorrhinia intacta
Belted Whiteface - Leucorrhinia proxima
Spangled Skimmer - Libellula cyanea
Slaty Skimmer - Libellula incesta
Widow Skimmer - Libellula luctuosa
Needham's Skimmer - Libellula needhami
Twelve-Spotted Skimmer - Libellula pulchella
Four-Spotted Skimmer-Libellula quadrimaculata
Painted Skimmer - Libellula semifasciata
Great Blue Skimmer - Libellula vibrans
Elfin Skimmer - Nannothemis bella
Blue Dasher - Pachydiplax longipennis
Wandering Glider - Pantala flavescens
Spot-winged Glider - Pantala hymenaea
Eastern Amberwing - Perithemis tenera
Common Whitetail - Plathemis lydia
Saffron-winged Meadowhawk - Sympetrum costiferum
Black Meadowhawk - Sympetrum danae
Cherry-faced Meadowhawk - Sympetrum internum
White-faced Meadowhawk - Sympetrum obtrusum
Band-winged Meadowhawk - Sympetrum semicinctum
Autumn Meadowhawk - Sympetrum vicinum
Black Saddlebags -Tramea lacerata

Pin-tailed Pondhawk - Erythemis plebeja
Great Pondhawk - Erythemis vesiculosa
Bromeliad Dragonlet - Erythrodiplax bromeliicola
Red-faced Dragonlet - Erythrodiplax fusca
Little Blue Dragonlet - Erythrodiplax minuscula
Band-winged Dragonlet - Erythrodiplax umbrata
Tiny Sylph - Gynothemis pumila
Boreal Whiteface - Leucorrhinia borealis
Crimson-ringed Whiteface - Leucorrhinia glacialis
Canada Whiteface - Leucorrhinia patricia
Golden-winged Skimmer - Libellula auripennis
Bar-winged Skimmer - Libellula axilena
Comanche Skimmer - Libellula comanche
Neon Skimmer - Libellula croceipennis
Yellow-sided Skimmer - Libellula flavida
Eight-spotted Skimmer - Libellula forensis
Purple Skimmer - Libellula jesseana
Libellula mariae
Flame Skimmer - Libellula saturata
Marl Pennant - Macrodiplax balteata
Antillean Sylph - Macrothemis celeno
Straw-colored Sylph - Macrothemis inacuta
Hyacinth Glider - Miathyria marcella
Spot-tailed Dasher - Micrathyria aequalis
Black Dasher - Micrathyria atra
Blue-tipped Dasher - Micrathyria caerulistyla
Caribbean Dasher - Micrathyria dissocians
Thornbush Dasher - Micrathyria hagenii
Pale-footed Dasher - Micrathyria tibialis
Stripe-fronted Dryad - Nephepeltia leonardina
Spine-bellied Dryad - Nephepeltia phryne
Yellow-lined Skimmer - Orthemis biolleyi
Concolored Skimmer - Orthemis concolor
Carmine Skimmer - Orthemis discolor
Roseate Skimmer - Orthemis ferruginea
Blue Rock Skimmer - Paltothemis cyanosoma
Slough Amberwing - Perithemis domitia
Mexican Amberwing - Perithemis intensa
Golden Amberwing - Perithemis electra
Cardinal Redskimmer - Rhodopygia cardinalis
Blue-faced Meadowhawk - Sympetrum ambiguum
Variegated Meadowhawk - Sympetrum corruptum
Cardinal Meadowhawk - Sympetrum illotum
Red-veined Meadowhawk - Sympetrum madidum
Talamanca Meadowhawk - Sympetrum nigrocreatum
Striped Saddlebags - Tramea calverti
Carolina Saddlebags - Tramea carolina
Red Saddlebags - Tramea onusta
Rainforest Bluewing - Zenithoptera fasciata

North American Species

Four-spotted Pennant - Brachymesia gravida
Tawny Pennant - Brachymesia herbida
Amanda's pennant - Celithemis amanda
Red-veined Pennant - Celithemis bertha
Ornate Pennant - Celithemis ornata
Checkered Setwing - Dythemis fugax
Swift Setwing - Dythemis velox
Western Pondhawk - Erythemis collocata
Red Pondhawk - Erythemis haematogastra
Claret Pondhawk - Erythemis mithroides

Selected Species Around the World

Grizzled Pintail - Acisoma panorpoides
Ivory Pintail - Acisoma trifidum
Orange Flasher - Aethiothemis mediofasciata
Pygmy Basker - Aethriamanta rezia
Ethiopian Highlander- Atoconeura aethiopica
Western Highlander - Atoconeura luxata
Silver-spotted Skimmer - Argyrothemis argentea
Swamp Flat-tail - Austrothemis nigrescens
Ditch Jewel - Brachythemis contaminata
Dark-winged Groundling - Brachythemis fuscopalliata Northern Banded Groundling-Brachythemis impartita
Red Groundling - Brachythemis lacustris
Banded Groundling - Brachythemis leucosticta
Wilson's Groundling - Brachythemis wilsoni
Horned Rock-dweller - Bradinopyga cornuta
Granite Ghost - Bradinopyga geminata
Red Rock-dweller - Bradinopyga strachani
Divisa Scarlet - Crocothemis divisa
Broad Scarlet - Crocothemis erythraea
Black-headed Skimmer - Crocothemis nigrifrons
Little Scarlet - Crocothemis sanguinolenta
Granite Scarlet - Crocothemis saxicolor
Scarlet Skimmer- Crocothemis servilia
Bluebolt - Cyanothemis simpsoni
Wandering Percher - Diplacodes bipunctata
Little Percher - Diplacodes deminuta
Black Percher - Diplacodes lefebvrii
Luminous Percher - Diplacodes luminans
Black-faced Percher - Diplacodes melanopsis
Black-tipped Percher - Diplacodes nebulosa
Scarlet Percher - Diplacodes haematodes
Dwarf Percher - Diplacodes pumila
Diplacodes trivialis
Sunlight Firebelly - Eleuthemis buettikoferi
Erythrodiplax castanea
White-eyed Skimmer - Fylgia amazonica
Tree-hole Jungle-skimmer - Hadrothemis camarensis
Robust Jungle-skimmer - Hadrothemis coacta
Red Jungle-skimmer - Hadrothemis defecta
Slender Jungle-skimmer - Hadrothemis infesta
Red Jungle-skimmer - Hadrothemis scabrifrons
Changeable Jungle-skimmer - Hadrothemis versuta
Fruhstorfer's Junglewatcher - Hylaeothemis fruhstorferi
Blue Hawklet - Hylaeothemis indica
Pied-spot - Hemistigma albipunctum
Dark Whiteface - Leucorrhinia albifrons
Lilypad Whiteface - Leucorrhinia caudalis
Small Whiteface - Leucorrhinia dubia
Yellow-spotted Whiteface - Leucorrhinia pectoralis
Ruby Whiteface - Leucorrhinia rubicunda
Bekko Tombo - Libellula angelina
Broad-Bodied Chaser - Libellula depressa
Blue Chaser - Libellula fulva
Red Chaser - Libellula pontica
Lyriothemis acigastra
Forest Chaser - Lyriothemis elegantissima
Wide-bellied Skimmer - Lyriothemis pachygastra
Cora's Pennant - Macrodiplax cora
Dark Leaftipper - Malgassophlebia westfalli
Artemis Dasher - Micrathyria artemis
Forest Dasher - Micrathyria hippolyte
Large Micmac - Micromacromia camerunica
Angola Micmac - Micromacromia flava
Small Micmac - Micromacromia zygoptera
Common Archtail - Nannophlebia risi
Eastern Pygmyfly - Nannophya dalei
Western Pygmyfly - Nannophya occidentalis
Scarlet Dwarf - Nannophya pygmaea
Powdered Junglewatcher - Neodythemis fitzgeraldi
Bwindi Junglewatcher - Neodythemis munyaga
Nyungwe Junglewatcher - Neodythemis nyungwe
Bizarre Junglewatcher - Neodythemis takamandensis
Black-tailed Skimmer - Nesciothemis farinosa
Small Blacktail - Nesciothemis minor
Northern Redtail - Nesciothemis nigeriensis
Western Blacktail - Nesciothemis pujoli
Jones' Forestwatcher - Notiothemis jonesi
Robert's Forestwatcher - Notiothemis robertsi
Canopy Skimmer - Nothodiplax dendrophila
Slender Bottletail - Olpogastra lugubris
Regal Skimmer - Orthemis regalis
Abbott's Skimmer - Orthetrum abbotti
White-tailed Skimmer - Orthetrum albistylum
Many-celled Skimmer - Orthetrum angustiventre
Giant Skimmer - Orthetrum austeni
Tough Skimmer - Orthetrum brachiale
Southern Skimmer - Orthetrum brunneum
Two-striped Skimmer - Orthetrum caffrum
Blue Skimmer - Orthetrum caledonicum
One-spriped Skimmer - Orthetrum camerunense
Black-tailed Skimmer - Orthetrum cancellatum
Epaulet Skimmer - Orthetrum chrysostigma
Spine-tufted Skimmer - Orthetrum chrysis
Keeled Skimmer - Orthetrum coerulescens
Blue Marsh Hawk - Orthetrum glaucum
Guinea Skimmer - Orthetrum guineense
Hintz's Skimmer - Orthetrum hintzi
Spectacled Skimmer - Orthetrum icteromelas
Orthetrum japonicum




Julia Skimmer - Orthetrum julia
Marsh Skimmer - Orthetrum luzonicum
Machado's Skimmer - Orthetrum machadoi
Orthetrum melania
Rosy Skimmer - Orthetrum migratum
Mangrove Skimmer - Orthetrum poecilops
Crimson-tailed Marsh Hawk - Orthetrum pruinosum
Ransonnet's Skimmer - Orthetrum ransonnetii
Robust Skimmer - Orthetrum robustum
Elusive Skimmer - Orthetrum rubens
Slender Skimmer - Orthetrum sabina
Arrow Skimmer - Orthetrum sagitta
Green Skimmer - Orthetrum serapia
Stemmale Skimmer - Orthetrum stemmale
Small Skimmer - Orthetrum taeniolatum
Long Skimmer - Orthetrum trinacria
Orthetrum triangulare
Fiery Skimmer - Orthetrum villosovittatum
Pepperpants - Oxythemis phoenicosceles
Deceptive Widow - Palpopleura deceptor
Yellow-veined Widow - Palpopleura jucunda
Lucia Widow - Palpopleura lucia
Portia Widow - Palpopleura portia
Asian Widow - Palpopleura sexmaculata
Banded Duskdarter - Parazyxomma flavicans
Orange Amberwing - Perithemis cornelia
Fine-banded Amberwing - Perithemis lais
Clear-tipped Amberwing - Perithemis parzefalli
Ruby Amberwing - Perithemis rubita
Scarlet Spiderlegs - Planiplax arachne
Mantled Spiderlegs - Planiplax machadoi
Pied Skimmer - Pseudothemis zonata
Iridescent Flutterer - Rhyothemis braganza
Golden Flutterer - Rhyothemis fenestrina
Rhyothemis fuliginosa
Graphic Flutterer - Rhyothemis graphiptera
Mariposa Flutterer - Rhyothemis mariposa
Yellow-striped Flutterer - Rhyothemis phyllis
Saphire Flutterer - Rhyothemis princeps
Jewel Flutterer - Rhyothemis resplendens
Phantom Flutterer - Rhyothemis semihyalina
Variegated Flutterer - Rhyothemis variegata
Black Pennant - Selysiothemis nigra
Sympetrum arenicolor
Sympetrum baccha
Sympetrum darwinianum
St. Helena Darter - Sympetrum dilatatum
Sympetrum eroticum
Yellow-winged Darter - Sympetrum flaveolum
Red-veined Darter - Sympetrum fonscolombii
Dwarf Darter - Sympetrum haritonovi
Southern Darter - Sympetrum meridionale
Island Darter - Sympetrum nigrifemur
Banded Darter - Sympetrum pedemontanum
Ruddy Darter- Sympetrum sanguineum
Desert Darter - Sympetrum sinaiticum
Common Darter - Sympetrum striolatum
Vagrant Darter - Sympetrum vulgatum
Treefall Elf - Tetrathemis fraseri
Black-splashed Elf - Tetrathemis polleni
Pygmy Skimmer - Tetrathemis platyptera
Thalassothemis marchali
Old World Twister - Tholymis tillarga
Keyhole Glider - Tramea basilaris
Ferrugineus Glider - Tramea limbata
Common Glider - Tramea loewii
Red Glider Dragonfly - Tramea transmarina
Monkshood Dropwing - Trithemis aconita
Bronze Dropwing - Trithemis aenea
Western Phantom Dropwing - Trithemis africana
Violet Dropwing - Trithemis annulata
Red-veined Dropwing - Trithemis arteriosa
Small Dropwing - Trithemis dichroa
Denim Dropwing - Trithemis donaldsoni
Round-hook Dropwing - Trithemis dorsalis
Indigo Dropwing - Trithemis festiva
Smoky Dropwing - Trithemis fumosa
Navy Dropwing - Trithemis furva
Black Dropwing - Trithemis grouti
Superb Dropwing - Trithemis hartwigi
Hecate Dropwing - Trithemis hecate
Orange-winged Dropwing - Trithemis kirbyi
Monard's Dropwing - Trithemis monardi
Principe Dropwing - Trithemis nigra
Hairy-legged Dropwing - Trithemis nuptialis
Sombre Dropwing - Trithemis osvaldae
Dancing Dropwing - Trithemis pallidinervis
River Dropwing - Trithemis pluvialis
Jaunty Dropwing - Trithemis stictica
Eastern Phantom Dropwing - Trithemis tropicana
Elegant Dropwing - Trithemis werneri
Navas' Darter - Trithetrum navasi
Red Basker - Urothemis assignata
Blue Basker - Urothemis edwardsii
St Lucia Basker - Urothemis luciana
Fuelleborn's Bottle-tail - Zygonoides fuelleborni
Streamertail - Zygonychidium gracile
Blue Cascader - Zygonyx natalensis
Ringed Cascader - Zygonyx torridus
Smoky Duskdarter - Zyxomma atlanticum
Additional Information
Key:

Profile

Photos

Video

Audio

NH Species
Amanda's Pennant - Celithemis amanda




Amanda's pennant is found in the southeastern United States from North Carolina to Florida and west to Texas.
Source: BugGuide Intended Audience: General Reading Level: Middle School
Amanda's Pennant - Celithemis amanda




Amanda's pennant is often found near shallow ponds.
Source: BioKids Intended Audience: General Reading Level: Elementary School
Autumn Meadowhawk - Sympetrum vicinum





The autumn meadowhawk is found in Canada and in the eastern U.S., the Great Plains, and Oregon, Washington, and California. It is found in New Hampshire in the fall.
Source: BugGuide Intended Audience: General Reading Level: Middle School
Autumn Meadowhawk - Sympetrum vicinum





The autumn meadowhawk is usually found at bogs, ponds, marshes, lakes, and slow streams.
Source: Wisconsin Odonata Survey Intended Audience: General Reading Level: Middle School
Autumn Meadowhawk - Sympetrum vicinum





The autumn meadowhawk is nonterritorial.
Source: Animal Diversity Web Intended Audience: General Reading Level: Middle School
Band-winged Dragonlet - Erythrodiplax umbrata





The band-winged dragonlet is found in southern Texas and Florida south to South America.
Source: BugGuide Intended Audience: General Reading Level: Middle School
Band-winged Dragonlet - Erythrodiplax umbrata





The band-winged dragonlet is found near marshy ponds, pools and lakes.
Source: Odonata Central - University of Texas at Austin Intended Audience: General Reading Level: Middle School
Band-winged Meadowhawk - Sympetrum semicinctum





The band-winged meadowhawk is found in Canada and most of the continental U.S. , except for the southern most parts. It is found in New Hampshire in the fall.
Source: BugGuide Intended Audience: General Reading Level: Middle School
Band-winged Meadowhawk - Sympetrum semicinctum





The band-winged meadowhawk is usually found at shallow marshy areas with slow currents.
Source: Wisconsin Odonate Survey Intended Audience: General Reading Level: Middle School
Banded Pennant - Celithemis fasciata





The banded pennant is found in the eastern U.S. It is found in southeast New Hampshire, but it is rare.
Source: BugGuide Intended Audience: General Reading Level: Middle School
Banded Pennant - Celithemis fasciata





The banded pennant is 1.2 to 1.5 inches in length.
Source: Wisconsin Odonata Survey Intended Audience: General Reading Level: Middle School
Bar-winged Skimmer - Libellula axilena




The bar-winged skimmer is found in the eastern U.S. from New York to Texas.
Source: BugGuide Intended Audience: General Reading Level: Middle School
Bar-winged Skimmer - Libellula axilena




The bar-winged skimmer is found near forest ponds, pools and ditches.
Source: Odonata Central - University of Texas at Austin Intended Audience: General Reading Level: Middle School
Bekko Tombo - Libellula angelina





The bekko tombo is found in China, Japan, and North and South Korea.
Source: Arkive Intended Audience: General Reading Level: Middle School
Belted Whiteface - Leucorrhinia proxima





The belted whiteface is found from Canada into the northern U.S. It is found across New Hampshire.
Source: BugGuide Intended Audience: General Reading Level: Middle School
Belted Whiteface - Leucorrhinia proxima





The belted whiteface is usually found near still bog waters, vegetated ponds and lakes.
Source: Wisconsin Odonata Survey Intended Audience: General Reading Level: Middle School
Black Meadowhawk - Sympetrum danae







The black meadowhawk is found in the northern U.S. and most of Canada as well as in northern Europe and Asia. It is found in New Hampshire in the fall, but it is rare and usually only found from the White Mountains north.
Source: BugGuide Intended Audience: General Reading Level: Middle School
Black Meadowhawk - Sympetrum danae







The black meadowhawk is found near bogs, fens, marshes, and sometimes ponds or lakes.
Source: Wisconsin Odonata Survey Intended Audience: General Reading Level: Middle School
Black Pennant - Selysiothemis nigra







The black pennant is found in Central Asia, the Middle East, the Mediterranean and the Black Sea region.
Source: Arkive Intended Audience: General Reading Level: Middle School
Black Percher - Diplacodes lefebvrii







The black percher is found in Africa and Eurasia. It is also known as the purple darter.
Source: Arkive Intended Audience: General Reading Level: Middle School

Black Saddlebags -Tramea lacerata





The black saddlebags is found across most of the U.S. It is also found in Mexico and Canada. In New Hampshire, it is found primarily in the southeastern part of the state.
Source: BugGuide Intended Audience: General Reading Level: Middle School
Black Saddlebags -Tramea lacerata





Black saddlebags prefer stagnant or slow moving bodies of water.
Source: BioKidsIntended Audience: General Reading Level: Elementaery School
Black Saddlebags -Tramea lacerata





Black saddlebags migrate north in the spring.
Source: Odonata Central - University of Texas at Austin Intended Audience: General Reading Level: Middle School
Black-tailed Skimmer - Nesciothemis farinosa





The black-tailed skimmer is found in Angola, Botswana, Congo, Egypt, Ethiopia, Kenya, Malawi, Mozambique, Namibia, Oman, Rwanda, Saudi Arabia, Somalia, South Africa, South Sudan, Sudan, Swaziland, Tanzania, Uganda, Yemen, Zambia, and Zimbabwe.
Source: Arkive Intended Audience: General Reading Level: Middle School
Blue Basker - Urothemis edwardsii






The blue basker is found in Algeria, Angola, Benin, Botswana, Burkina Faso, Cameroon, Chad, Congo, The Democratic Republic of the Congo,, Côte d'Ivoire, Ethiopia, Gabon, Gambia, Ghana, Guinea, Guinea-Bissau, Kenya, Liberia, Madagascar, Malawi, Mali, Mauritania, Mayotte, Mozambique, Niger, Oman, Senegal, Sierra Leone, South Africa, South Sudan, Sudan, Tanzania, Uganda, Zambia, and Zimbabwe.
Source: Arkive Intended Audience: General Reading Level: Middle School
Blue Chaser - Libellula fulva





The blue chaser is found in southern and central Europe east to the Caspian sea and the Caucasus.
Source: British Dragonfly Society Intended Audience: General Reading Level: Middle School
Blue Corporal - Ladona deplanata





The blue corporal is found in the eastern United States. In New Hampshire, it can be found in the southestern part of the state in the spring, but it is rare.
Source: BugGuide Intended Audience: General Reading Level: Middle School
Blue Dasher - Pachydiplax longipennis





The blue dasher is found near ponds, lakes, marshes, ditches, and slow streams.
Source: BugGuide Intended Audience: General Reading Level: Middle School
Blue Dasher - Pachydiplax longipennis





The blue dasher is found in southern Canada, northern Mexico and across most of the contiguous 48 states. It is not found in the Dakotas and the Rocky Mountain region. It is found in New Hampshire south of the White Mountains.
Source: Odonata Central - University of Texas at Austin Intended Audience: General Reading Level: Middle School
Blue-faced Meadowhawk - Sympetrum ambiguum





The blue-faced meadowhawk is typically found in the southeastern and south central U.S.
Source: BugGuide Intended Audience: General Reading Level: Middle School
Blue-faced Meadowhawk - Sympetrum ambiguum





The male blue-faced meadowhawk is red with a blue to turquoise face.
Source: Wisconsin Odonata Survey Intended Audience: General Reading Level: Middle School
Boreal Whiteface - Leucorrhinia borealis




The boreal whiteface is found from the Rockies south to central Colorado and Utah, in the upper Midwest and in the northern Great Plains states. It is also found in Canada and Alaska.
Source: BugGuide Intended Audience: General Reading Level: Middle School
Broad-Bodied Chaser - Libellula depressa






The broad-bodied chaser is found across Europe into Central Asia.
Source: British Dragonfly Society Intended Audience: General Reading Level: Middle School
Broad Scarlet - Crocothemis erythraea







The broad scarlet is found in Africa, southern Europe, the Middle East, and west Asia. It is also known as the common scarlet-darter.
Source: BugGuide Intended Audience: General Reading Level: Middle School
Calico Pennant - Celithemis elisa






The calico pennant is found in eastern and central U.S and southeast Canada. It is found across New Hampshire.
Source: BugGuide Intended Audience: General Reading Level: Middle School
Calico Pennant - Celithemis elisa






The calico pennant is often found at ponds, lakes, and stream pools with emergent plants or marshy borders.
Source: Wisconsin Odonata Survey Intended Audience: General Reading Level: Middle School
Canada Whiteface - Leucorrhinia patricia




The Canada whiteface is found in Canada and Alaska.
Source: BugGuide Intended Audience: General Reading Level: Middle School
Cardinal Meadowhawk - Sympetrum illotum





In the U.S. the cardinal meadowhawk is found in California, Idaho, Nevada, New Mexico, Oregon, Texas, and Washington. It is also found in southwestern Canada, Mexico, and Central America.
Source: BugGuide Intended Audience: General Reading Level: Middle School
Cardinal Meadowhawk - Sympetrum illotum





The cardinal meadowhawk is found at small ponds and slow streams.
Source: Odonata Central - University of Texas at Austin Intended Audience: General Reading Level: Middle School
Carmine Skimmer - Orthemis discolor




The carmine skimmer is found from central Texas, west into Arizona, south through Central America.
Source: BugGuide Intended Audience: General Reading Level: Middle School
Carmine Skimmer - Orthemis discolor




The carmine skimmer is found at temporary and permanent ponds, lakes, ditches, and slow streams.
Source: Odonata Central - University of Texas at Austin Intended Audience: General Reading Level: Middle School
Carolina Saddlebags - Tramea carolina





The Carolina saddlebags is found in southeastern Canada and the eastern U.S.
Source: BugGuide Intended Audience: General Reading Level: Middle School
Carolina Saddlebags - Tramea carolina





The Carolina saddlebags breeds in shallow, open, well-vegetated ponds and pools.
Source: Wisconsin Odonate Survey Intended Audience: General Reading Level: Middle School
Chalk-fronted Corporal - Ladona julia





The chalk-fronted corporal is found in northern United States and southern Canada. It is found across New Hampshire.
Source: BugGuide Intended Audience: General Reading Level: Middle School
Chalk-fronted Corporal - Ladona julia





The chalk-fronted corporal is usually found at ponds, swamps, marshes, lakes, and bogs.
Source: Wisconsin Odonata Survey Intended Audience: General Reading Level: Middle School
Cherry-faced Meadowhawk - Sympetrum internum






The cherry-faced meadowhawk is found in the northern U.S. and Canada. It is found in New Hampshire in the fall.
Source: BugGuide Intended Audience: General Reading Level: Middle School
Cherry-faced Meadowhawk - Sympetrum internum






The cherry-faced meadowhawk is is usually found at ponds, lakes, marshes, bogs, and slow streams.
Source: Wisconsin Odonata Survey Intended Audience: General Reading Level: Middle School
Comanche Skimmer - Libellula comanche





The Comanche skimmer is found in Arizona, California, Colorado, Idaho, Kansas, Nevada, New Mexico, Oklahoma, Oregon, Texas, Utah, Wyoming. It is also found in Mexico.
Source: BugGuide Intended Audience: General Reading Level: Middle School
Comanche Skimmer - Libellula comanche





The Comanche skimmer is found near ponds, lakes, and slow-moving streams.
Source: Odonata Central - University of Texas at Austin Intended Audience: General Reading Level: Middle School
Common Whitetail - Plathemis lydia





The common whitetail is found in Canada and the the 48 contiguous states, south into Mexico. It is found across New Hampshire.
Source: BugGuide Intended Audience: General Reading Level: Middle School
Common Whitetail - Plathemis lydia





The common whitetail feeds on small insects that it catches in mid-air.
Source: Arkive Intended Audience: General Reading Level: Middle School
Common Whitetail - Plathemis lydia




The common whitetail is sometimes classified as Libellula lydia.
Source: Wisconsin Odonata Survey Intended Audience: General Reading Level: Middle School
Dwarf Darter - Sympetrum haritonovi





The dwarf darter is found in Afghanistan, India, Iran, Kyrgyzstan, Pakistan, Tajikistan, Turkey, and Uzbekistan.
Source: Arkive Intended Audience: General Reading Level: Middle School
Dark Whiteface - Leucorrhinia albifrons






The dark whiteface is found in Austria, Belarus, Czech Republic, Estonia, Finland, France, Germany, Kazakhstan, Latvia, Lithuania, Netherlands, Norway, Poland, Russia, Slovakia, Sweden, Switzerland, and Ukraine.
Source: Arkive Intended Audience: General Reading Level: Middle School
Dark-winged Groundling - Brachythemis fuscopalliata





The dark-winged groundling is found in Iran, Iraq, Israel, Syria, and Turkey.
Source: Arkive Intended Audience: General Reading Level: Middle School
Dot-tailed Whiteface - Leucorrhinia intacta





The dot-tailed whiteface is found in southern Canada into the northern U.S. It is found across New Hampshire.
Source: BugGuide Intended Audience: General Reading Level: Middle School
Dot-tailed Whiteface - Leucorrhinia intacta





The dot-tailed whiteface is usually found at vegetated ponds, lakes, and slow waters.
Source: Wisconsin Odonata Survey Intended Audience: General Reading Level: Middle School
Eastern Amberwing - Perithemis tenera





The eastern amberwing is often found near sloughs, ponds, pools, and ditches.
Source: BugGuide Intended Audience: General Reading Level: Middle School
Eastern Amberwing - Perithemis tenera





The eastern amberwing is found in southeastern Canada, the eastern 2/3 of the U.S., and in Mexico. In New Hampshire, it is found south of the White Mountains.
Source: Odonata Central - University of Texas at Austin Intended Audience: General Reading Level: Middle School
Eastern Pondhawk - Erythemis simplicicollis






The eastern pondhawk is found in Canada, Mexico, Central America, the Caribbean and across much of the U.S. In New Hampshire, it is usually found south of the White Mountains.
Source: BugGuide Intended Audience: General Reading Level: Middle School
Eastern Pondhawk - Erythemis simplicicollis






The eastern pondhawk is 1.5 to 1.7 inches in length.
Source: Wisconsin Odonata Survey Intended Audience: General Reading Level: Middle School
Eastern Pondhawk - Erythemis simplicicollis






The female eastern pondhawk is bright green. The male is a powder blue.
Source: Arkive Intended Audience: General Reading Level: Middle School
Eight-spotted Skimmer - Libellula forensis




The eight-spotted skimmer is found west of Canadian and U.S. Rockies.
Source: BugGuide Intended Audience: General Reading Level: Middle School
Eight-spotted Skimmer - Libellula forensis




The eight-spotted skimmer is found at ponds, lakes, and sloughs with muck-bottoms.
Source: Odonata Central - University of Texas at Austin Intended Audience: General Reading Level: Middle School
Elfin Skimmer - Nannothemis bella





The elfin skimmer is found in southern Canada and the northern U.S. from Wisconsin east to New England and south south through the Appalachians to Georgia and Alabama. It is found across New Hampshire.
Source: BugGuide Intended Audience: General Reading Level: Middle School
Elfin Skimmer - Nannothemis bella





At 0.7 to 0.8 inches in length, the elfin skimmer is the smallest dragonfly in North America.
Source: Arkive Intended Audience: General Reading Level: Middle School
Elfin Skimmer - Nannothemis bella





The elfin skimmer is often found near bogs.
Source: Wisconsin Odonata Survey Intended Audience: General Reading Level: Middle School
Elusive Skimmer - Orthetrum rubens




The elusive skimmer is found in South Africa.
Source: Arkive Intended Audience: General Reading Level: Middle School
Epaulet Skimmer - Orthetrum chrysostigma






The epaulet skimmer is found in Africa, Europe, Asia, and the Middle East.
Source: Arkive Intended Audience: General Reading Level: Middle School
Ethiopian Highlander- Atoconeura aethiopica





The Ethiopian highlander is found in Ethiopia. in the highlands south of Addis Ababa.
Source: Arkive Intended Audience: General Reading Level: Middle School
Flame Skimmer - Libellula saturata




The flame skimmer is found in the western and southwestern U.S.
Source: BugGuide Intended Audience: General Reading Level: Middle School
Four-Spotted Skimmer - Libellula quadrimaculata








The four-spotted skimmer is found in northern U.S. and Canada as well as in northeastern Europe and Asia. It is found across New Hampshire. It is also known as the four-spotted chaser.
Source: BugGuide Intended Audience: General Reading Level: Middle School
Four-Spotted Skimmer - Libellula quadrimaculata








The four-spotted skimmer is found near marshy bogs, ponds and lakes, especially with peaty waters.
Source: Odonata Central - University of Texas at Austin Intended Audience: General Reading Level: Middle School
Frosted Whiteface - Leucorrhinia frigida






The frosted whiteface is found in northeastern U.S. It is found across New Hampshire.
Source: BugGuide Intended Audience: General Reading Level: Middle School
Frosted Whiteface - Leucorrhinia frigida






The frosted whiteface is usually found vegetated ponds and lakes, especially those with floating sphagnum.
Source: Wisconsin Odonata Survey Intended Audience: General Reading Level: Middle School
Golden-winged Skimmer - Libellula auripennis





Source: BugGuide Intended Audience: General Reading Level: Middle School
Golden-winged Skimmer - Libellula auripennis




The golden-winged skimmer is found near ponds, pools, ditches, and lakes.
Source: Odonata Central - University of Texas at Austin Intended Audience: General Reading Level: Middle School
Great Blue Skimmer - Libellula vibrans





The great blue skimmer is found primarily in the southeastern U.S. It is found along the New Hampshire coast, but it is very rare.
Source: BugGuide Intended Audience: General Reading Level: Middle School
Great Blue Skimmer - Libellula vibrans





The great blue skimmer is found at swampy ponds, lakes and slow forest streams.
Source: Odonata Central - University of Texas at Austin Intended Audience: General Reading Level: Middle School
Great Pondhawk - Erythemis vesiculosa






In the U.S. the great pondhawk is found in Alabama, Arizona, Colorado, Florida, Kansas, New Mexico, Oklahoma, and Texas. It is also found in South America, Central America, the Caribbean, and Mexico.
Source: BugGuide Intended Audience: General Reading Level: Middle School
Grizzled Pintail - Acisoma panorpoides





The grizzled pintail is found in southern Europe, the Middle East, southern Asia, and some Indian Ocean Islands.
Source: Arkive Intended Audience: General Reading Level: Middle School
Halloween Pennant - Celithemis eponina





The Haloween pennant is found in eastern and central U.S. and in southern Ontario, Canada. It is found south of the White Mountains in New Hampshire.
Source: BugGuide Intended Audience: General Reading Level: Middle School
Halloween Pennant - Celithemis eponina





The Haloween pennant is often found at the edges of ponds, lakes, and marshes.
Source: Animal Diversity Web Intended Audience: General Reading Level: Middle School
Halloween Pennant - Celithemis eponina





The Haloween pennant gets its name from its orange, brown, and black wings.
Source: Odonata Central - University of Texas at Austin Intended Audience: General Reading Level: Middle School
Halloween Pennant - Celithemis eponina





The Haloween pennant is around 1.5 inches in length.
Source: National Park Service Intended Audience: General Reading Level: Middle School
Halloween Pennant - Celithemis eponina





With its wideand colorful wings, the Haloween pennant looks a little bit like a butterfly.
Source: Wisconsin Odonata Survey Intended Audience: General Reading Level: Middle School
Hudsonian Whiteface - Leucorrhinia hudsonica





The Hudsonian whiteface is found in Alaska and Yukon and Hudson Bay area, east and south into the Appalachians and as far south as West Virginia. It is found across New Hampshire in the spring.
Source: BugGuide Intended Audience: General Reading Level: Middle School
Hyacinth Glider - Miathyria marcella






The hyacinth glider is found in Mexico, Central America, and South America. It was first reported in the U.S. in teh 1950s. It is now found as far north as Virginia.
Source: Odonata Central - University of Texas at Austin Intended Audience: General Reading Level: Middle School
Hyacinth Glider - Miathyria marcella






The hyacinth glider is found in marshy ponds and lakes with water hyacinth.
Source: BugGuide Intended Audience: General Reading Level: Middle School
Iridescent Flutterer - Rhyothemis braganza




The iridescent flutterer is found in Australia.
Source: Atlas of Living Australia Intended Audience: General Reading Level: Middle School
Jewel Flutterer - Rhyothemis resplendens




The jewel flutterer is found in Australia.
Source: Atlas of Living Australia Intended Audience: General Reading Level: Middle School
Libellula mariae




Libellula mariae is found in Australia.
Source: Arkive Intended Audience: General Reading Level: Middle School
Lilypad Whiteface - Leucorrhinia caudalis





The lilypad whiteface is found in Austria, Belarus, Belgium, Croatia, the Czech Republic, Estonia, Finland, France, Germany, Hungary, Latvia, Lithuania, Luxembourg, Montenegro, Netherlands, Norway, Poland, Russia, Serbia, Slovakia, Slovenia, Sweden, and Ukraine.
Source: Arkive Intended Audience: General Reading Level: Middle School
Little Blue Dragonlet - Erythrodiplax minuscula




The little blue dragonlet is found in the eastern U.S. from New Jersey to Texas.
Source: BugGuide Intended Audience: General Reading Level: Middle School
Little Blue Dragonlet - Erythrodiplax minuscula




The little blue dragonlet is found in near marshy ponds, pools, lakes and slow moving streams.
Source: Odonata Central - University of Texas at Austin Intended Audience: General Reading Level: Middle School
Little Scarlet - Crocothemis sanguinolenta






The little scarlet is found south of the Sahel (area between the Sahara Desert and the Sudanian Savanna). It is also known as the Slim Scarlet-darter and the Small Scarlet.
Source: Arkive Intended Audience: General Reading Level: Middle School
Mangrove Skimmer - Orthetrum poecilops




The mangrove skimmer is found in China, Hong Kong, and Japan.
Source: Arkive Intended Audience: General Reading Level: Middle School
Marl Pennant - Macrodiplax balteata





The marl pennant is found in the southern U.S., Mexico, Central America, the West Indies and Venezuela.
Source: Odonata Central - University of Texas at Austin Intended Audience: General Reading Level: Middle School
Marl Pennant - Macrodiplax balteata





The marl pennant is found at brackish ponds and lakes.
Source: BugGuide Intended Audience: General Reading Level: Middle School
Martha's Pennant - Celithemis martha






Martha's pennant is found in the Nova Scotia in Canada and in Connecticut, Maine, Maryland, Massachusetts, New Hampshire, New Jersey, New York, Pennsylvania, Rhode Island, Virginia. In New Hampshire, it is usually found south of the White Mountains.
Source: BugGuide Intended Audience: General Reading Level: Middle School
Mexican Amberwing - Perithemis intensa




The Mexican amberwing is found in California, Nevada, Arizona, New Mexico, south through much of Mexico.
Source: BugGuide Intended Audience: General Reading Level: Middle School
Needham's Skimmer - Libellula needhami





Needham's skimmer is found along the Atlantic and Gulf coasts. It is found along the New Hampshire coast, but it is rare.
Source: BugGuide Intended Audience: General Reading Level: Middle School
Needham's Skimmer - Libellula needhami





Needham's skimmer is found near marshy ponds and lakes.
Source: Odonata Central - University of Texas at Austin Intended Audience: General Reading Level: Middle School
Neon Skimmer - Libellula croceipennis






The neon skimmer is found in Arizona, California, Oklahoma, Texas in the U.S. It is also found in Mexico, Central America, and South America.
Source: BugGuide Intended Audience: General Reading Level: Middle School
Neon Skimmer - Libellula croceipennis






The neon skimmer gets its name from its bright red color.
Source: Odonata Central - University of Texas at Austin Intended Audience: General Reading Level: Middle School
Orange-winged Dropwing - Trithemis kirbyi






The Orange-winged dropwong is found from Africa to India and in parts of southern Europe.
Source: Arkive Intended Audience: General Reading Level: Middle School
Ornate Pennant - Celithemis ornata




The ornate pennant is also known as the faded pennant. It is found from New Jersey south to Florida and west to Texas.
Source: BugGuide Intended Audience: General Reading Level: Middle School
Painted Skimmer - Libellula semifasciata





The painted skimmer is found in the eastern U.S. and Canada. In New Hampshire it is usually found south of the White Mountains.
Source: BugGuide Intended Audience: General Reading Level: Middle School
Painted Skimmer - Libellula semifasciata





The painted skimmer is found near marshy forest seepages, ponds and slow streams.
Source: Odonata Central - University of Texas at Austin Intended Audience: General Reading Level: Middle School
Painted Skimmer - Libellula semifasciata





The painted skimmer is 1.8 to 1.9 inches in length.
Source: Wisconsin Odonata Survey Intended Audience: General Reading Level: Middle School
Pied Skimmer - Pseudothemis zonata




The pied skimmer is found in China, Hong Kong, Japan, North and South Korea, Taiwan, and Vietnam.
Source: Arkive Intended Audience: General Reading Level: Middle School
Pin-tailed Pondhawk - Erythemis plebeja






The pin-tailed pondhawk is found in South America, Central America, the Caribbean, Mexico, and Texas and Florida.
Source: BugGuide Intended Audience: General Reading Level: Middle School
Pin-tailed Pondhawk - Erythemis plebeja






The pin-tailed pondhawk is found near ponds, lakes, ditches, and slow areas of rivers and streams.
Source: Odonata Central - University of Texas at Austin Intended Audience: General Reading Level: Middle School
Principe Dropwing - Trithemis nigra




The Principe dropwing is found in Sao Tomé and Principe .
Source: Arkive Intended Audience: General Reading Level: Middle School
Purple Skimmer - Libellula jesseana





The purple skimmer is found in Florida.
Source: BugGuide Intended Audience: General Reading Level: Middle School
Purple Skimmer - Libellula jesseana




The purple skimmer is found near Sandy-bottomed lakes with little vegetation
Source: Arkive Intended Audience: General Reading Level: Middle School
Red-faced Dragonlet - Erythrodiplax fusca





The red-faced dragonlet is found South Texas and Mexico south to Argentina.
Source: BugGuide Intended Audience: General Reading Level: Middle School
Red Chaser - Libellula pontica





The red chaser is found in Turkey, Armenia, Iran, Iraq, Israel, Jordan, Syria, and Kyrgyzstan.
Source: Arkive Intended Audience: General Reading Level: Middle School
Red-faced Dragonlet - Erythrodiplax fusca





The pin-tailed pondhawk is found near marshy swamps, pools, lakes and streams with moderate currents.
Source: Odonata Central - University of Texas at Austin Intended Audience: General Reading Level: Middle School
Red-veined Darter - Sympetrum fonscolombii







The red-veined darter is found in Africa and southern Europe east to the Middle East and Central Asia, including India.
Source: Arkive Intended Audience: General Reading Level: Middle School
Red-veined Dropwing - Trithemis arteriosa







The red-viened dropwing is found in Africa, southern Europe, and the Arabian Peninsula.
Source: Arkive Intended Audience: General Reading Level: Middle School
Red-veined Meadowhawk - Sympetrum madidum





The red-veined meadowhawk is found in California, Colorado, Idaho, Iowa, Minnesota, Missouri, Montana, Nebraska, Nevada, North Dakota, Oregon, Utah, Washington, amd Wyoming. It is also found in Canada.
Source: BugGuide Intended Audience: General Reading Level: Middle School
Red Saddlebags - Tramea onusta






The red saddlebags is found in the southern and southwestern U.S. It is also found in Mexico, the West Indies, and Central America south to Venezuela.
Source: Odonata Central - University of Texas at Austin Intended Audience: General Reading Level: Middle School
Rhyothemis fuliginosa




Rhyothemis fuliginosa is found in China and Japan.
Source: Arkive Intended Audience: General Reading Level: Middle School
Roseate Skimmer - Orthemis ferruginea






The roseate skimmer is found near ponds and quiet water. Males are have a lavender pink abdomen, feamles are yellow-to-golden brown.
Source: BugGuide Intended Audience: General Reading Level: Middle School
Roseate Skimmer - Orthemis ferruginea






The roseate skimmer is found across much of the southern U.S. as well as in Mexico, Central America, the West Indies and into Chile in South America.
Source: Odonata Central - University of Texas at Austin Intended Audience: General Reading Level: Middle School
Ruddy Darter- Sympetrum sanguineum







The ruddy darter is found in Albania, Algeria, Armenia, Austria, Azerbaijan, Belarus, Belgium, Bosnia and Herzegovina, Bulgaria, Croatia, Cyprus, the Czech Republic, Denmark, Estonia, Finland, France, Germany, Greece, Hungary, Ireland, Italy, Kazakhstan, Kyrgyzstan, Latvia, Liechtenstein, Lithuania, Luxembourg, Macedonia, Moldova, Monaco, Montenegro, Morocco, the Netherlands, Norway, Poland, Portugal, Romania, Russia, Serbia, Slovakia, Slovenia, Spain, Sweden, Switzerland, Tajikistan, Tunisia, Turkmenistan, Ukraine, the United Kingdom, and Uzbekistan.
Source: Arkive Intended Audience: General Reading Level: Middle School
Saffron-winged Meadowhawk - Sympetrum costiferum





The saffron-winged meadowhawk is found in the northern U.S. and Canada. It is found across New Hampshire in the fall.
Source: BugGuide Intended Audience: General Reading Level: Middle School
Saffron-winged Meadowhawk - Sympetrum costiferum





The saffron-winged meadowhawk is found near ponds and lakes and sometimes bogs.
Source: Wisconsin Odonata Survey Intended Audience: General Reading Level: Middle School
Seaside Dragonlet - Erythrodiplax berenice





The seaside dragonlet is found along the eastern coast of North America from southern Canada to the Gulf coast of Texas.. It is also found in the West Indies, along the west coast of Mexico, and along some saline lakes in the southwestern U.S. In New Hampshire, it is found along the coast.
Source: BugGuide Intended Audience: General Reading Level: Middle School
Seaside Dragonlet - Erythrodiplax berenice





The seaside dragonlet is found near salt marshes, estuaries, bays, and inland lakes with high salinity.
Source: Odonata Central - University of Texas at Austin Intended Audience: General Reading Level: Middle School
Slaty Skimmer - Libellula incesta





The slaty skimmer is found across the eastern U.S. and southeastern Canada. It is found across New Hampshire.
Source: BugGuide Intended Audience: General Reading Level: Middle School
Slaty Skimmer - Libellula incesta





The slaty skimmer is usually found at marshy ponds, lakes and slow flowing forest streams with mucky bottoms.
Source: Odonata Central - University of Texas at Austin Intended Audience: General Reading Level: Middle School
Slaty Skimmer - Libellula incesta





The slaty skimmer is around 2 inches in length.
Source: Wisconsin Odonata Survey Intended Audience: General Reading Level: Middle School
Slender Skimmer - Orthetrum sabina







The slender skimmer is found in much of Asia, Australia and surrounding islands, and in northern Africa.
Source: Arkive Intended Audience: General Reading Level: Middle School
Slough Amberwing - Perithemis domitia






The slough amberwing is found in Mexico and Central and South America. In the U.S., it is found in Arizona and Texas.
Source: BugGuide Intended Audience: General Reading Level: Middle School
Small Skimmer - Orthetrum taeniolatum





The small skimmer is found from eastern Europe and Arabia to China.
Source: Arkive Intended Audience: General Reading Level: Middle School
Small Whiteface - Leucorrhinia dubia






The small whiteface is found in northern Europe and northwestern Asia.
Source: Arkive Intended Audience: General Reading Level: Middle School
Spangled Skimmer - Libellula cyanea






The spangled skimmer is found in the eastern half of the U.S. from Maine to Texas. It is found across New Hampshire.
Source: BugGuide Intended Audience: General Reading Level: Middle School
Spangled Skimmer - Libellula cyanea






The spangled skimmer is usually found near ponds, long-lasting puddles, lakes, and slow streams.
Source: Wisconsin Odonata Survey Intended Audience: General Reading Level: Middle School
Spangled Skimmer - Libellula cyanea






The spangled skimmer is around 1.5-1.9 inches in length.
Source: Odonata Central - University of Texas at Austin Intended Audience: General Reading Level: Middle School
Spot-tailed Dasher - Micrathyria aequalis





The spot-tailed dasher is found in southern Florida and Texas and the the West Indies and Central America south to Ecuador.
Source: Odonata Central - University of Texas at Austin Intended Audience: General Reading Level: Middle School
Spot-tailed Dasher - Micrathyria aequalis





The spot-tailed dasher is found in near still or slow-moving water with emergent vegetation.
Source: BugGuide Intended Audience: General Reading Level: Middle School
Spot-winged Glider - Pantala hymenaea





The spot-winged glider is found in much of the U.S. and southern Canada. It is also foun in Mexcio and Central and South America.It is found in New Hampshire south of the White Mountains.
Source: BugGuide Intended Audience: General Reading Level: Middle School
Spot-winged Glider - Pantala hymenaea





The spot-winged glider is found near open, temporary and artificial ponds and pools, including brackish waters.
Source: Odonata Central - University of Texas at Austin Intended Audience: General Reading Level: Middle School
Straw-colored Sylph - Macrothemis inacuta






In the U.S., the straw-colored sylph is found in Texas and Arizona. It is also found in Argentina , Belize, Costa Rica, El Salvador, Guatemala, Honduras, Mexico , and Venezuela.
Source: Odonata Central - University of Texas at Austin Intended Audience: General Reading Level: Middle School
Striped Saddlebags - Tramea calverti






The striped saddlebags is found Mexico, Central America, in the lowlands of South America, and in the West Indies. It is also found in southern Texas and southern Florida.
Source: BugGuide Intended Audience: General Reading Level: Middle School
Striped Saddlebags - Tramea calverti






The striped saddlebags breeds in shallow, open, well-vegetated ponds and pools.
Source: Wisconsin Odonata Survey Intended Audience: General Reading Level: Middle School
Sympetrum eroticum




Sympetrum eroticum is found in China, Japan, North and South Korea, Russia, and Taiwan.
Source: Arkive Intended Audience: General Reading Level: Middle School
Thalassothemis marchali




Thalassothemis marchali is found in the island nation of Mauritius.
Source: Arkive Intended Audience: General Reading Level: Middle School
Thornbush Dasher - Micrathyria hagenii




The thornbush dasher is found in southwest Texas.
Source: BugGuide Intended Audience: General Reading Level: Middle School
Twelve-Spotted Skimmer - Libellula pulchella





The twelve-spotted skimmer is found across the 48 contiguous states as well as in southern Canada and northern Mexico. It is found across New Hampshire.
Source: BugGuide Intended Audience: General Reading Level: Middle School
Twelve-Spotted Skimmer - Libellula pulchella





The twelve-spotted skimmer is 1.9-2.3 inches in length.
Source: Odonata Central - University of Texas at Austin Intended Audience: General Reading Level: Middle School
Twelve-Spotted Skimmer - Libellula pulchella





The twelve-spotted skimmer gets its name from the brown to black spots on its wings.
Source: Arkive Intended Audience: General Reading Level: Middle School
Twelve-Spotted Skimmer - Libellula pulchella





The twelve-spotted skimmer is usually found near ponds, marshy-bordered lakes, bogs, and slow streams.
Source: Wisconsin Odonata Survey Intended Audience: General Reading Level: Middle School
Variegated Meadowhawk - Sympetrum corruptum




The variegated meadowhawk is primarily found in the western U.S. It is also found in southern Canada, Mexico and Central America.
Source: BugGuide Intended Audience: General Reading Level: Middle School
Variegated Meadowhawk - Sympetrum corruptum




The variegated meadowhawk is found near ponds and slow streams.
Source: Odonata Central - University of Texas at Austin Intended Audience: General Reading Level: Middle School
Violet Dropwing - Trithemis annulata







The violet dropwing is found across Africa and the middle East as well as the Mediterranean countries.
Source: BugGuide Intended Audience: General Reading Level: Middle School
Wandering Glider - Pantala flavescens










The wandering glider is found across the U.S., including in Hawaii. It is also found in southestern Canada, Mexico, Central and South America, the Bahamas, the West Indie, Asia, and Australia. The wandering glider is found across New Hampshire.
Source: BugGuide Intended Audience: General Reading Level: Middle School
Wandering Glider - Pantala flavescens










The wandering glider is found near permanent and temporary ponds, pools, and other water bodies, including brackish ones.
Source: Odonata Central - University of Texas at Austin Intended Audience: General Reading Level: Middle School
Wandering Percher - Diplacodes bipunctata






The wandering percher is found in Australia, Fiji, Guam, Indonesia, Micronesia, New Caledonia, New Zealand, Papua New Guinea, Samoa, the Solomon Islands, Tonga, and Vanuatu.
Source: Atlas of Living Australia Intended Audience: General Reading Level: Middle School
Western Pondhawk - Erythemis collocata




The western pondhawk is found in the western U.S. and Mexico.
Source: BugGuide Intended Audience: General Reading Level: Middle School
White Corporal - Ladona exusta





The white corporal is found in the northeastern United States and southeastern Canada. In New Hampshire, it is usually found south of the White Mountains in the spring.
Source: BugGuide Intended Audience: General Reading Level: Middle School
White-faced Meadowhawk - Sympetrum obtrusum





The white-faced meadowhawk is found across most of Canada and across much of the U.S., except for in the South. It is found in New Hampshire in the fall.
Source: BugGuide Intended Audience: General Reading Level: Middle School
Widow Skimmer - Libellula luctuosa






The widow skimmer is found across most of the U.S., except for the Rocky Mountain region. It is also found in Canada and Mexico. The widow skimmer is found across New Hampshire.
Source: BugGuide Intended Audience: General Reading Level: Middle School
Widow Skimmer - Libellula luctuosa






The widow skimmer is around 1.5-1.9 inches in length.
Source: Arkive Intended Audience: General Reading Level: Middle School
Widow Skimmer - Libellula luctuosa






The widow skimmer is found around still bodies of water like marshy ponds and lakes.
Source: Odonata Central - University of Texas at Austin Intended Audience: General Reading Level: Middle School
Yellow-sided Skimmer - Libellula flavida




The yellow-sided skimmer is found in the eastern U.S. from New York to Florida and Texas.
Source: BugGuide Intended Audience: General Reading Level: Middle School
Yellow-sided Skimmer - Libellula flavida




The yellow-sided skimmer is usually found at marshy ponds, lakes, and slow flowing streams.
Source: Odonata Central - University of Texas at Austin Intended Audience: General Reading Level: Middle School