Ichthyophiidae - Asiatic Tailed Caecilians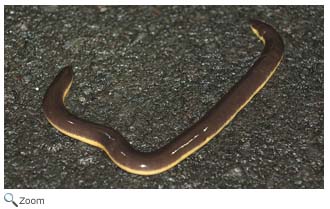 Asiatic tailed caecilians are found in south and southeast Asia.
They have long, snake-like bodies. Unlike other caecilians, they have tails and their mouth is not recessed under their snout.
Asiatic tailed caecilians range in size from 5-19 inches.
Females lay their eggs in moist soil or in a burrow near the water. In some species, the female stays with her eggs until the larvae emerge.  The larvae will undergo metamorphosis in the water.
World Status Key


Least Concern

Near Threatened

Vulnerable

Endangered

Critically Endangered

Extinct in Wild

Extinct
Status and range is taken from ICUN Redlist. If no status is listed, there is not enough data to establish status.
US Status Key


Threatened in US

Threatened in NH

Endangered in US

Endangered in NH

Breeds N.H.

Introduced
Status taken from US Fish and Wildlife and NH Fish and Game
Location Key


Africa

Asia

Australia

Europe

North America

South America

NH

Click for More Info

Click for Image
| | | |
| --- | --- | --- |
| New Hampshire Species | | North/Central American Species |
| None | | None |
Other Species Around the World

Caudacaecilia asplenia 
Caudacaecilia larutensis 
Caudacaecilia nigroflava 
Caudacaecilia paucidentula 
Caudacaecilia weberi 
Ichthyophis acuminatus 
Ichthyophis atricollaris 
Ichthyophis bannanicus
Ichthyophis beddomei
Ichthyophis bernisi 
Ichthyophis biangularis 
Ichthyophis billitonensis 
Ichthyophis bombayensis
Ichthyophis dulitensis 
Ichthyophis elongatus 
Ichthyophis garoensis 
Ichthyophis glandulosus 
Ichthyophis glutinosus
Ichthyophis humphreyi 
Ichthyophis husaini  
Ichthyophis hypocyaneus 
Ichthyophis javanicus 
Ichthyophis khumhzi 
Ichthyophis kodaguensis 



Ichthyophis kohtaoensis
Ichthyophis laosensis 
Ichthyophis longicephalus 
Ichthyophis mindanaoensis 
Ichthyophis monochrous 
Ichthyophis moustakius  
Ichthyophis orthoplicatus
Ichthyophis paucisulcus 
Ichthyophis pseudangularis
Ichthyophis sendenyu 
Ichthyophis sikkimensis 
Ichthyophis singaporensis 
Ichthyophis sumatranus 
Ichthyophis supachaii 
Ichthyophis tricolor
Ichthyophis youngorum 
Uraeotyphlus gansi 
Uraeotyphlus interruptus 
Uraeotyphlus malabaricus 
Uraeotyphlus menoni 
Uraeotyphlus narayani 
Uraeotyphlus oommeni 
Uraeotyphlus oxyurus 
Additional Information
Key:

Profile

Photos

Video

Audio
Caudacaecilia asplenia 




Caudacaecilia asplenia is found in Malaysia.
Source: AmphibiaWeb Intended Audience: General Reading Level: High School Teacher Section: No
Ichthyophis bannanicus





Ichthyophis bannanicusisi is found in China.
Source: AmphibiaWeb Intended Audience: General Reading Level: High School Teacher Section: No
Ichthyophis beddomei





Ichthyophis beddomei is found in India.
Source: AmphibiaWeb Intended Audience: General Reading Level: High School Teacher Section: No
Ichthyophis beddomei




Ichthyophis beddomei is brownish-purple with a yellow stripe on its sides that runs from its head to the tip of its tail
Source: Arkive Intended Audience: General Reading Level: Middle School Teacher Section: Yes
Ichthyophis bombayensis





Ichthyophis bombayensis is found in India.
Source: AmphibiaWeb Intended Audience: General Reading Level: High School Teacher Section: No
Ichthyophis bombayensis




Ichthyophis bombayensis has a ring around its eyes.
Source: Arkive Intended Audience: General Reading Level: Middle School Teacher Section: Yes
Ichthyophis glutinosus





Ichthyophis glutinosus is found in Sri Lanka.
Source: AmphibiaWeb Intended Audience: General Reading Level: High School Teacher Section: No
Ichthyophis glutinosus




Ichthyophis glutinosus is 9-16 inches in length.
Source: Arkive Intended Audience: General Reading Level: Middle School Teacher Section: Yes

Ichthyophis kodaguensis 




Ichthyophis kodaguensis is found in India.
Source: AmphibiaWeb Intended Audience: General Reading Level: High School Teacher Section: No
Ichthyophis kohtaoensis





Ichthyophis kohtaoensis is found in Cambodia, Laos, Myanmar, Thailand, and Vietnam.
Source: AmphibiaWeb Intended Audience: General Reading Level: High School Teacher Section: No
Ichthyophis orthoplicatus





Ichthyophis orthoplicatus is found in Sri Lanka.
Source: Arkive Intended Audience: General Reading Level: Middle School Teacher Section: Yes
Ichthyophis tricolor





Ichthyophis tricolor is found in India.
Source: AmphibiaWeb Intended Audience: General Reading Level: High School Teacher Section: No