Diomedeidae - Albatrosses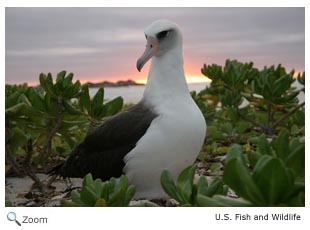 There are 22 species of large seabirds in this family. They range in size from 27-55 inches and can have wingspans of up to 13 feet. They have thick, slightly curved bills with a pair of tubular nostrils and long, narrow wings. Most species are white, gray, or brown.

Albatrosses spend most of their time at sea and only come in to land to breed. They are found in the Pacific Ocean, the southern Atlantic and Indian Oceans, and in the Southern Ocean around Antarctica. Albatrosses dive from the surface of the water to catch fish, squid, and krill.

They nest in large colonies. Most species return to the place where they were born to nest. Females lay a single egg in a depression in the ground. Males help care for and feed the chick. Male and female pairs may mate for life. Albatrosses can live as long as 50 years!

Diomedeidae Photo Gallery
World Status Key


Least Concern

Near Threatened

Vulnerable

Endangered

Critically Endangered

Extinct in Wild

Extinct
Status and range is taken from ICUN Redlist. If no status is listed, there is not enough data to establish status.
US Status Key


Threatened in US

Threatened in NH

Endangered in US

Endangered in NH

Introduced
Status taken from US Fish and Wildlife and NH Fish and Game
Other Species Around the World

Africa Antarctica Asia Australia/Oceania Europe North/Central America South America

Amsterdam Albatross - Diomedea amsterdamensis
Antipodean Albatross - Diomedea antipodensis
Tristan Albatross - Diomedea dabbenena
Southern Royal Albatross-Diomedea epomophora
Wandering Albatross - Diomedea exulans
Northern Royal Albatross-Diomedea sanfordi
Short-tailed Albatross - Phoebastria albatrus
Laysan Albatross - Phoebastria immutabilis
Waved Albatross - Phoebastria irrorata
Black-footed Albatross - Phoebastria nigripes
Sooty Albatross - Phoebetria fusca

Light-mantled Albatross - Phoebetria palpebrata
Buller's Albatross - Thalassarche bulleri
Indian Yellow-nosed Albatross - Thalassarche carteri
Shy Albatross - Thalassarche cauta
Atlantic Yellow-nosed Albatross Thalassarche chlororhynchos
Gray-headed Albatross - Thalassarche chrysostoma
Chatham Albatross - Thalassarche eremita
Campbell Albatross - Thalassarche impavida
Black-browed Albatross - Thalassarche melanophrys
Salvin's Albatross - Thalassarche salvini
White-capped Albatross - Thalassarche steadi