Corduliidae - Green Eyed Skimmers, Emerald Dragonflies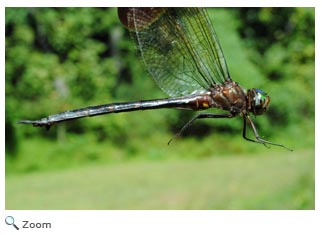 The dragonflies in this family are large, usually between 1.5 and 3 inches in length. They have bright green eyes, and many species are black with metallic green or yellow markings.
Green-eyed skimmers and emerald dragonflies are found near wooded ponds and streams.
The ringed boghaunter (Williamsonia lintneri ) is one of the species in this family. It is a rare dragonfly found only in Maine, Rhode Island, Connecticut, Massachusetts, New York, New Jersey, Michigan, Wisconsin and New Hampshire. It is an endangered species in New Hampshire and Maine.
The ringed boghaunter is a little over an inch in length. It is black with yellow or orange rings on its abdomen. It has a yellow face and mouth and bright bluish-green eyes. The ringed boghaunter is found in acidic bogs, fens, and wetlands with sphagnum ( peat moss). It is one of the first dragonflies to appear in the spring. It is usually seen from late April to June.

Corduliidae Photo Gallery
World Status Key


Least Concern

Near Threatened

Vulnerable

Endangered

Critically Endangered

Extinct in Wild

Extinct

Not Enough Data
Status and range is taken from ICUN Redlist.
U.S. Status Key
Threatened in US Endangered in US Introduced
Status taken from US Fish and Wildlife. Click on U.S. status icon to go to the U.S. Fish and Wildlife species profile.
New Hampshire Status Key
Threatened in NH Endangered in NH Breeds in NH (birds)
Status taken from NH Fish and Game
Location Key


Africa

Asia

Australia/Oceania

Europe

North America

South America

NH

Click for More Info

Click for Image
New Hampshire Species

North American Species

American Emerald - Cordulia shurtleffii
Petite Emerald - Dorocordulia lepida
Racket-tailed Emerald - Dorocordulia libera
Beaverpond Baskettail - Epitheca canis
Common Baskettail - Epitheca cynosura
Prince Baskettail - Epitheca princeps
Spiny Baskettail - Epitheca spinigera
Uhler's Sundragon - Helocordulia uhleri
Umber Shadowdragon - Neurocordulia obsoleta
Stygian Shadowdragon - Neurocordulia yamaskanensis
Ringed Emerald - Somatochlora albicincta
Lake Emerald - Somatochlora cingulata
Ski-tailed Emerald - Somatochlora elongata
Forcipate Emerald - Somatochlora forcipata
Delicate Emerald - Somatochlora franklini
Coppery Emerald - Somatochlora georgiana
Incurvate Emerald - Somatochlora incurvata
Kennedy's Emerald - Somatochlora kennedyi
Mocha Emerald - Somatochlora linearis
Ocellated Emerald - Somatochlora minor
Clamp-tipped Emerald - Somatochlora tenebrosa
Brush-tipped Emerald - Somatochlora walshii
Williamson's Emerald - Somatochlora williamsoni
Ebony Boghaunter - Williamsonia fletcheri
Ringed Boghaunter - Williamsonia lintneri


Dot-winged Baskettail - Epitheca petechialis
Sepia Baskettail - Epitheca sepia
Robust Baskettail - Epitheca spinosa
Florida Baskettail - Epitheca stella
Sely's Sundragon - Helocordulia selysii
Alabama Shadowdragon - Neurocordulia alabamensis
Smoky Shadowdragon - Neurocordulia molesta
Cinnamon Shadowdragon - Neurocordulia virginiensis
Quebec Emerald - Somatochlora brevicincta
Calvert's Emerald - Somatochlora calverti
Plains Emerald - Somatochlora ensigera
Fine-lined Emerald - Somatochlora filosa
Hine's Emerald - Somatochlora hineana
Hudsonian Emerald - Somatochlora hudsonica
Texas Emerald - Somatochlora margarita
Ozark Emerald - Somatochlora ozarkensis
Treetop Emerald - Somatochlora provocans
Treeline Emerald - Somatochlora sahlbergi
Mountain Emerald - Somatochlora semicircularis
Muskeg Emerald - Somatochlora septentrionalis
Whitehouse's Emerald - Somatochlora whitehousei

Selected Species Around the World

Aeschnosoma rustica
Dusk Dragonfly - Antipodochlora braueri
Eastern Hawk - Austrocordulia refracta
Sydney Hawk - Austrocordulia leonardi
Downy Emerald - Cordulia aenea
Tropical Shutwing - Cordulephya bidens
Eurasian Baskettail - Epitheca bimaculata
Epitheca marginata
African Emerald - Hemicordulia africana
Hemicordulia apoensis
Hemicordulia asiatica
Australian Emerald- Hemicordulia australiae
Fat-bellied Emerald - Hemicordulia continentalis
Hemicordulia fidelis
Hemicordulia hilbrandi
Yellow-spotted Emerald - Hemicordulia intermedia
Pilbara Emerald - Hemicordulia koomina
Hemicordulia lulico
Hemicordulia mindana
Hemicordulia mumfordi
Hemicordulia oceanica
Hemicordulia ogasawarensis
Hemicordulia okinawensis
Hemicordulia similis
Tau Emerald- Hemicordulia tau
Hemicordulia tenera


Heteronaias heterodoxa
Queensland Swiftwing - Lathrocordulia garrisoni
Libellulosoma minuta
Metaphya elongata
Metaphya tillyardi
Forest Mosquitohawk - Micromidia atrifrons
Navicordulia amazonica
Navicordulia atlantica
Orange-spotted Emerald - Oxygastra curtisii
Western Swamp Emerald - Procordulia affinis
Procordulia asahinai
Yellow Spotted Dragonfly -Procordulia grayi
Eastern Swamp Emerald - Procordulia jacksoniensis
Procordulia karnyi
Procordulia lompobatang
Ranger Dragonfly - Procordulia smithii
Alpine Emerald - Somatochlora alpestris
Northern Emerald - Somatochlora arctica
Bulgarian Emerald - Somatochlora borisi
Somatochlora daviesi
Somatochlora dido
Yellow-spotted Emerald-Somatochlora flavomaculata
Balkan Emerald - Somatochlora meridionalis
Brilliant Emerald - Somatochlora metallica
Yellow Presba - Syncordulia gracilis
Mahogany Presba - Syncordulia venator

Additional Information
Key:

Profile

Photos

Video

Audio

NH Species

Alabama Shadowdragon - Neurocordulia alabamensis





The Alabama shadowdragon is found in Alabama, Florida, Georgia, Louisiana, North Carolina, South Carolina, and Texas. It is found in coastal regions.
Source: Odonata Central Intended Audience: General Reading Level: Middle School
Alpine Emerald - Somatochlora alpestris





The Alpine emerald is found in Sweden, Finland, Norway , central Europe, and northeast Asia.
Source: Arkive Intended Audience: General Reading Level: Middle School
American Emerald - Cordulia shurtleffii




The American emerald is found from Alaska east across Canada to Labrador and south to California, Ohio, and Connecticut.
Source: BugGuide Intended Audience: General Reading Level: Middle School
American Emerald - Cordulia shurtleffii





Adult American emeralds eat mosquitoes, flies, butterflies, moths, mayflies, and stoneflies.
Source: Digital Atlas of Idaho Intended Audience: General Reading Level: Middle School
Australian Emerald- Hemicordulia australiae






The Australian emerald is found in Australia, Indonesia, and New Zealand.
Source: Atlas of Living Australia Intended Audience: General Reading Level: Middle School
Beaverpond Baskettail - Epitheca canis






The beaverpond baskettail is found in Canada and the northern U.S. It is found across New Hampshire in the late spring.
Source: Wisconsin Odonata Survey Intended Audience: General Reading Level: Middle School
Brilliant Emerald - Somatochlora metallica






The brilliant emerald is found in Albania, Austria, Belarus, Belgium, Bosnia and Herzegovina, Bulgaria, Croatia, the Czech Republic, Denmark, Estonia, Finland, France, Germany, Latvia, Lithuania, Luxembourg, Montenegro, the Netherlands, Norway, Romania, Russia, Serbia , Slovakia, Sweden, Switzerland, the Ukraine, and the United Kingdom.
Source: British Dragonfly Society Intended Audience: General Reading Level: Middle School
Broad-tailed Shadowdragon - Neurocordulia michaeli





The broad-tailed shadowdragon is found in New Brunswick and Ontario, Canada and in Maine.
Source: BugGuide Intended Audience: General Reading Level: Middle School
Brush-tipped Emerald - Somatochlora walshii





The brush-tipped emerald is found throughout southern Canada and the northern United States. It is found throughout New Hampshire.
Source: BugGuide Intended Audience: General Reading Level: Middle School
Brush-tipped Emerald - Somatochlora walshii





The brush-tipped emerald is found in lake outlets, pond outlets, and small streams that go through bogs, fens, or marshes.
Source: Wisconsin Odonata Survey Intended Audience: General Reading Level: Middle School

Bulgarian Emerald - Somatochlora borisi






The Bulgarian emerald is found in Bulgaria, Greece, and Turkey .
Source: Arkive Intended Audience: General Reading Level: Middle School
Calvert's Emerald - Somatochlora calverti





Calvert's emerald is found in Florida, South Carolina, and Alabama.
Source: South Carolina Department of Natural Resources Intended Audience: General Reading Level: Middle School
Cinnamon Shadowdragon - Neurocordulia virginiensis




The cinnamon shadowdragon is found in Alabama, Arkansas, Florida, Georgia, Kentucky, Louisiana, Maryland, Mississippi, North Carolina, South Carolina, Tennessee, and Virginia.
Source: BugGuide Intended Audience: General Reading Level: Middle School
Clamp-tipped Emerald - Somatochlora tenebrosa




The clamp-tipped emerald is found throughout eastern United States and southeast Canada. It is found across New Hampshire.
Source: BugGuide Intended Audience: General Reading Level: Middle School
Clamp-tipped Emerald - Somatochlora tenebrosa





The clamp-tipped emerald is found in shady forest waters.
Source: Wisconsin Odonata Survey Intended Audience: General Reading Level: Middle School
Common Baskettail - Epitheca cynosura





The common baskettail is found in eastern Canada and the eastern United States. It is found across New Hampshire.
Source: BugGuide Intended Audience: General Reading Level: Middle School
Common Baskettail - Epitheca cynosura





The common baskettail is found near ponds and lakes.
Source: Nebraska Dragonflies and Damselflies Intended Audience: General Reading Level: Middle School
Coppery Emerald - Somatochlora georgiana






The coppery emerald is found in Alabama, Florida, Georgia, Louisiana, Massachusetts, Mississippi, New Hampshire, New Jersey, North Carolina, Rhode Island, South Carolina, Texas, and Virginia. In New Hampshire it is found in southeast New New Hampshire.
Source: Massachusetts Division of Fish and Wildlife Intended Audience: General Reading Level: Middle School
Delicate Emerald - Somatochlora franklini





The delicate emerald is found in Alberta, British Columbia, Labrador, Manitoba, New Brunswick, Newfoundland I, Northwest Territories, Nova Scotia, Ontario, Prince Edward I., Québec,and Saskatchewan in Canada and in Alaska, Maine, Michigan, Minnesota, New Hampshire, New York, Vermont, Washington, and Wisconsin in the U.S. In New Hampshire it is rare and found from the White Mountains north.
Source: BugGuide Intended Audience: General Reading Level: Middle School
Delicate Emerald - Somatochlora franklini






The delicate emerald is around 1.7 inches in length.
Source: Wisconsin Odonata Survey Intended Audience: General Reading Level: Middle School
Delicate Emerald - Somatochlora franklini






The delicate emerald is found in sedge- and moss-filled fens, at the foot of hillsides below seepage or in wide-open meadows.
Source: The Xerces Society for Invertebrate Conservation Intended Audience: General Reading Level: Middle School
Dot-winged Baskettail - Epitheca petechialis




The Dot-winged Baskettail is found in the midwest from Nebraska to Texas.
Source: BugGuide Intended Audience: General Reading Level: Middle School
Downy Emerald - Cordulia aenea






The downy emerald is found in northern Eurasia.
Source: British Dragonfly Society Intended Audience: General Reading Level: Middle School
Dusk Dragonfly - Antipodochlora braueri





The dusk dragonfly is found in North Island, New Zealand.
Source: T.E.R:R.A.I.N Intended Audience: General Reading Level: Middle School
Eastern Hawk - Austrocordulia refracta




The eastern hawk is found in Australia.
Source: Atlas of Living Australia Intended Audience: General Reading Level: Middle School
Ebony Boghaunter - Williamsonia fletcheri





The ebony boghaunter is found in the northeastern United States and southeastern Canada, It is found in New Hampshire in the Spring.
Source: BugGuide Intended Audience: General Reading Level: Middle School
Ebony Boghaunter - Williamsonia fletcheri





The ebony boghaunter is around 1.1 to 1.4 inches in length.
Source: Wisconsin Odonata Survey Intended Audience: General Reading Level: Middle School
Ebony Boghaunter - Williamsonia fletcheri





The ebony boghaunter is found in bogs and swampy wetlands.
Source: Massachusetts Division of Fish and Wildlife Intended Audience: General Reading Level: Middle School
Fat-bellied Emerald - Hemicordulia continentalis





The fat-bellied emerald is found in Australia.
Source: British Dragonfly Society Intended Audience: General Reading Level: Middle School
Fine-lined Emerald - Somatochlora filosa




The fine-lined emerald is found in the eastern U.S. from New Jersey south to Florida and west to Texas, Arkansas, Missouri, and Indiana.
Source: BugGuide Intended Audience: General Reading Level: Middle School
Florida Baskettail - Epitheca stella





The Florida baskettail is found in Florida, Georgia, Louisiana, and Mississippi.
Source: BugGuide Intended Audience: General Reading Level: Middle School
Forest Mosquitohawk - Micromidia atrifrons





The forest mosquitohawk is found in Australia from northeastern New South Wales and eastern Queensland.
Source: Atlas of Living Australia Intended Audience: General Reading Level: Middle School
Forcipate Emerald - Somatochlora forcipata





The forcipate emerald is found across Canada south into Michigan, Minnesota, and West Virginia. In New England, it is found in Maine, Vermont, New Hampshire and Massachusetts. It is rare in New Hampshire.
Source: Wisconsin Odonata Survey Intended Audience: General Reading Level: Middle School
Forcipate Emerald - Somatochlora forcipata





The forcipate emerald is found near pools in bogs and small forested streams.
Source: Massachusetts Division of Fish and Wildlife Intended Audience: General Reading Level: Middle School
Hine's Emerald - Somatochlora hineana






Hine's emerald is found in Illinois, Michigan, Missouri, and Wisconsin.
Source: BugGuide Intended Audience: General Reading Level: Middle School
Hine's Emerald - Somatochlora hineana






Hine's emerald is threatened by habitat destruction.
Source: U.S. Fish and Wildlife Intended Audience: General Reading Level: Middle School
Hine's Emerald - Somatochlora hineana






Hine's emerald is about 2.5 inches in length.
Source: Arkive Intended Audience: General Reading Level: Middle School
Hudsonian Emerald - Somatochlora hudsonica





The Hudsonian emerald is found in Canada in Alberta, British Columbia, Manitoba, the Northwest Territories, Ontario, Saskatchewan, and the Yukon. In the U.S. it is found in Alaska, Colorado, Montana, and Wyoming.
Source: BugGuide Intended Audience: General Reading Level: Middle School
Incurvate Emerald - Somatochlora incurvata





The incurvate emerald is found in New Brunswick, Nova Scotia, Ontario, and Québec provinces in Canada and in Maine, Massachusetts, Michigan, New Hampshire, New York, Ohio, Pennsylvania, and Wisconsin in the U.S. It is rare in New Hampshire.
Source: BugGuide Intended Audience: General Reading Level: Middle School
Incurvate Emerald - Somatochlora incurvata






The incurvate emerald is found in bog pools and open wet sedge meadows.
Source: Wisconsin Odonata Survey Intended Audience: General Reading Level: Middle School
Kennedy's Emerald - Somatochlora kennedyi




Kennedy's emerald is found in from the Canadian Maritime provinces west to Manitoba and the Northwest Territories and south to Massachusetts, New York, Ohio, Michigan, Wisconsin, and Minnesota. It is rare in New Hampshire.
Source: BugGuide Intended Audience: General Reading Level: Middle School
Kennedy's Emerald - Somatochlora kennedyi





Kennedy's emerald is found in slow-moving streams, red maple swamps, and marshes and bogs.
Source: Massachusetts Division of Fish and Wildlife Intended Audience: General Reading Level: Middle School
Kennedy's Emerald - Somatochlora kennedyi





Kennedy's emerald is around 1.9 to 2.2 inches in length.
Source: Wisconsin Odonata Survey Intended Audience: General Reading Level: Middle School
Lake Emerald - Somatochlora cingulata





The lake emerald is found in southern Canada and the northeastern United States. It is found in New Hampshire from the White Mountains north.
Source: BugGuide Intended Audience: General Reading Level: Middle School
Lake Emerald - Somatochlora cingulata






The lake emerald is 2.2 to 2.7 inches in length.
Source: Wisconsin Odonata Survey Intended Audience: General Reading Level: Middle School
Mahogany Presba - Syncordulia venator




The mahogany presba is found in South Africa.
Source: Arkive Intended Audience: General Reading Level: Middle School
Mocha Emerald - Somatochlora linearis





The mocha emerald is found in the eastern U.S. from New Hampshire south to Florida and west to Michigan, Iowa and Texas. It is found in southeastern New Hampshire, but it is restricted to large rivers.
Source: Massachusetts Division of Fish and Wildlife Intended Audience: General Reading Level: Middle School
Mocha Emerald - Somatochlora linearis





The mocha emerald is found in permanent and temporary forest streams
Source: Wisconsin Odonata Survey Intended Audience: General Reading Level: Middle School
Mocha Emerald - Somatochlora linearis




The mocha emerald is around 2.2-2.7 inches in length.
Source: BugGuide Intended Audience: General Reading Level: Middle School
Mountain Emerald - Somatochlora semicircularis




The mountain emerald is found in the northwestern U.S.
Source: BugGuide Intended Audience: General Reading Level: Middle School
Mountain Emerald - Somatochlora semicircularis




The mountain emerald is found near marshy bogs and ponds.
Source: Digital Atlas of Idaho Intended Audience: General Reading Level: Middle School
Muskeg Emerald - Somatochlora septentrionalis



The Muskeg emerald is found in Canada.
Source: Dragonflies of British Columbia Intended Audience: General Reading Level: Middle School

Northern Emerald - Somatochlora arctica




The northern emerald is found in Sweden, Finland, Norway, Belgium, the Netherlands, Germany, France, Poland, Scotland and Ireland.
Source: Arkive Intended Audience: General Reading Level: Middle School
Ocellated Emerald - Somatochlora minor




The ocellated emerald is found throughout Canada and the northern United States. It is found in New Hampshire from the White Mountains north.
Source: BugGuide Intended Audience: General Reading Level: Middle School
Ocellated Emerald - Somatochlora minor





The ocellated emerald is usually found at clear, slow flowing forest streams.
Source: Wisconsin Odonata Survey Intended Audience: General Reading Level: Middle School
Orange-spotted Emerald - Oxygastra curtisii






The orange-spotted emerald is found in Belgium, France, Germany, Italy, Luxembourg, Morocco, Portugal, Spain, and Switzerland.
Source: Arkive Intended Audience: General Reading Level: Middle School
Orange-spotted Emerald - Oxygastra curtisii






The orange-spotted emerald is found near muddy, slow-flowing rivers and streams.
Source: British Dragonfly Society Intended Audience: General Reading Level: Middle School
Ozark Emerald - Somatochlora ozarkensis





The Ozark emerald is found in Arkansas, Kansas, Missouri, and Oklahoma.
Source: Missouri Department of Conservation Intended Audience: General Reading Level: Middle School
Petite Emerald -Dorocordulia lepida





The petite emerald is found in the northeastern United States and southeastern Canada. It is found across New Hampshire.
Source: BugGuide Intended Audience: General Reading Level: Middle School
Pilbara Emerald - Hemicordulia koomina





The Pilbara emerald is found in Western Australia.
Source: Atlas of Living Australia Intended Audience: General Reading Level: Middle School
Plains Emerald - Somatochlora ensigera




The plains emerald is found in the northern Great Plains states.
Source: BugGuice Intended Audience: General Reading Level: Middle School
Plains Emerald - Somatochlora ensigera




The plains emerald is around 2 inches in length.
Source: Wisconsin Odonata Survey Intended Audience: General Reading Level: Middle School
Plains Emerald - Somatochlora ensigera




The plains emerald is usually found near small, clear, sandy, flowing streams.
Source: Nebraska Dragonflies and Damselflies Intended Audience: General Reading Level: Middle School
Plains Emerald - Somatochlora ensigera




The plains emerald has a yellow face.
Source: Montana Field Guide Intended Audience: General Reading Level: Middle School
Prince Baskettail - Epitheca princeps





The prince baskettail is found in the eastern United States and southeastern Canada. It is found across New Hampshire.
Source: BugGuide Intended Audience: General Reading Level: Middle School
Prince Baskettail - Epitheca princeps





The Prince baskettail is found near lakes, ponds, slow-moving streams, and rivers.
Source: Wisconsin Odonata Survey Intended Audience: General Reading Level: Middle School
Quebec Emerald - Somatochlora brevicincta




The Quebec emerald is found in British Columbia, New Brunswick, Newfoundland, Nova Scotia, and Québec, Canada and in the northern U.S. bordering Canada. It is found in Maine.
Source: Odonata Central Intended Audience: General Reading Level: Middle School
Queensland Swiftwing - Lathrocordulia garrisoni





The Queensland swiftwing is found in Australia.
Source: Atlas of Living Australia Intended Audience: General Reading Level: Middle School
Racket-tailed Emerald - Dorocordulia libera





The racket-tailed emerald is found in the northeastern United States and southeastern Canada. It is found across New Hampshire.
Source: BugGuide Intended Audience: General Reading Level: Middle School
Racket-tailed Emerald - Dorocordulia libera





The racket-tailed emerald is found near ponds, lake coves, bogs, and bog-edged slow streams.
Source: Wisconsin Odonata Survey Intended Audience: General Reading Level: Middle School
Ringed Emerald - Somatochlora albicincta





The ringed emerald is found in southern Canada and the northern U.S. In New Hampshire, it is found from the White Mountains north, but it is rare.
Source: Wisconsin Odonata Survey Intended Audience: General Reading Level: Middle School
Ringed Emerald - Somatochlora albicincta





The ringed emerald is found near lakes, ponds and sometimes rivers.
Source: BugGuide Intended Audience: General Reading Level: Middle School
Ringed Boghaunter - Williamsonia lintneri







The ringed boghaunter is found from Maine south to New Jersey. It is also found in Wisconsin and Michigan. It is found in southeastern New Hampshire in the spring, but it is rare.
Source: Arkive Intended Audience: General Reading Level: Middle School
Ringed Boghaunter - Williamsonia lintneri







The ringed boghaunter is found in acidic sedge fens and sphagnum bogs.
Source: Massachusetts Division of Fish and Wildlife Intended Audience: General Reading Level: Middle School
Ringed Boghaunter - Williamsonia lintneri






The ringed boghaunter is around 1.5 inches in length.
Source: BugGuide Intended Audience: General Reading Level: Middle School
Ringed Boghaunter - Williamsonia lintneri






Breeding locations in New Hampshire for the ringed boghaunter are recorded for only four towns, Durham, Kingston, Amherst, and Litchfield.
Source: UNH Cooperative Extension Intended Audience: General Reading Level: Middle School
Robust Baskettail - Epitheca spinosa





The robust baskettail is found in Alabama, Arkansas, Delaware, Florida, Georgia, Kentucky, Louisiana, Maryland, New Jersey, North Carolina, Oklahoma, South Carolina, Texas, and Virginia.
Source: BugGuide Intended Audience: General Reading Level: Middle School
Robust Baskettail - Epitheca spinosa





The robust baskettail is around 1.7 inches in length.
Source: Conserve Wildlife Foundation of NJ Intended Audience: General Reading Level: Middle School
Sely's Sundragon - Helocordulia selysii



Sely's sundragon is found in the southeastern U.S.
Source: BugGuide Intended Audience: General Reading Level: Middle School
Sepia Baskettail - Epitheca sepia




The sepia baskettail is found in the southeastern U.S.
Source: BugGuide Intended Audience: General Reading Level: Middle School
Ski-tailed Emerald - Somatochlora elongata





The ski-tailed emerald is found from the Canadian Maritime Provinces west to Ontario, Canada and south to Minnesota, Michigan, and Pennsylvania. It is found in the Appalachian Mountains of North Carolina and Georgia. In New England, it is found in Maine, New Hampshire, Vermont, and Massachusetts. It is found across New Hampshire.
Source: Wisconsin Odonata Survey Intended Audience: General Reading Level: Middle School
Ski-tailed Emerald - Somatochlora elongata





The ski-tailed emerald is also known as the ski-tipped emerald.
Source: BugGuide Intended Audience: General Reading Level: Middle School
Ski-tailed Emerald - Somatochlora elongata





In New England, the ski-tailed emerald is in flight in July and August.
Source: Massachusetts Division of Fish and Wildlife Intended Audience: General Reading Level: Middle School
Smoky Shadowdragon - Neurocordulia molesta



The smoky shadowdragon is found in the southeastern U.S.
Source: BugGuide Intended Audience: General Reading Level: Middle School
Spiny Baskettail - Epitheca spinigera





The spiny baskettail is found in the northern U.S. and southern Canada. It is found in New Hampshire in the Spring.
Source: BugGuide Intended Audience: General Reading Level: Middle School
Spiny Baskettail - Epitheca spinigera





The spiny baskettail is found near ponds, slow streams, and marshy lakes and seems to like slow moving acidic water.
Source: Wisconsin Odonata Survey Intended Audience: General Reading Level: Middle School
Stygian Shadowdragon - Neurocordulia yamaskanensis




The stygian shadowdragon is found in the eastern United States. It is found in New Hampshire, but it is restricted to large rivers.
Source: BugGuide Intended Audience: General Reading Level: Middle School
Stygian Shadowdragon - Neurocordulia yamaskanensis





The stygian shadowdragon is found near clear lakes and large rivers.
Source: Wisconsin Odonata Survey Intended Audience: General Reading Level: Middle School

Sydney Hawk - Austrocordulia leonardi




The  Sydney hawk is found in Australia.
Source: Arkive Intended Audience: General Reading Level: Middle School
Tau Emerald- Hemicordulia tau




The Tau emerald is found in Australia.
Source: Atlas of Living Australia Intended Audience: General Reading Level: Middle School

Texas Emerald - Somatochlora margarita




The Texas emerald is also known as the Big Thicket emerald dragonfly. It is found in Louisiana and Texas.
Source: Arkive Intended Audience: General Reading Level: Middle School
Treeline Emerald - Somatochlora sahlbergi





The treeline emerald is found at or near the arctic treeline in Alaska, Canada, Finland, Norway, Russia, and Sweden.
Source: Alaska Department of Fish and Game Intended Audience: General Reading Level: Middle School
Treetop Emerald - Somatochlora provocans




The treetop emerald is found from New Jersey south to Florida and west to Missouri and Louisiana.
Source: BugGuide Intended Audience: General Reading Level: Middle School
Uhler's Sundragon - Helocordulia uhleri






Uhler's Sundragon is found in the eastern United States and southeastern Canada. It is found across New Hampshire in the late Spring.
Source: Odonata Central Intended Audience: General Reading Level: Middle School
Uhler's Sundragon - Helocordulia uhleri






Uhler's Sundragon is found near small forest streams and sometimes near lakes.
Source: BugGuide Intended Audience: General Reading Level: Middle School
Umber Shadowdragon - Neurocordulia obsoleta






The Umber shadowdragon is found in the eastern U.S. It is found in New Hampshire, but it is restricted to large rivers.
Source: BugGuide Intended Audience: General Reading Level: Middle School
Umber Shadowdragon - Neurocordulia obsoleta






The Umber shadowdragon is found near lakes and rivers.
Source: Wisconsin Odonata Survey Intended Audience: General Reading Level: Middle School
Western Swamp Emerald - Procordulia affinis





The western swamp emerald is found in Western Australia.
Source: Atlas of Living Australia Intended Audience: General Reading Level: Middle School
Whitehouse's Emerald - Somatochlora whitehousei




Whitehouse's emerald is found in Canada, Washington, and Montana.
Source: BugGuide Intended Audience: General Reading Level: Middle School
Whitehouse's Emerald - Somatochlora whitehousei




Whitehouse's emerald is near small to moderate-sized ponds and bogs with lots of vegetation.
Source: The Xerces Society for Invertebrate Conservation Intended Audience: General Reading Level: Middle School
Williamson's Emerald - Somatochlora williamsoni




Williamson's emerald is found in the northeastern U.S. and southeastern Canada. It is found across New Hampshire.
Source: BugGuide Intended Audience: General Reading Level: Middle School
Williamson's Emerald - Somatochlora williamsoni





Williamson's emerald is 2.0 to 2.3 inches in length.
Source: Wisconsin Odonata Survey Intended Audience: General Reading Level: Middle School

Yellow Presba - Syncordulia gracilis




The  yellow presba is found in South Africa.
Source: Arkive Intended Audience: General Reading Level: Middle School