Caeciliidae - Common Caecilians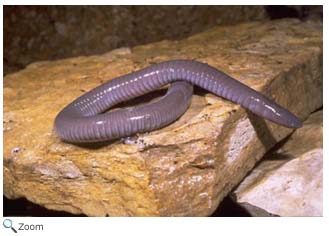 Common caecilians are found in Central America, South America, Africa, and India.
Caecilians look like worms, eels, or snakes. Caecilians have no tail and their mouth is recessed under their snout. They have strong jaws and lots of teeth.
Caecilians have no gills, but they have gill slits. The bones in their skulls are fused into what looks like one solid helmet. They use their heads to burrow into leaf litter and into the ground.
Males and females look the same. Excepts for during the mating season, most caecilians are solitary. Caecilians eat insects, worms, and small snakes.
World Status Key


Least Concern

Near Threatened

Vulnerable

Endangered

Critically Endangered

Extinct in Wild

Extinct
Status and range is taken from ICUN Redlist. If no status is listed, there is not enough data to establish status.
US Status Key


Threatened in US

Threatened in NH

Endangered in US

Endangered in NH

Breeds N.H.

Introduced
Status taken from US Fish and Wildlife and NH Fish and Game
Location Key


Africa

Asia

Australia

Europe

North America

South America

NH

Click for More Info

Click for Image
New Hampshire Species

North/Central American Species

None
Mexican Caecilian - Dermophis mexicanus
Dermophis oaxacae 
Dermophis occidentalis
Dermophis parviceps
Gymnopis multiplicata
Gymnopis syntrema  
Oscaecilia elongata  
Oscaecilia ochrocephala
Oscaecilia osae

North/Central American Species




Caecilia isthmica  
Caecilia leucocephala
Caecilia nigricans
Caecilia volcani
Dermophis costaricensis
Dermophis glandulosus 
Dermophis gracilior 

Other Species Around the World

Atretochoana eiselti
Boulengerula boulengeri
Boulengerula changamwensis
Boulengerula denhardti
Boulengerula fischeri
Boulengerula niedeni
Boulengerula taitana
Boulengerula uluguruensis
Brasilotyphlus braziliensis
Caecilia abitaguae
Caecilia albiventris
Caecilia antioquiaensis
Caecilia armata
Caecilia attenuata
Caecilia bokermanni
Caecilia caribea
Caecilia corpulenta
Caecilia crassisquama
Caecilia degenerata
Caecilia disossea
Caecilia dunni
Caecilia flavopunctata
Caecilia gracilis
Caecilia guntheri
Caecilia inca
Caecilia marcusi
Caecilia occidentalis
Caecilia orientalis
Caecilia pachynema
Caecilia perdita
Caecilia pressula
Caecilia subdermalis
Caecilia subnigricans 
Caecilia subterminalis
Caecilia tentaculata
Caecilia tenuissima
Caecilia thompsoni
Chthonerpeton arii
Chthonerpeton braestrupi
Chthonerpeton exile
Chthonerpeton indistinctum
Chthonerpeton noctinectes
Chthonerpeton onorei
Chthonerpeton perissodus
Chthonerpeton viviparum
Crotaphatrema bornmuelleri
Crotaphatrema lamottei
Crotaphatrema tchabalmbaboensis
Gegeneophis carnosus
Gegeneophis danieli
Gegeneophis fulleri
Gegeneophis goaensis


Gegeneophis krishni
Gegeneophis madhavai
Gegeneophis mhadeiensis
Gegeneophis nadkarnii
Gegeneophis ramaswamii
Gegeneophis seshachari
Geotrypetes angeli
Geotrypetes pseudoangeli
Geotrypetes seraphini
Grandisonia alternans
Grandisonia brevis
Grandisonia larvata
Grandisonia sechellensis
Herpele multiplicata
Herpele squalostoma
Hypogeophis rostratus
Idiocranium russeli
Indotyphlus battersbyi
Indotyphlus maharashtraensis
Luetkenotyphlus brasiliensis
Microcaecilia albiceps
Microcaecilia rabei 
Microcaecilia supernumeraria
Microcaecilia taylori
Microcaecilia unicolor
Mimosiphonops reinhardti
Mimosiphonops vermiculatus
Nectocaecilia petersii 
Oscaecilia bassleri
Oscaecilia equatorialis
Oscaecilia hypereumeces
Oscaecilia koepckeorum
Oscaecilia polyzona
Oscaecilia zweifeli
Parvicaecilia nicefori
Parvicaecilia pricei
Potomotyphlus kaupii 
Praslinia cooperi
Schistometopum gregorii
Schistometopum thomense
Scolecomorphus kirkii
Scolecomorphus uluguruensis
Scolecomorphus vittatus
Ringed Caecilian - Siphonops annulatus
Siphonops hardyi
Siphonops insulanus
Siphonops leucoderus
Siphonops paulensis
Sylvacaecilia grandisonae
Typhlonectes compressicauda
Typhlonectes cunhai
Typhlonectes natans
Additional Information
Key:

Profile

Photos

Video

Audio
Atretochoana eiselti




Atretochoana eiselti is found in Brazil. Until 2011, it was only known from preserved specimens.
Source: AmphibiaWeb Intended Audience: General Reading Level: High School Teacher Section: No
Atretochoana eiselti




Atretochoana eiselti can be up to 3 feet in length.
Source: Natural History Museum, UK Intended Audience: General Reading Level: Middle School Teacher Section: Yes
Boulengerula boulengeri





Boulengerula boulengeri is found in Tanzania.
Source: AmphibiaWeb Intended Audience: General Reading Level: High School Teacher Section: No

Boulengerula changamwensis




Boulengerula changamwensis is found in Kenya and Malawi.
Source: AmphibiaWeb Intended Audience: General Reading Level: High School Teacher Section: No

Boulengerula fischeri




Boulengerula fischeri is found in Rwanda.
Source: AmphibiaWeb Intended Audience: General Reading Level: High School Teacher Section: No

Boulengerula niedeni





Boulengerula niedeni is found in Kenya.
Source: AmphibiaWeb Intended Audience: General Reading Level: High School Teacher Section: No
Boulengerula niedeni





Boulengerula niedeni has tow rows of teeth on each of its jaws.
Source: Arkive Intended Audience: General Reading Level: Middle School Teacher Section: Yes
Boulengerula taitana





Boulengerula taitana is found in the Taita Hills in Kenya.
Source: AmphibiaWeb Intended Audience: General Reading Level: High School Teacher Section: No
Boulengerula uluguruensis





Boulengerula uluguruensis is found in Tanzania.
Source: AmphibiaWeb Intended Audience: General Reading Level: High School Teacher Section: No
Caecilia attenuata




Caecilia attenuata is found in Ecuador and Peru.
Source: AmphibiaWeb Intended Audience: General Reading Level: High School Teacher Section: No
Caecilia caribea




Caecilia caribea is found in Colombia .
Source: AmphibiaWeb Intended Audience: General Reading Level: High School Teacher Section: No
Caecilia isthmica





Caecilia isthmica is found in Colombia and Panama.
Source: AmphibiaWeb Intended Audience: General Reading Level: High School Teacher Section: No
Caecilia marcusi





Caecilia marcusi is found in Bolivia.
Source: AmphibiaWeb Intended Audience: General Reading Level: High School Teacher Section: No
Caecilia nigricans






Caecilia nigricans is found in Colombia, Ecuador, and Panama.
Source: AmphibiaWeb Intended Audience: General Reading Level: High School Teacher Section: No
Caecilia occidentalis




Caecilia occidentalis is found in Colombia.
Source: AmphibiaWeb Intended Audience: General Reading Level: High School Teacher Section: No
Caecilia subnigricans





Caecilia subnigricans is found in Colombia and Venezuela.
Source: AmphibiaWeb Intended Audience: General Reading Level: High School Teacher Section: No
Caecilia tentaculata





Caecilia tentaculata is found in Brazil, Colombia, Ecuador, French Guiana, Peru, Suriname, and Venezuela.
Source: AmphibiaWeb Intended Audience: General Reading Level: High School Teacher Section: No
Caecilia thompsoni




Caecilia thompsoni is found in Colombia.
Source: AmphibiaWeb Intended Audience: General Reading Level: High School Teacher Section: No
Caecilia thompsoni



Caecilia thompsoni can be up to 5 feet in length.
Source: Arkive Intended Audience: General Reading Level: Middle School Teacher Section: Yes
Chthonerpeton indistinctum





Chthonerpeton indistinctum is found in Argentina, Brazil, Paraguay, and Uruguay.
Source: AmphibiaWeb Intended Audience: General Reading Level: High School Teacher Section: No
Mexican Caecilian - Dermophis mexicanus





The Mexican Caecilian is found in El Salvador, Guatemala, Honduras, Mexico, and Nicaragua.
Source: AmphibiaWeb Intended Audience: General Reading Level: High School Teacher Section: No
Mexican Caecilian - Dermophis mexicanus





The Mexican Caecilian eats termites, crickets, snails, slugs, and earthworms.
Source: DigiMorph Intended Audience: General Reading Level: High School Teacher Section: No
Mexican Caecilian - Dermophis mexicanus




The Mexican Caecilian is 11-19 inches in length.
Source: Arkive Intended Audience: General Reading Level: Middle School Teacher Section: Yes
Dermophis oaxacae 




Dermophis oaxacae is found in Mexico.
Source: AmphibiaWeb Intended Audience: General Reading Level: High School Teacher Section: No
Dermophis occidentalis




Dermophis occidentalis is found in Costa Rica.
Source: AmphibiaWeb Intended Audience: General Reading Level: High School Teacher Section: No
Dermophis parviceps





Dermophis parviceps is found in Costa Rica and Panama.
Source: AmphibiaWeb Intended Audience: General Reading Level: High School Teacher Section: No
Gegeneophis carnosus




Gegeneophis carnosus is found in India.
Source: AmphibiaWeb Intended Audience: General Reading Level: High School Teacher Section: No
Gegeneophis carnosus



Gegeneophis carnosus lives in humid evergreen forests.
Source: Arkive Intended Audience: General Reading Level: Middle School Teacher Section: Yes

Gegeneophis danieli




Gegeneophis danieli is found in India.
Source: AmphibiaWeb Intended Audience: General Reading Level: High School Teacher Section: No

Gegeneophis goaensis




Gegeneophis goaensis is found in India.
Source: AmphibiaWeb Intended Audience: General Reading Level: High School Teacher Section: No

Gegeneophis mhadeiensis




Gegeneophis mhadeiensis is found in India.
Source: AmphibiaWeb Intended Audience: General Reading Level: High School Teacher Section: No

Gegeneophis seshachari




Gegeneophis seshachari is found in India.
Source: AmphibiaWeb Intended Audience: General Reading Level: High School Teacher Section: No
Geotrypetes seraphini





Geotrypetes seraphini is found in India.
Source: AmphibiaWeb Intended Audience: General Reading Level: High School Teacher Section: No
Gymnopis multiplicata





Gymnopis multiplicata is found in Costa Rica, Guatemala, Honduras, Nicaragua, and Panama.
Source: AmphibiaWeb Intended Audience: General Reading Level: High School Teacher Section: No
Indotyphlus battersbyi




Indotyphlus battersbyi is found in India.
Source: AmphibiaWeb Intended Audience: General Reading Level: High School Teacher Section: No

Indotyphlus maharashtraensis




Indotyphlus maharashtraensis is found in India.
Source: AmphibiaWeb Intended Audience: General Reading Level: High School Teacher Section: No
Microcaecilia taylori





Microcaecilia taylori is found in Suriname.
Source: AmphibiaWeb Intended Audience: General Reading Level: High School Teacher Section: No
Oscaecilia osae




Oscaecilia osae is found in Costa Rica.
Source: AmphibiaWeb Intended Audience: General Reading Level: High School Teacher Section: No
Oscaecilia osae




Oscaecilia osae is up to 15 inches in length.
Source: Species of Costa Rica Intended Audience: General Reading Level: In Spanish Teacher Section: No
Oscaecilia polyzona




Oscaecilia polyzona is found in Colombia .
Source: AmphibiaWeb Intended Audience: General Reading Level: High School Teacher Section: No
Potomotyphlus kaupii 





Potomotyphlus kaupii is found in Brazil, Colombia, Ecuador, Peru, and Venezuela.
Source: AmphibiaWeb Intended Audience: General Reading Level: High School Teacher Section: No
Schistometopum gregorii





Schistometopum gregorii is found in Kenya and Tanzania.
Source: AmphibiaWeb Intended Audience: General Reading Level: High School Teacher Section: No
Schistometopum thomense





Schistometopum thomense is found on the island nation of Sao Tomé and Principe off the coast of Africa.
Source: AmphibiaWeb Intended Audience: General Reading Level: High School Teacher Section: No
Scolecomorphus vittatus





Scolecomorphus vittatus is found in Tanzania.
Source: AmphibiaWeb Intended Audience: General Reading Level: High School Teacher Section: No
Ringed Caecilian - Siphonops annulatus





The ringed caecilian is found in Argentina, Bolivia, Brazil, Colombia, Ecuador, French Guiana, Guyana, Paraguay, Peru, Suriname, and Venezuela.
Source: AmphibiaWeb Intended Audience: General Reading Level: High School Teacher Section: No
Siphonops paulensis





Siphonops paulensis is found in Argentina, Bolivia, Brazil, and Paraguay.
Source: AmphibiaWeb Intended Audience: General Reading Level: High School Teacher Section: No
Sylvacaecilia grandisonae



Sylvacaecilia grandisonae is found in Ethiopia.
Source: Arkive Intended Audience: General Reading Level: Middle School Teacher Section: Yes
Typhlonectes compressicauda





Typhlonectes compressicauda is found in Brazil, Colombia, French Guiana, Guyana, Peru, and Venezuela.
Source: AmphibiaWeb Intended Audience: General Reading Level: High School Teacher Section: No
Typhlonectes natans





Typhlonectes natans is found in Colombia and Venezuela.
Source: AmphibiaWeb Intended Audience: General Reading Level: High School Teacher Section: No
Typhlonectes natans





Typhlonectes natans is also known as the rubber eel, but it is not an eel.
Source: DigiMorph Intended Audience: General Reading Level: High School Teacher Section: No
Typhlonectes natans





Typhlonectes natans is 17-21 inches in length.
Source: World Association of Zoos and Aquariums Intended Audience: General Reading Level: Middle School Teacher Section: No