The Writers
Alice Walker
(1944 - )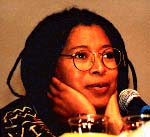 Additional Links:

Annina's Alice Walker Page

NY Times Archives

African American Literature Book Club

Alice Walker Teacher Resource File
Alice Walker was born on February 9, 1944, in Eatonton, Georgia to sharecropper parents. She attended Spelman and Sarah Lawrence colleges and received her bachelor's degree from Sarah Lawrence in 1965. Walker was active in the Civil Rights Movement in the 1960's. Her best-known work, the novel The Color Purple (1982), won the American Book Award and the 1983 Pulitzer Prize. The novel was made into a motion picture in 1985. Walker's book The Same River Twice: Honoring the Difficult (1996) contains her notes and reflections on making the film. Her first volume of poetry Once was published in 1968. Works include: Novels: The Third Life of Grange Copeland (1970); Meridian (1976); The Temple of My Familiar (1989); and Possessing the Secret of Joy (1992).
Short Story Collections: In Love and Trouble: Stories of Black Women (1973) and You Can't Keep a Good Woman Down (1981)
Poetry Collections: Revolutionary Petunias and Other Poems (1973); and Goodnight, Willie Lee, I'll See You in the Morning (1979); and Her Blue Body Everything We Know: Earthling Poems, 1965-1990 Complete (1991).
Essay collections: In Search of Our Mothers' Gardens: Womanist Prose (1983) and Living by the Word (1988). She has also written the children's book, Langston Hughes: American Poet (1973).